Once your little one starts school for the first time, the whole world turns upside down for the whole family. As a parent, you need to teach your kid to follow the schedule, complete tasks on time and be a bit more organized. And for that you need a reliable tool like a calendar. A wisely designed academic calendar will help your child navigate school life, be on time for extracurricular activities, and never miss their school mates' birthdays.
Already rushing to a store? Hold on a bit! Not any store-bought calendar will do the trick. You need your school calendar to be engaging, visually-gripping and unique to warrant your little one's attention. That's why it's better to make a school calendar for your child yourself. Don't worry, it's not as hard as it sounds.
To make an academic planner of your own, you just need a few minutes of your time, a nice concept (preferably courtesy of your kid), and specialized software. Try out Photo Calendar Creator. This award-winning software is filled to the brim with templates that allow you to design calendars of any type in a jiff. Let's see how you can use it to create an academic planner.
Pick a Template
First off, download and install Photo Calendar Creator on your computer. Then, run the software and pick the type of your school calendar. There are templates for a wall, desk, or booklet calendar, depending on your needs and your student's age. (Are you putting the calendar on the wall where they can see it easily, or is your middle schooler putting it in a backpack to take it with her?)
You can create a yearly, a quarterly, or a monthly school calendar for your child. Besides, the software comes with monthly or weekly planner templates as well. Just pick the type of calendar that would work for you and choose a template from the built-in options.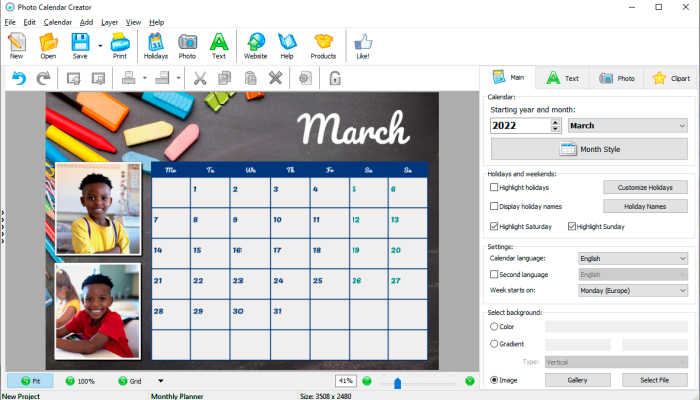 Decorate Your Calendar
Customize your child's school calendar to your liking. For starters, pick a new month style or design one yourself. Put pictures or collages on the pages. Your child may enjoy seeing pictures of himself on the calendar (my kids love being the stars of our family calendar) or they may prefer to choose pictures of favourite places or memories.
Another idea is to scan your child's artwork and add that to their calendar. This can be a fun way to preserve their artwork and show it off, instead of just dumping it in the recycling bin. Your child can help you choose their best drawings or sketches for the calendar (and may be okay with the other artwork getting recycled since these pieces are saved for the calendar).
Decorate the images with frames, masks, and clipart for an eye-catching look. Keep in mind that your school calendar has to look good—it will serve your kid for the entire year. Consider their interests, hobbies and favourite colour as you design the calendar.
Mark Important Events
To make sure that your kid sees all the important upcoming events, mark them all right in the dates. Create your own custom list of recurring events (such as sports practices or rehearsals) and big days (their friends' birthdays) and highlight them in the grid. Decorate the cells either with photos of the celebrants or themed clipart from the software's library.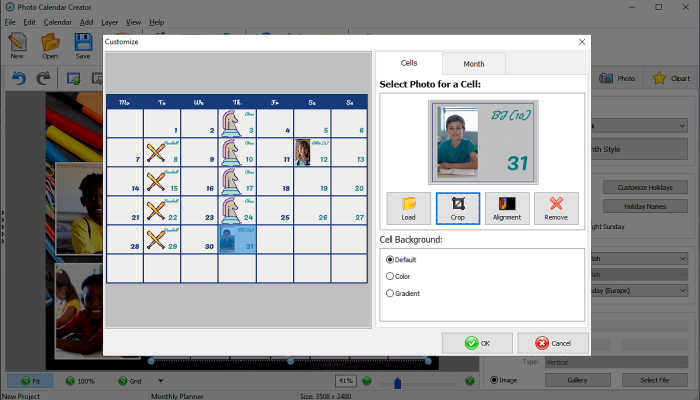 Print Your Calendar
Once you are down with the design—and your kid approves it—you can print it right at home and hang it over your child's desk. If you don't have a printer, take your creation to a local print shop. You can also save your calendar as a template to use it later for upcoming terms.
If you have more than one child in school, you may want to make a school calendar for each child. It could hang in their room where they can check the day's activities as soon as they wake up so they know what to wear and where they'll need to be. Once you've created a template for one child, it should be easy to adjust it for other kids, especially if they share some of the same activities.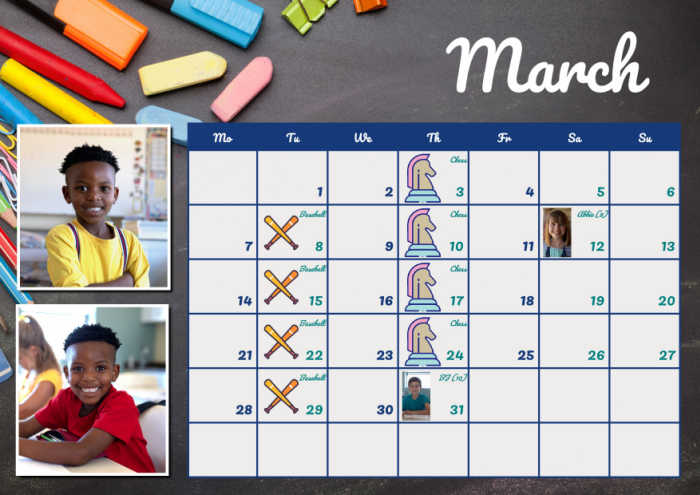 And this is it—this is how you make a school calendar that your kid will have fun following. With such a nifty tool at hand, you'll make sure that the school year goes smoothly for both you and your child.