It's difficult to find family-friendly and family-positive movies. Many movies targeted at families contain profanity, violence, or other negative elements (like a couple new releases we tried previewing this summer). And very few movies show a family with a mom, dad and kids; there's a joke that most Disney heroes or heroines have only one parent, but that's sadly true of many movies. So it's refreshing to find a movie about an entire family that also has no questionable content. I'm talking about The Croods: A New Age.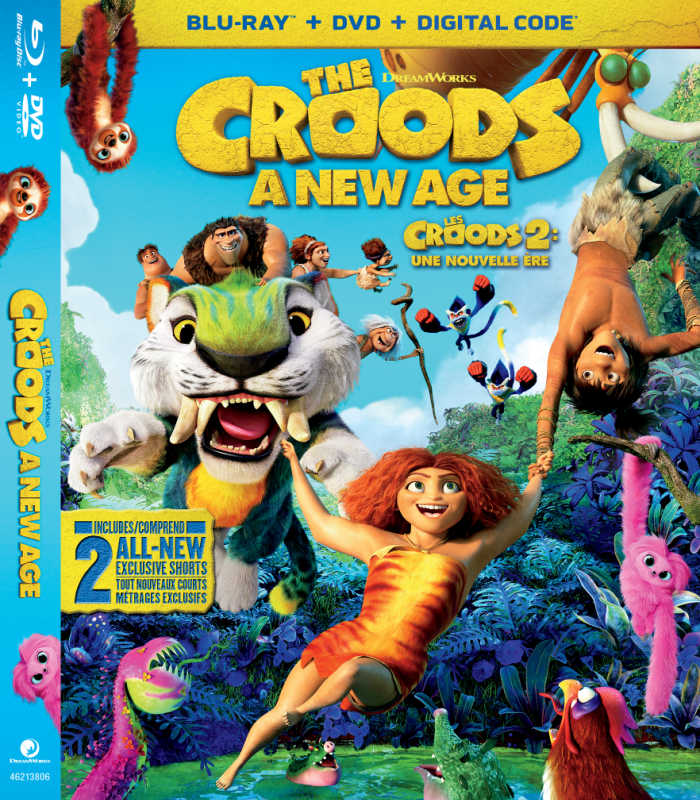 I received a copy of this movie for review; all opinions expressed are my own. This post contains affiliate links; as an Amazon associate, I earn from qualifying purchases.
The Croods (2013) is one of our favourite family movies. The adventures of this prehistoric family always leave us laughing hysterically. And, I mean, who can't identify with at least one of these (somewhat stereotypical) family members? I certainly saw a bit of myself and my dad in the drama between Eep and Grug over Guy. So we've been waiting all year for the second Croods movie to come out (and by waiting, I mean repeatedly watching the trailer, checking to see if movie theatres are playing it yet, trying to find it at our library, rewatching the first movie… you get the picture.)
The Croods: A New Age
The Croods: A New Age starts from Guy's point of view. We get a glimpse of his childhood and his search for the light, which leads to his meeting with Eep. Then the story picks up from where the first movie left off. The Croods are still dealing with killer creatures at every turn and searching for food, while Guy and Eep drive the rest of the family crazy with their teen romance. Then they stumble into a wall… and on the other side of the wall, they find tomorrow… aka, the Bettermans.
Honestly, it sucks out there. If no one's died before breakfast, it's a win. It is so much better in here. ~ Ugga
Behind their sturdy wall, Phil and Joy and their daughter Dawn have created an oasis of happiness (at first glance). They have separate rooms for everyone, running water (including showers), a sauna in the "man cave," coffee in the morning, and instant fire (no more banging two rocks together). The only rule: don't eat the bananas. However, the two families don't exactly hit it off together. Phil and Joy conspire together to have Guy stay with them while the rest of the Croods move on.
As tensions rise, the Croods break the one rule: Eep and Grug eat the bananas. ALL the bananas. And then they find out why bananas are off limits…
Now, the Croods and the Bettermans must work together to save those they love—before its too late.
Check out: 10 Father-Daughter Movies for Father's Day
Why We Still Love the Croods
We laughed throughout The Croods: A New Age. Like the first movie, it was just so much fun. Besides the various caveman jokes, there's the stunning scenery. Both movies are literally a feast for the eyes as their creators demonstrate that anything is possible. From brilliant colours to fantastic creatures (like wolf spiders and giant butterflies), this movie makes you want to just sit and take it in, like Thunk does. (It would have been amazing on the big screen!)
And like I said, there's so much family in this movie. From the interactions of the Croods to Phil and Joy's attempts to protect Dawn to both families wanting to adopt Guy, there's a lot of positive messages here. Nobody is perfect, but everybody has a redeeming moment. Grandma has a bigger part tin this movie, as she reminisces about her days as a warrior queen and then leads Joy, Dawn, Eep, Ugga and Sandy on a dangerous quest. I really love how each family member has a role to play, from Grandma (she's still got the moves, even if she's ancient) to Sandy (who says her first word at the end of the movie).
A big theme in The Croods: A New Age is scars. Eep proudly shows off her many scars (and their stories) to Dawn, who doesn't have any scars. Eep realizes that as perfect as Dawn's garden home may be, it's no different than the cave in which her father tried to keep her. Dawn revels in her first scar and the adventure outside the wall that caused it. And yet, there are also some hurts that leave no scars…
Every time I have been hurt before, it leaves a mark I can see. I have been hurt so much and I can't even see it. ~ Eep

I can see it. ~ Ugga
As a mom of girls, I really appreciated the interactions between Eep and Ugga in this movie. There's a heartwarming scene when Eep is struggling with her emotions, and Ugga lets her express those emotions, and offers empathy and understanding. I hope that, when my daughters face tough situations, I can reach out to them with Ugga's grace and wisdom. And, of course, the theme of letting go from the first movie continued, as both Grug and Phil must deal with that.
Overall, The Croods: A New Age gets two thumbs up from us (despite Sunshine's and Lily's groaning over the "mushy mushy" scenes). If you haven't yet checked out the trailer, you definitely should. You can also find movie updates on Facebook, Twitter and Instagram.
Who is your favourite Croods family member?
Enter to WIN a DVD/Blu-Ray copy of The Croods: A New Age to watch with your family! Just use the Rafflecopter form below. Good luck!
Giveaway open to residents of Canada and the US over the age of 18 except where prohibited by law. The Koala Mom is not responsible for the prize or shipping.