As a family, we enjoy doing puzzles and playing board games together. We're discovered that Escape Room games combine the best of these into one experience! Working together to solve the clues and "get out" of the room before the timer ends has been tons of fun. And the printable escape room kits for kids from Escape Room Geeks makes playing games as a family even easier. Just buy the game, download it, print it, and you're ready to go! We recently tested out Houdini's Secret Room…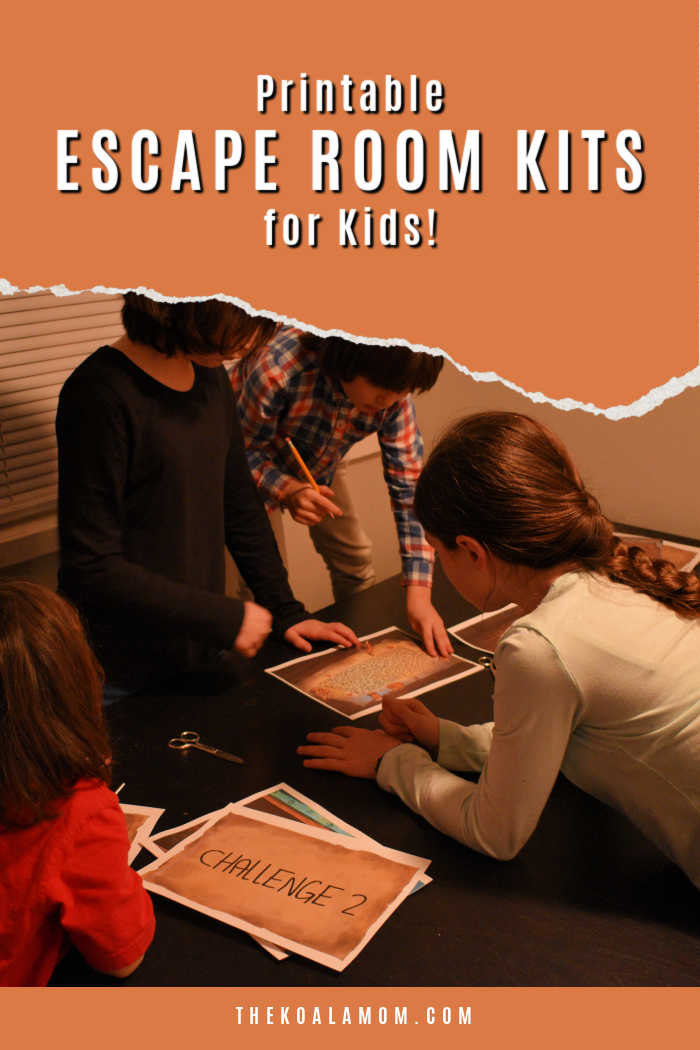 I received a game download in exchange for my review; all opinions expressed are my own.
Houdini's Secret Room
Houdini's Secret Room is a kids escape room game for ages 9 to 13. Jade, Lily and Sunshine (ages 7 to 12) completed all three challenges entirely by themselves with twenty minutes to spare. Pearl (age 5) helped cut out a few of the pieces. Even if kids aren't familiar with Houdini, the story for the game quickly draws them in:
The 150-year-old house that belonged to the most famous illusionist Houdini is now a museum. You decide to go there and learn some of his greatest tricks and illusions. Walking around, your curiosity leads you to a secret room, one in which no one has set foot for over a century. As you enter the room, the door slams shut, leaving you locked inside while the walls start closing in slowly.
Setting up the Printable Escape Room
I downloaded the escape room game and then printed it on card stock for the girls.
Just a note here… check ALL your printer settings before printing. I did this the first time I tried printing the game, but my printer ran out of ink so I had to cancel printing and get a new ink cartridge. When I went to print again, I forgot to check the printer settings. Apparently, I'd just printed something two-sided and so our escape room pieces came out printed on both sides of the paper. For a few of these, I made them work, and for a few, I had to reprint them.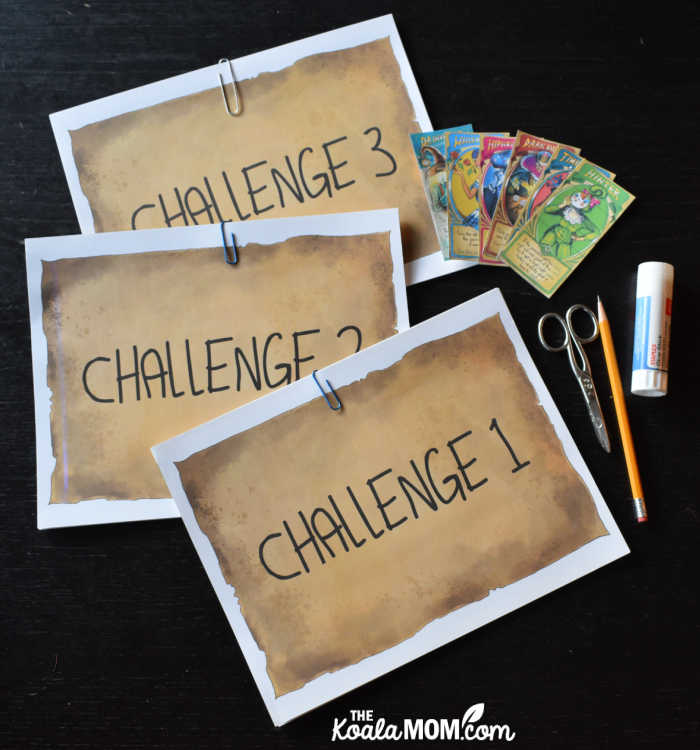 Once you've successfully printed all the pieces of your escape room kit, there's a few things you need to set up for the kids before they can start the game. I stapled two pieces together, organized all the pieces into the three separate challenges, cut out six character cards, and traced a number onto one piece. In about fifteen minutes of prep time (including waiting for the printer), the game was ready for the kids! (And it was a good thing it was that quick, because I had to keep chasing them out of the room while I tried to set up the game for them!)
Besides paper and a good ink cartridge, all you need for the game is some scissors, glue and a pencil. I used the timer on my phone but you could also use a kitchen timer.
Escaping Houdini's Secret Room
This kids escape room game has three challenges. Kids must complete each challenge before starting the next challenge. Once they found each answer, they checked with me to see that it was the right answer and then moved on to the next challenge. (Joey wanted to be involved too, so we gave him a scrap of paper from the game and a pair of scissors so he could "help" cut it out like Jade and Pearl.)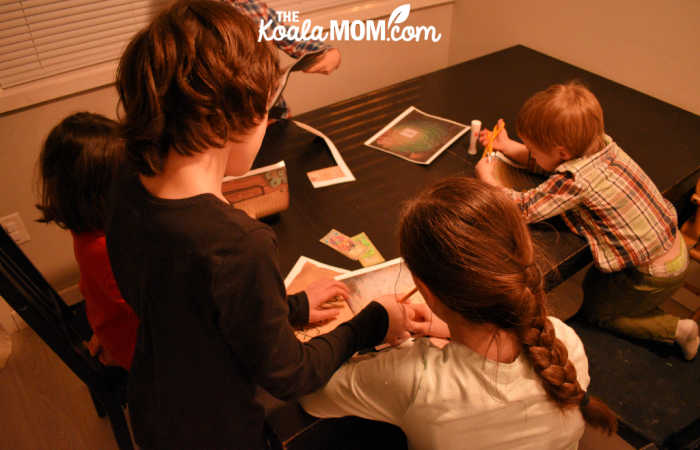 One thing I love about escape room games is watching my kids work together. This has been a bit of a shift for them, because in most board games we play, they are competing against each other. When we play escape rooms, they have to learn to read aloud, talk through their ideas, and share what they've discovered or figured out. For example, they took turns reading aloud the story or instructions that starts each challenge.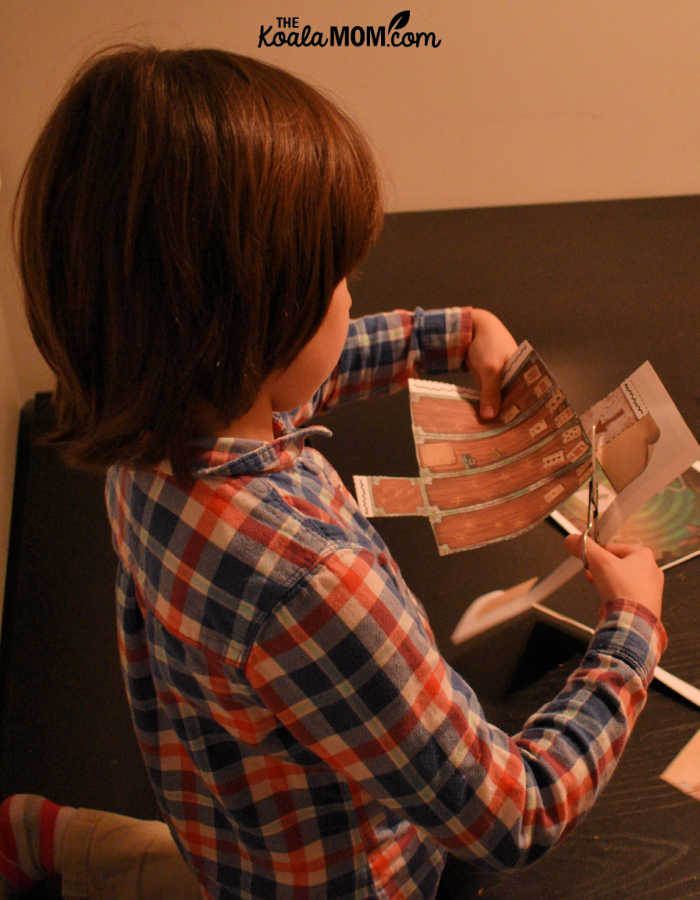 The first challenge in this printable escape room kit for kids involved the most cutting and gluing. The girls divided it into tasks, with Jade and Pearl doing most of the cutting while Sunshine and Lily worked on solving a different puzzle. Although I don't think a group of 7-year-olds could play this game by themselves, Jade contributed quite a bit to it. She likes puzzles just as much as her sisters do. She figured out how to assemble the box for the first challenge, and she figured out the clock clue in the third challenge.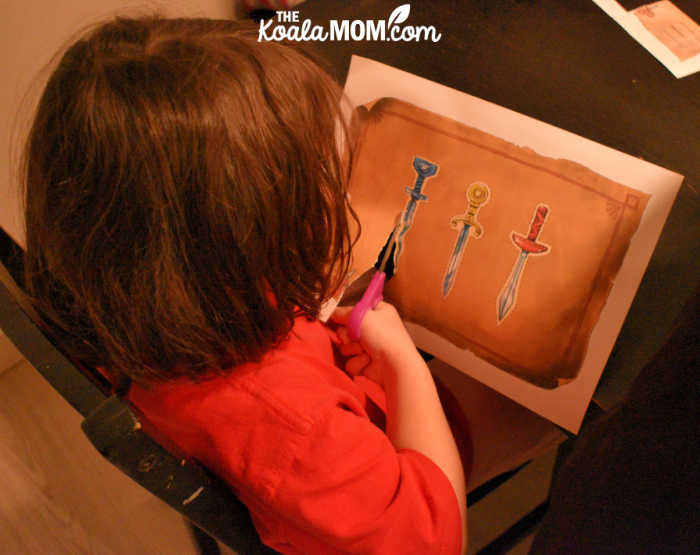 I have the say the images for this game are fantastic. Even Lily (my artistic daughter) commented on the artwork. As a homeschool mom, I do a lot of printing for my kids for various reasons, but I rarely print anything in colour. For this game, I felt the colour ink was worth it and the girls' reactions to the game confirmed that. Even though you can print it on a home computer, it's still a beautiful game that really drew the girls into the experience.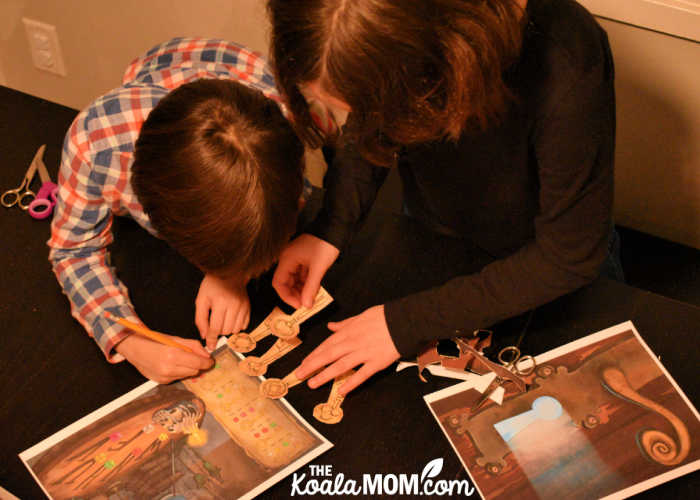 Sunshine is my super competitive daughter who tends to get a bit impatient with games. Several times, she asked me for a clue, while Lily said, "Wait. Let's keep working on it." Again, it was fun to see them work as a team, with their strengths complementing each other. I did give them a nudge when they seemed stuck in the last challenge. Their excitement over solving the first challenge propelled them into the second and third. Each clue they figured out was celebrated with great cheering.
My Thoughts on Printable Escape Room Kits
Overall, Houdini's Secret Room was a great way to spend an hour with the kids. They thoroughly enjoyed playing the game together and I had fun watching them figure out each step of the game. As I said, they finished the game in forty minutes (so maybe they didn't need that clue I gave them!).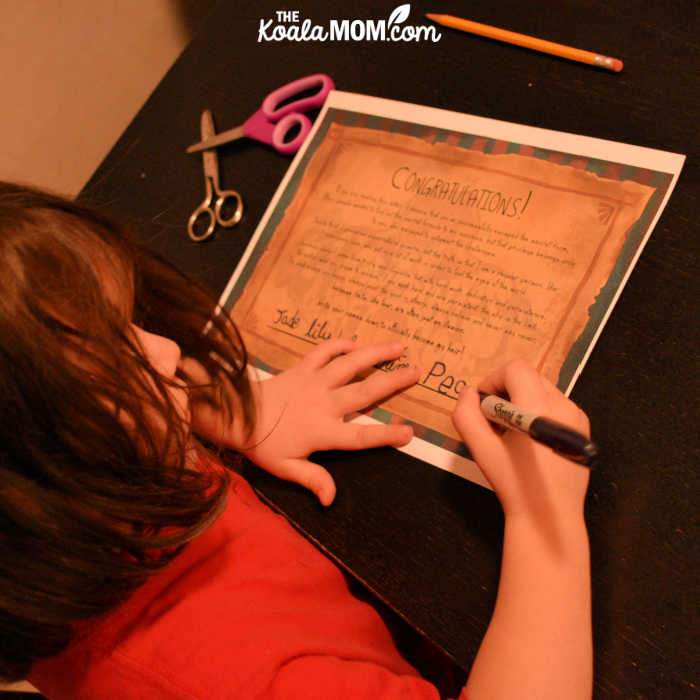 Escape Room Geeks also offers an option for parents to play along with their kids. A few of the printable pages are different so that less set-up is required, and the answers are provided on the webpage. Perhaps when we download the next game to play, I'll do that with them. For this time, it was fun to see how much they could figure out themselves.
We saved most of the pages from this game in case they want to play again. A few of the pages will need to be reprinted, as they wrote on them, but Lily grabbed an eraser to try erasing the lines before putting it away. They all agreed that they wanted to play it again in a few months (when they've forgotten all the clues!). When they do play again, I might laminate several of the pages first. They could use a dry-erase marker on the laminated pages, instead of a pencil.
At Escape Room Geeks, we have made it our mission to help people have fun anywhere and everywhere. We believe that a game can be more than a game, taking on layers of creativity and morphing into an enriching experience – an experience that binds together the people who play it.
Extra Fun!
Printable escape room kits for kids would be perfect for a birthday party. Escape Room Geeks even provides printable invitations and extra posters on their website, so that you can create a full experience for your guests. Divide the kids into teams of 2 to 4 kids to compete against each other to see who can "get out" first. The game also suggests other ways to make the experience more fun, such as providing real locks for kids to open to get to the next challenge.
If your family enjoys board games and puzzles as much as ours does, check out Escape Room Geeks. Houdini's Secret Room is available now to download, and more games are coming soon! You can also find Escape Room Geeks on Facebook, Instagram, Pinterest and YouTube.
Do your kids enjoy board games and puzzles? Do you think they'd like these printable escape room kits?