Like so many parents, I've spent a lot of time over the last few months planning our school year. This fall, I have four kids officially in school, from Pearl (starting Kindergarten/Grade 1) to Sunshine (going into Grade 7). While I've ordered curriculum and chatted with our teachers, I've also wondered how to juggle school work with four kids without losing my sanity (and still having some time to blog and write!). That's one reason I was super excited to find HOMER Reading, an educational phonics app for kids ages 2 to 8.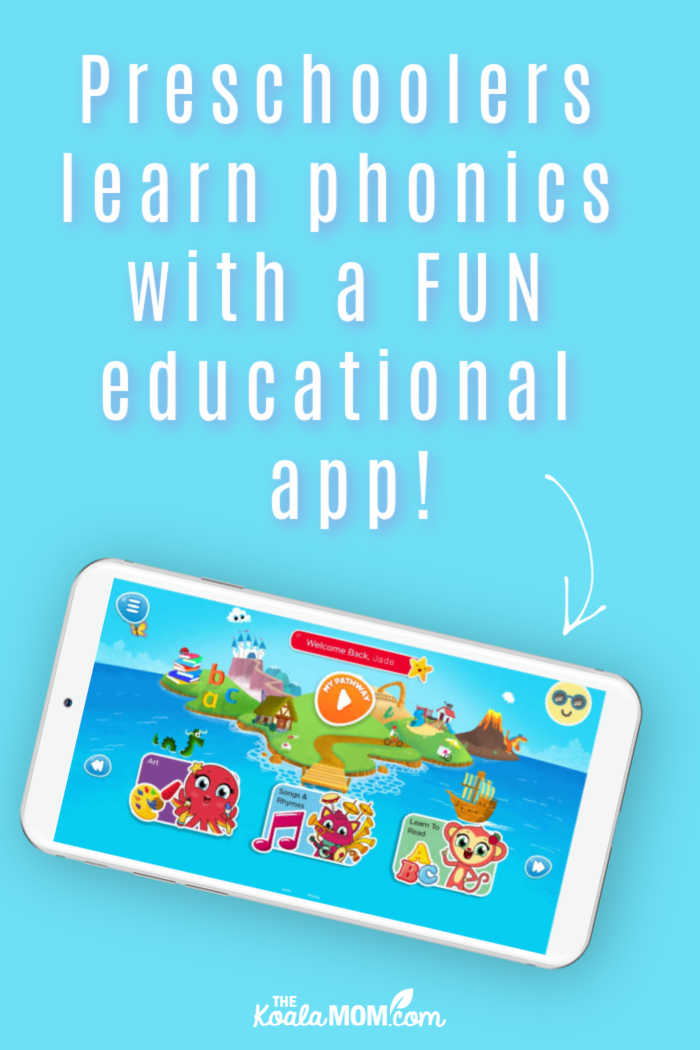 I was compensated for my time in writing this review; all opinions expressed are my own.
HOMER Reading is available through a website or an app (depending on which your child prefers). Through lessons, games and stories, HOMER Reading helps children learn to read and love to learn. Jade (grade 2), Pearl and even Joey (almost 3) all enjoy using HOMER Reading. Having them engaged and learning with the app gives me a bit more time to work with their siblings and manage everyone's schoolwork. Read on for more about why we love this educational app and website.
A Reluctant Reader
Over the last six years, I've taught my oldest three daughters to read. What I've learned about teaching reading is that each of them has learned to read in their own way. One child followed the phonics program from start to finish in one school year. One child started the phonics program, learned to read seemingly overnight, and never finished the program. And one child has been a reluctant reader, who has spent two years working on that same phonics program.
Jade tends to be cautious and hesitant about many things. Reading is on the list of things she regards as hard to do. In many areas, I've seen her give up easily when I know she can accomplish something. Right now, I'm working hard to nudge her gently along with her reading. I don't believe she has any reading problems or disabilities, beyond her own decision that it's too hard and she won't try it.
HOMER Reading has been helping to overcome this reluctance to read by making phonics, stories, and letters fun. Jade doesn't even really realize she's learning. Over the last month, I've seen her start reading things around the house without noticing it. She'll ask me a question about a book title or label—something she had to read, as I hadn't mentioned it until she brought it up.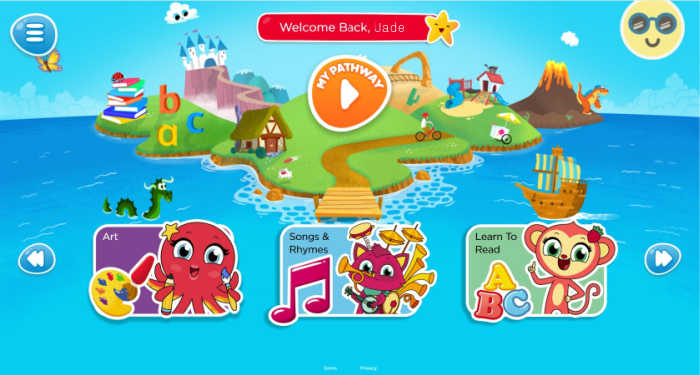 On HOMER Reading, Jade works at her own pace. She can pick and choose her activities, which sometimes works better for her than having me assign her homework. We customized her HOMER Reading experience with topics she's interested in. Through the activities and lessons on the website, she's gaining confidence with her reading skills that's expanding into her other schoolwork and daily activities.
A Beginning Reader
Pearl is just starting on the path to reading. We spent last year making alphabet posters and talking about letter sounds. This year, she's ready to start putting those letter sounds together into words. This phonics app offers her another way to build her skills and expand her phonics knowledge. The games and activities she completes on the app complement our offline phonics curriculum.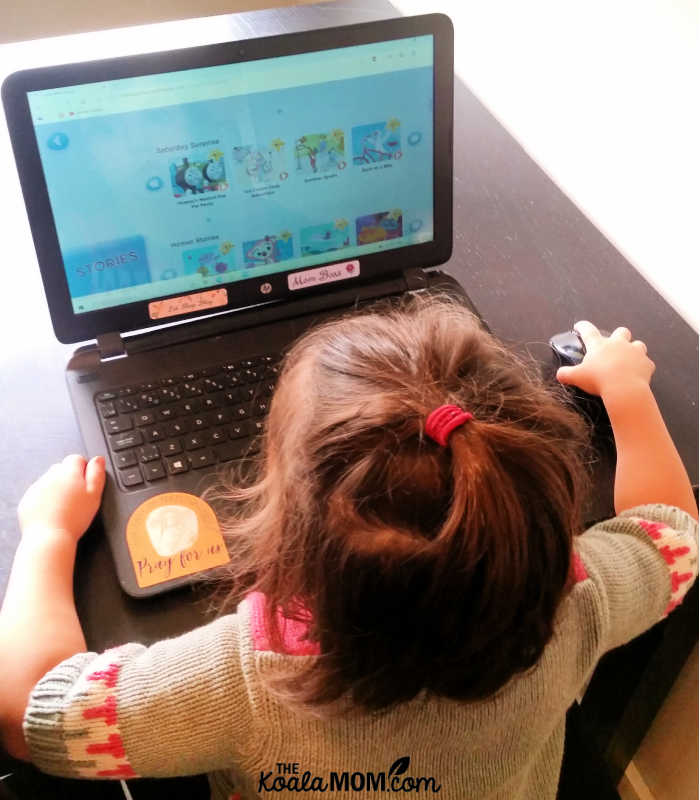 I love Pearl's eagerness to do school this year. She's watched her older sisters do school for as long as she can remember, and now it's her turn to do school too. At the same time, she has a short attention span. After about five or ten minutes of sitting at the table making letters into words, she's ready for a new activity. I've found HOMER Reading helpful because she can switch between different activities within the app, while still learning through all the activities.
For example, after listening to a story in the app, she'll be invited to draw or complete a picture related to the story. This gives her a chance to think about the story she just read and to create her own artwork. When she's done drawing, she might pick another story to listen to or move onto a different game.
A Busy Toddler
One of my biggest struggles with homeschooling Sunshine, Lily, Jade and Pearl this year has been their younger brother. Joey is almost 3 and moves around our home like a hurricane. Often when I sit down to help Jade read, Joey climbs into my lap and wants attention. Letting him listen to his own story on HOMER Reading gives me have some one-on-one time with Jade or Pearl when they need it.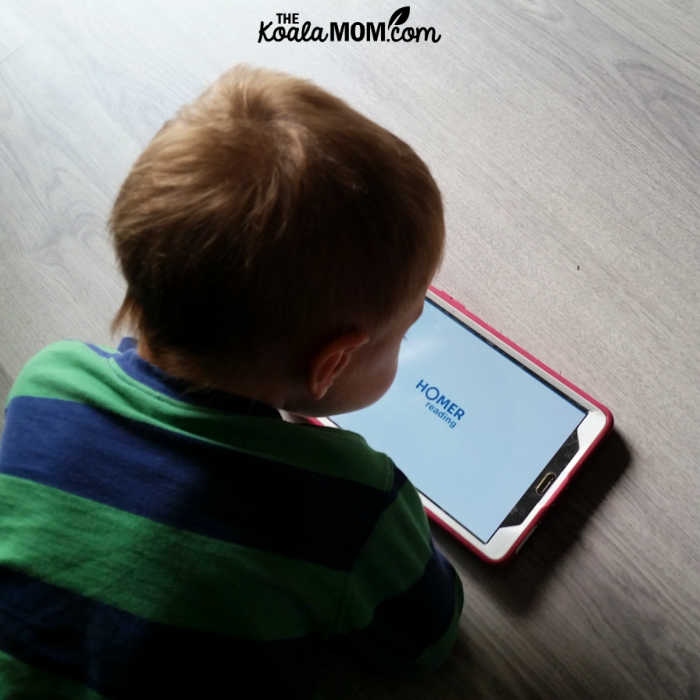 While I don't expect Joey to learn to read at age three, I am happy that he's being exposed to lots of stories and letters. I don't mind using apps to keep my toddler busy when those apps are educational. Right now, Joey's brain is working like a sponge, soaking up information. Even when he tries to match shapes or figure out letters sounds and gets more wrong answers than right because he's just guessing and doing what he's still his big sisters do, he's learning something. Maybe we'll see the results of this play in a few years when he does start to read!
An Educational App
HOMER Reading is designed for kids two to eight. My younger three have certainly demonstrated all the ways to use this phonics app and seen its benefits! Daily, Pearl asks me, "Can I do HOMER?" Besides phonics, HOMER Reading is also teaching her computer skills as she's learning to start the computer, find the website, and use a mouse.
Last week, the HOMER app was taking a long time to load on our tablet, so I uninstalled and re-installed it to see if it worked better (yes, there was a glitch they've now fixed). I forgot to add HOMER to the list of apps he can access in kids mode, however. Joey noticed right away and said, "HOMER not here. HOMER not here." In all the apps on our tablet, he has his favourite!
HOMER Reading was designed by teachers and child development experts and teaches the skills most critical for school and life. Through thousands of kid-tested lessons on ABCs, phonics, sight words and more, kids will have fun learning to read! Because it's fun and easy to use, this educational app encourages kids to sit down and learn. Just 15 minutes a day of HOMER Reading has been shown to increase early reading scores by 74%.
Another reason I love HOMER is that it's ad-free and safe for kids to use on their own. I have parental controls on my tablet and try to monitor what my kids are doing online. When they're using this phonics app, I don't have to worry about inappropriate content or strange ads popping up. HOMER Reading keeps Jade, Pearl and Joey engaged with the content, which they can easily navigate on their own. (Seriously, it's so easy to figure out that even Joey can find his favourite stories in the app!)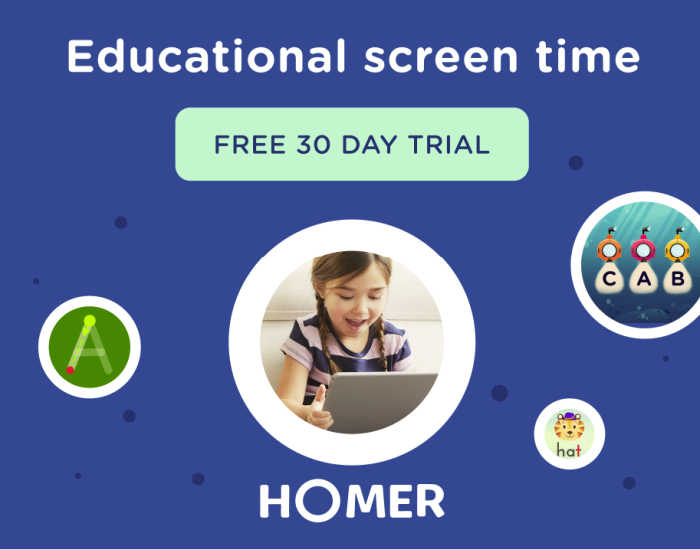 HOMER can be accessed via the website on a computer or via the app on your device. Once logged in, kids can choose between Art (Pearl's favourite), Songs & Rhymes, Learn to Read, Discover the World, My Pathway, StoryTime (Joey's favourite!), First Readers and Brain Games. StoryTime includes classic stories like Goodnight Goodnight Construction Site, Harry the Dirty Dog, and Harold and the Purple Crayon as well as HOMER originals.
I love the fact that all my kids love stories. Whether its my older girls flopped on the couch with their noses in a book, or my younger ones asking me to read them a story, we are huge fans of books around here. HOMER Reading offers the younger kids more options for read-aloud stories, as there's a huge library of great stories within the app and they don't have to wait for me to have time to sit down and read with them (although we still read-aloud together too!).
Getting Started with HOMER Reading
To begin, I created a HOMER Reading account each for Jade and Pearl. In their accounts, I was able to choose their favourite topics (to customize the stories and games to their interests) and set their reading level. I could create another account for Joey, but right now he just uses Pearl's account on our tablet. Jade and Pearl prefer to access HOMER Reading using our computer, while Joey uses the tablet.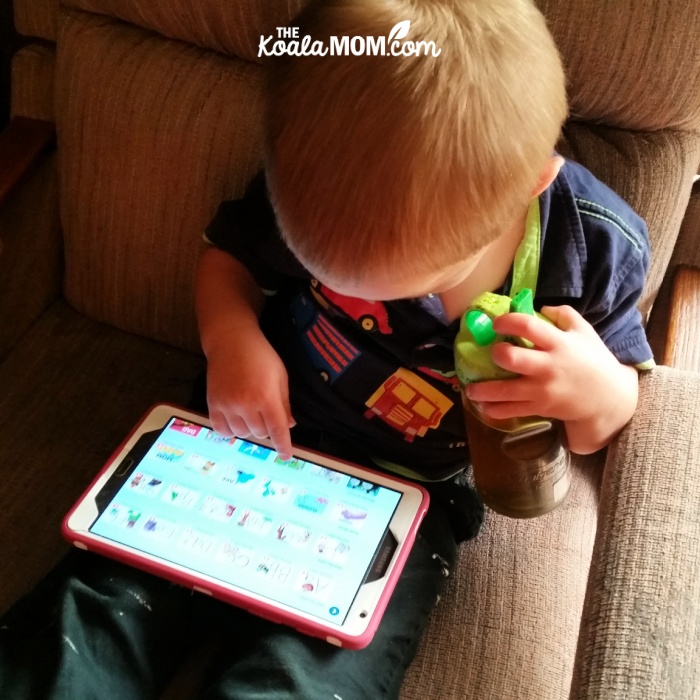 Pearl, as a beginner reader, is starting My Pathway at the very beginning. I set her reading level to "Pre-K" for ages 4+, where she will:
Practice beginning phonics
Choose stories from your interests
Match sounds to letters
Identify first & last letters in words
Learn about rhyming
Jade, with a bit more reading experience, is ready for something more. I set her reading level to the highest in the app, "Growing Reader," for kids ages 5+, where she will:
Master advanced phonics
Read books from your interests
Build fluency through short books
Learn letter blends
I expected to have HOMER Reading give her a reading assessment and place her further along the Reading Pathway. However, there was no option for an assessment or a recommendation for a placement on the pathway for a Growing Reader. All I could do was turn off the Step-by-Step Reading Pathway. I'd love to see a better reading assessment in the phonics app or a way to place kids who are Growing Readers further along the path.
Try HOMER Reading today!
HOMER Reading is offering a back-to-school special for $45 a year. That price includes up to four children on one plan. If you have several preschoolers like me, it's easy to add all your kids to the plan and create their own accounts for them.
Jade and Pearl are both rather possessive of their accounts and don't like finding each other playing games or doing activities in their accounts. Thankfully, HOMER Reading has a little avatar as well as a "Welcome Back, Pearl / Jade!" note that makes it easy for them to know whose account is logged in. I simply have to enter my birthdate to switch between their accounts for them.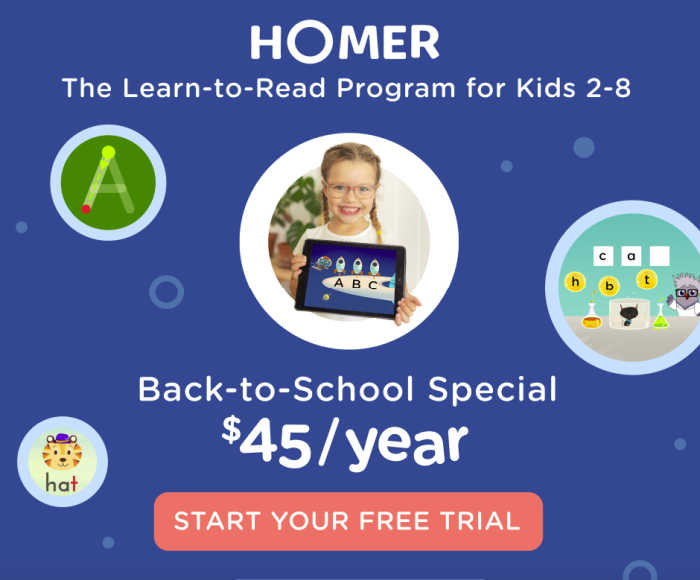 If you're looking for a fun, educational phonics app or website for your toddler or preschooler, check out HOMER Reading! Let me know how much your kids love it.