As a homeschool mom, it's important to invest in yourself. While many of us start homeschooling with rosy dreams of happy kids and ah-ha moments, the truth is that there's a lot of nitty-gritty about the homeschooling life too. You need some encouragement and inspiration, some inner strength to keep going when the days get tough. And you'll find that in great books for homeschool moms.
I recently polled my favourite homeschoolers about their recommended reading for homeschool moms. Here's our list of books to inspire and encourage you on your journey!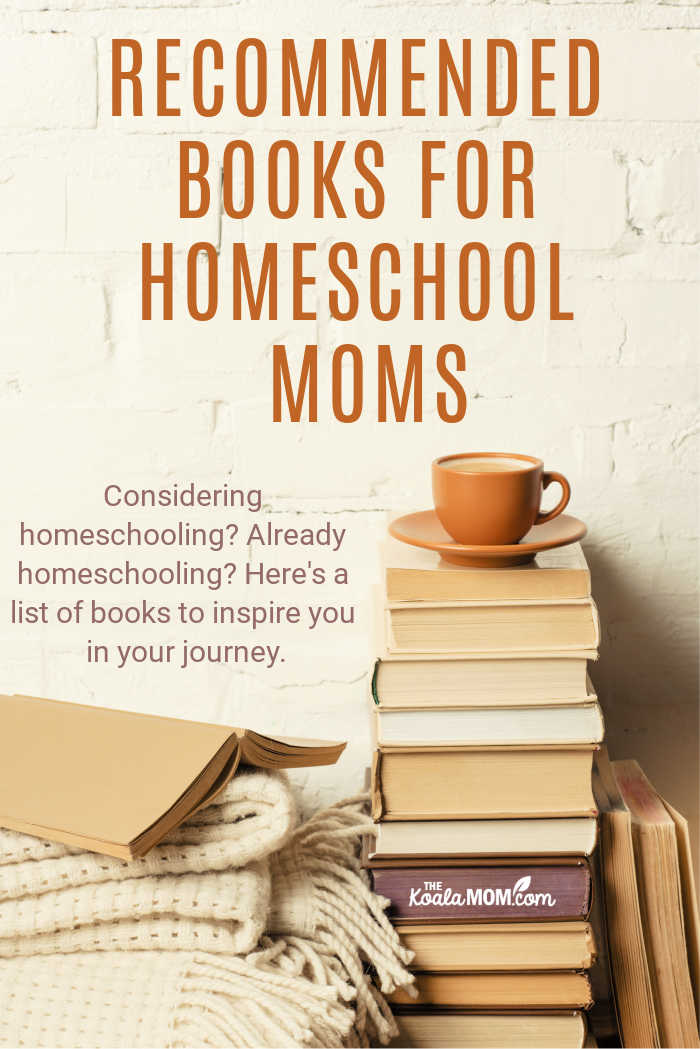 This post contains affiliate links; as an Amazon associate, I earn from qualifying purchases.
Tip: if you find yourself scanning this list and thinking, "but I don't have time to read!", may I recommend audiobooks? You can listen while folding laundry or driving your kids to your activity. I love multi-tasking in this way!
How to Homeschool in Canada by Lisa Marie Fletcher
Have you decided to homeschool and aren't sure where to start? Are you overwhelmed by curriculum choices and trying to figure out exactly what you need to do? How to Homeschool in Canada is your travel guide to beginning this homeschooling journey with confidence. Within these pages, Lisa Marie Fletcher will show you how to:
pick a homeschooling method to best fit your family
choose curriculum
plan your homeschool year
find a routine that works for you
handle rough patches
keep your house clean
prioritize your responsibilities
homeschool multiple children
Homeschooling is a wonderful adventure. Having all the right tools and equipment will make it easier to enjoy the journey. If you are looking for a guide to illuminate your path, this is the book for you.
This is a BRAND NEW book for homeschool moms this summer and I highly recommend it!!! I had the chance to read it, as I was getting bombarded with homeschooling questions from several friends considering it for this fall. I wanted to tell all my friends, "Just read Lisa's book!" Even as a veteran homeschool mom, I learned so much from Lisa's gentle, common-sense wisdom in this book.
Homeschool Planning Guide for the Unorganized Mom by Monique Boutsiv
Eliminate the homeschool overwhelm once and for all! This homeschool planning guide is perfect for you if:
You worry your lack of organization will ruin your family's homeschooling and keep your kids from learning.
You know you need to plan a little more but hate the idea of having your entire day scheduled out down to the minute.
You agonized over which homeschool planner to buy, finally invested in one, and then abandoned it soon after because you realized you don't know HOW to plan.
You are stressed out, overwhelmed, and afraid of failing as a homeschool mom.
You CAN homeschool your kids with less overwhelm, less stress, and more joy. You just need a simple plan, and Monique Boutsiv provides it for you in this practical, hands-on book.
Homeschool Basics by Tricia Goyer and Kristi Clover
Do you long to homeschool with joy, simplicity, and success? Finally, all the best tried-and-true homeschool advice you've been looking for in one amazing book: Homeschool Basics: How to Get Started, Keep Motivated, and Bring Out the Best in Your Kids. With more than thirty years of combined experience, homeschooling moms Tricia Goyer and Kristi Clover provide thoughtful and practical advice on how to get started and stay the course in your home-school journey. But they don't stop there.
In this book, Tricia and Kristi unpack tons of great tools that will help you take unnecessary pressure off yourself so you can focus on what is truly important. (Hint: It's not academics!) Homeschool Basics will remind you that the best type of homeschooling starts with the heart. You'll find ideas to help you push your fears to the side and raise kids who will grow to be life-long learners and who have a positive impact on God's kingdom.
Tricia and Kristi believe that homeschooling can transform your life, your home, and your family. Mostly, they believe homeschooling can truly prepare your children for the life God's called them to live. Homeschool Basics covers the "basics" and so much more.
Tricia Goyer also has an e-course available called Homeschool Success (affiliate link). I just signed up for this course with a friend and we're going to work through it together and chat about it as we go. If you have other friends who are considering homeschooling this fall, I recommend creating your own group and signing up for this course or picking some of these books to read and discuss together! If you don't have other homeschoolers you can lean on, then let Tricia be your mentor and guide you through what you need to know for homeschool success!
Consider This by Karen Glass

Classical education is an education of the heart and conscience as much as it is an education of the mind. Consider This: Charlotte Mason and the Classical Tradition explores the classical emphasis on formation of character and links Charlotte Masons ideas to the thinkers of the past. This is not a "how to" book about education, but a "why to" book that will bring clarity to many of the ideas you already know about teaching and learning.
The Well Trained Mind by Susan Wise Bauer

The Well-Trained Mind: A Guide to Classical Education at Home will instruct you, step by step, on how to give your child an academically rigorous, comprehensive education from preschool through high school—one that will train him or her to read, to think, to understand, to be well-rounded and curious about learning.
Veteran home educators Susan Wise Bauer and Jessie Wise outline the classical pattern of education called the trivium, which organizes learning around the maturing capacity of the child's mind and comprises three stages: the elementary school "grammar stage," when the building blocks of information are absorbed through memorization and rules; the middle school "logic stage," in which the student begins to think more analytically; and the high-school "rhetoric stage," where the student learns to write and speak with force and originality.
Using this theory as your model, you'll be able to instruct your child in all levels of reading, writing, history, geography, mathematics, science, foreign languages, rhetoric, logic, art, and music, regardless of your own aptitude in those subjects.
Teaching From Rest by Sarah Mackenzie

Those who have made the decision to homeschool their children have done so out of great love for them and a desire to provide them an excellent education in the context of a warm, enriching home. Yet so many parents (mainly mothers) who have taken up this challenge find the enterprise often full of stress, worry, and anxiety.
Teaching from Rest: A Homeschooler's Guide to Unshakable Peace is a practical, faith-based, and inspirational book. Sarah Mackenzie addresses these questions directly, appealing to her own study of restful learning and her struggle to bring restful learning to her (six) children.
The Read-aloud Family by Sarah Mackenzie
The stories we read–and the conversations we have about them—help shape family traditions, create lifelong memories, and become part of our legacy. Reading aloud not only has the power to change a family—it has the power to change the world. 
But we all know that connecting deeply with our families can be difficult in our busy, technology-driven society. Reading aloud is one of the best ways to be fully present with our children, even after they can read themselves, but it isn't always easy to do. In The Read-Aloud Family: Making Meaningful and Lasting Connections with Your Kids, you will find the inspiration you need to start a read-aloud movement in your own home. Discover how to:
prepare your kids for academic success through reading to them
develop empathy and compassion in your kids through books
find time to read aloud in the midst of school, sports, and dinner dishes
choose books across a variety of sibling interests and ages
make reading aloud the best part of your family's day
Besides these two books for homeschool moms, Sarah Mackenzie also has a website and podcast called the Read-Aloud Revival, where she shares more great information and tips on reading, homeschooling, and connecting as a family through the magic of books. If you can't find the answer to any of your reading questions in her podcast notes, you can send her a question and she might answer it on the podcast! You can also join her membership site for book clubs and more bookish delights.
Educating The Whole-Hearted Child by Clay and Sally Clarkson

Educating the Whole-Hearted Child has provided a trusted roadmap for families on the homeschooling journey. Clay and Sally Clarkson show you how to faithfully and confidently nurture, disciple, and educate your wholehearted child at home. In this book, you'll learn:
How to cultivate a vital Christian home where learning can be as natural as playing
How to see and plan every day through the lens of the WholeHearted Learning model
How to teach confidently with proven, parent-friendly methods to achieve your goals
How to maintain a balanced life and home through family, structure, order, and support
How to understand your child's unique learning style to help them grow and thrive
Whether you're just getting started, or you're a seasoned veteran, you'll find in this trusted guide a comprehensive model not just for Christian home education, but also for the Christian home. Educating the Whole-Hearted Child is the whole picture—you, your children, your home, and God.
You can Teach Your Child Successfully by Ruth Beechick

You Can Teach Your Child Successfully is THE book for homeschool moms. It has more help between two covers than any other such book available. It includes sections on reading, writing, and arithmetic, as well as subjects beyond the three R's. The rare common sense is refreshing to meet in an educational book. Although Dr. Beechick is a highly experienced teacher and curriculum developer, she believes that parents are the best teachers of their children. She sweeps away the mystery that surrounds education. After reading this book you no longer will feel that teachers know secrets that are hid from you. You will be a well-informed teacher yourself.
Yes! You Can Homeschool Your First Grader by Beth Jones
This short ebook is packed with tons of encouragement and practical advice on homeschooling Grade 1. Beth Jones covers questions most homeschool moms ask, like "Am I qualified to home school?", "How do I get started?" and "What curriculum should I use?" She practical advice about creating your own curriculum or following a prepared curriculum, and even has a list of curriculum options.
If you have questions about homeschooling or are jumping into first grade, I highly recommend Beth's book Yes! You Can Homeschool Your First Grader. I read this book for homeschool moms way back when Sunshine was in Grade 1 and, even as a homeschool graduate myself, found it immensely reassuring and helpful.
Homeschooling, Simplified by Bonnie Landry
Bonnie Landry is a veteran homeschool mom from Vancouver Island with simple, gentle homeschooling methods. Her Homeschooling, Simplified series includes six small, practical books on teaching elementary children reading, writing and arithmetic:
If you are new to homeschooling and feeling overwhelmed by curriculum options and how you're going to teach your child, start with these easy-to-read books for homeschool moms. Bonnie makes homeschooling uncomplicated and easy. Her focus is on building bonds between mother and child through homeschooling. Her teaching methods employ practical, easy resources such as chocolate chips for math and great books at the library or in your home.
Hold Onto Your Kids by Gordon Neufeld and Gabor Mate
Hold On to Your Kids: Why Parents Need to Matter More Than Peers isn't a homeschool book, per se, but as I read it, I found myself affirmed in my decisions to homeschool my children. Building a close-knit family is very important to me (and was a big reason that I chose to homeschool, as I saw the way my oldest daughter drew away from her sister and I even just in Kindergarten), and this book resonated with me.
In Hold On to Your Kids, Dr. Neufeld and Dr. Maté explore the phenomenon of peer orientation: the troubling tendency of children and youth to look to their peers for direction—for a sense of right and wrong, for values, identity and codes of behaviour. But peer orientation undermines family cohesion, poisons the school atmosphere, and fosters an aggressively hostile and sexualized youth culture. It provides a powerful explanation for schoolyard bullying and youth violence; it is an escalating trend that has never been adequately described or contested until Hold On to Your Kids. Once understood, it becomes self-evident—as do the solutions (such as homeschooling!).
If bullying, peer pressure and your child's social circle concern you, then you should read this book. If you worry about socialization in homeschooling, then you should read this book and think about whether school really is the place for children to be socialized.
This is My Home, This is My School by Jonathan Bean
Every homeschool family needs a copy of this beautiful picture book. Honestly, there are sooooooo many books for kids in the library about going to school. Half the board books and picture books in the library seem to be about some aspect of life in school. I found it so refreshing to find a book that accurately and positively portrays homeschool life. I laughed all the way through this book. Whether you're starting homeschooling this year or you've been doing it for a few years, you need This is My Home, This is My School on your shelves. (Pssst—request that your library buy a copy too.)
What books for homeschool moms have inspired or encouraged you in your journey?