First Holy Communion is a big moment in any young Catholic's life. It will be the first time they can partake in Jesus's body, blood, and soul and will be a moment they will remember for a lifetime. Along with their baptism and confirmation, this day is worth celebrating. Here are some tips for planning your child's First Communion celebration.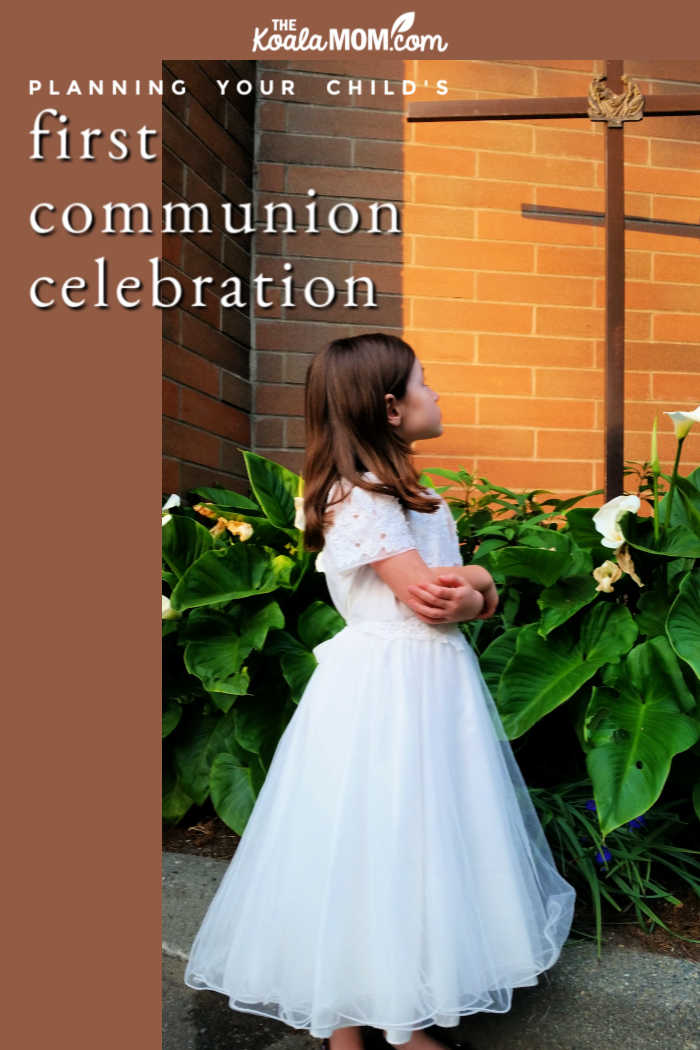 When Sunshine and Lily celebrated their First Holy Communions, I remember wondering if we should plan a party. It was a special event both to them and to my husband and I (who, as converts, remember waiting years for our own First Communions). But was a big celebration somehow inappropriate? Lacy from Catholic Icing says, "Making your First Holy Communion only happens once in a lifetime, and in my book, that makes it waaaaay more exciting than a birthday! So live it up—throw a party! What better way to show to your kids that making their First Holy Communion is a big deal than to make a big deal out of it?"
Guest List
Creating your guest list will take some time, so tackle this part of planning your child's First Communion celebration first. You will need to track down everyone's address and verify that the addresses you have are correct. Get your child involved in the guest list and planning by asking them who they would like to have at Mass and at the party afterward. If your child's godparents live close enough to come, they should definitely be on the guest list.
A question that is often asked is whether it's appropriate to invite non-Catholic friends or relatives to a First Communion or Confirmation. The answer is a resounding yes. Just as non-Catholics can be part of Sunday Mass, they can be part of your child's sacramental celebration. In fact, I still remember attending my best friend's confirmation years before I joined the Catholic Church myself! You should feel free to invite anyone who is a major part of your child's life.
Invitations
Once you have created your guest list, you will be ready to send out your first holy communion invitations. Believe it or not, getting your guest list together is the hardest part. Creating your invites can be a quick and easy part of the process, thanks to online card companies that allow you to design your card instantly online with your text and color choices.
With that being said, here are the required elements of what you will need to include on the card:
Date of the Baptism, First Communion, or Confirmation Mass
Name and address of your Parish
Time of the Mass
Time of the Celebration (and place, if it's not at the church)
RSVP details
If many of your guests cannot attend because of distance or a pandemic, invite them to participate in the party after Mass via video conferencing. You could also invite guests to record a video or message that you can share with the guest of honor during the celebration. The invitation should include details for joining the party via video or for sending you their recorded greeting.
The Sacramental Mass
Your child's parish will give you guidelines to help prepare your child to receive the sacraments. If you have any questions, reach out to your parish priest. But don't leave sacramental instruction to your parish; join your child in getting ready for this important day. Planning your child's First Communion celebration isn't just about having fun, but about making a special moment in your child's life more memorable.
In Around the Year with the von Trapp Family, Maria von Trapp says, "To turn such a day into a 'holy day,' we parents should prepare ourselves for it by special study and much prayer in order to be able to give the child an even deeper understanding of what he is going to do when he kneels down." She adds, "The preparation for this day… should be a holy rite and duty for every mother."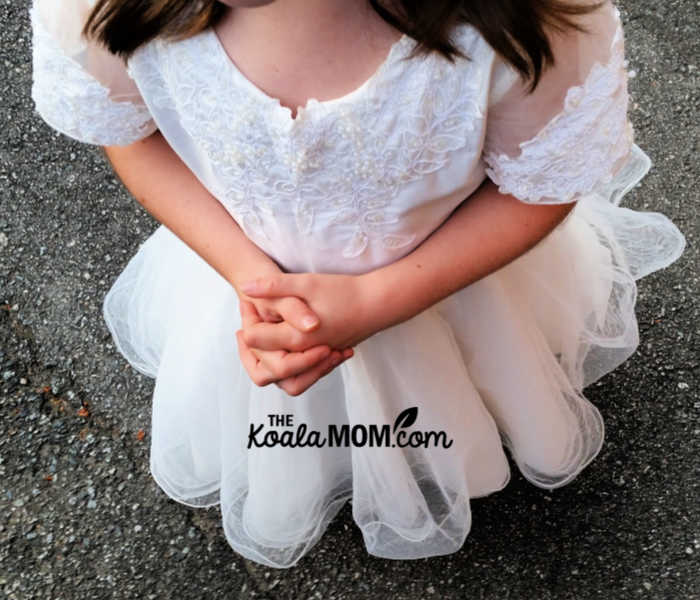 Get Pictures
You'll want lots of pictures to remember your child's special day! Plus, with everyone dressed up for the special occasion, this is a great opportunity to get a portrait of your child and maybe even a family portrait. Designate someone to take pictures at the event (if a family friend or your child's godparents has a good camera, ask them to help out in this way).
If possible, try to get pictures before the Mass and party. When Sunshine received her First Holy Communion, the church set up a few "photo booths" where we could get pictures while everyone was arriving and getting organized. For Lily's First Holy Communion, we didn't think of pictures until after the party and by then everyone was tired and less than cooperative.
Party Time!
A party is not a requirement, but most families choose to celebrate their child's sacraments with a party. A party is an excellent way for your close friends and family to spend time with your child to acknowledge the important step in the Church and in their life. When planning your child's First Communion celebration, consider:
Decorations: When it comes to decor, it is recommended that your venue matches the same theme as your child's First Communion apparel with white table linens and floral arrangements that are also a simple white design. Maria von Trapp says, "Not only the table, but the house or apartment should be decorated. For the rest of his life, the child will remember this day."
First Communion Cake: An elegant white cake with a crucifix in the center or chalice is a great way to represent the recently completed ceremony. Catholic Icing has tons of ideas for First Communion cakes.
Menu: The menu for the day can be a formal dinner or a set of finger foods. It depends on whatever you feel would be appropriate and fits with what works best for your family and what you think your son or daughter will want on their big day. Kathryn Whitaker suggests an easy meal like fajitas that can be prepped ahead of time so it's ready when you arrive home from the church with your guests.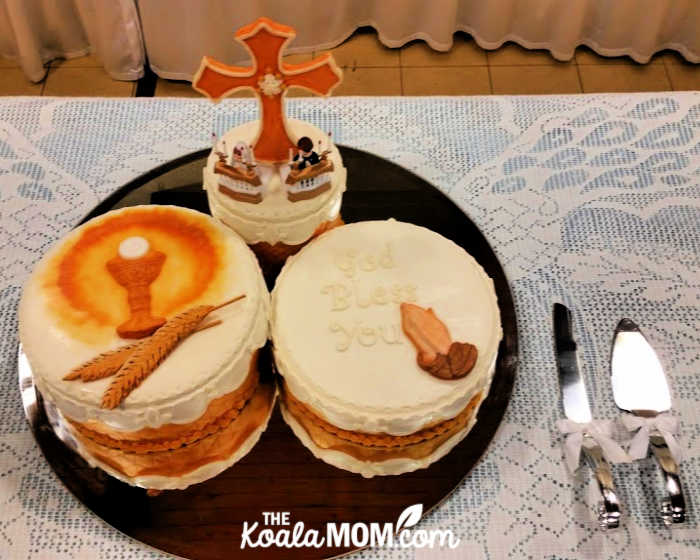 For more party planning tips, check out 10 Tips for Planning a Great Surprise Party. I have a free party planning printable there for you too!
First Communion Gifts
Gifts are never required, but you will find that many of your guests want to bring a gift to celebrate your child. With these kind gestures, take the opportunity to mention to your guests that a thoughtful and religious gift may be the most appropriate. Maria von Trapp recommends "a beautiful medal or a little cross for the child to wear, or a picture for his room, a reproduction of the old masters, or a beautiful statue."
You may have many guests that have not attended a Mass before and are not sure what type of gift would be appropriate. Adding a few ideas to the invitation or a few recommendations can be very helpful to your guests.
What tips would you share for planning your child's First Communion celebration?