Johann Sebastian Bach is well-recognized today as one of the world's greatest composers. I've appreciated his music since I was a kid, when I first listened to an audio story about him. Recently, I was delighted to grab the new Maestro Classics CD, Bach and the Pipe Organ, to introduce my kids to Bach and his music. They've had fun listening to this CD while playing Lego or folding laundry.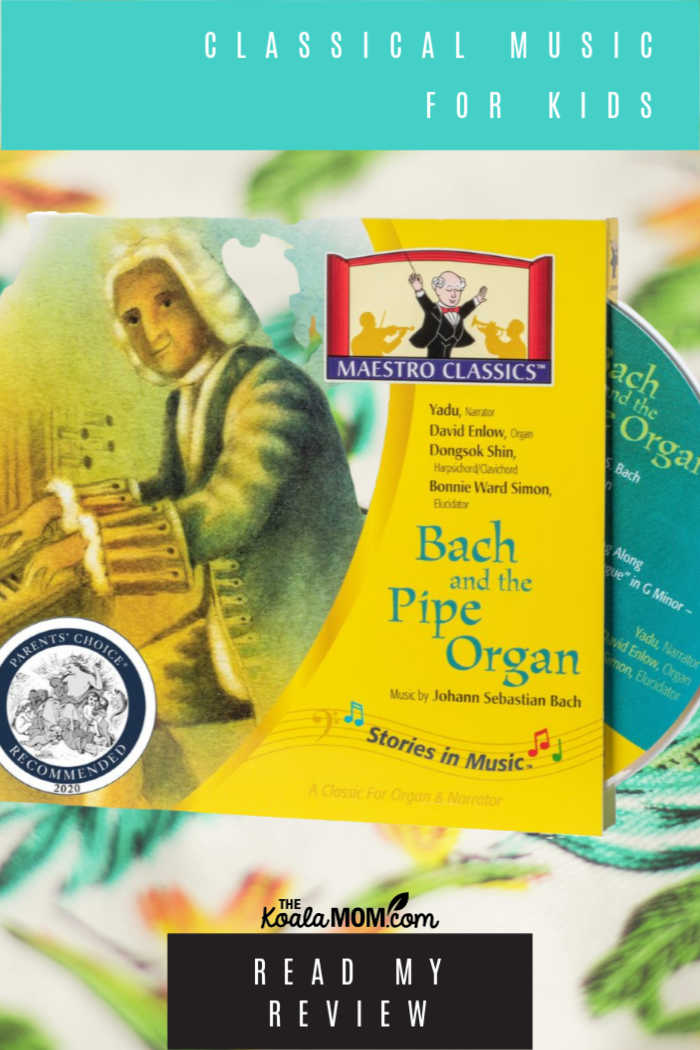 I received compensation for this post; all opinions expressed are my own. This post contains affiliate links; as an Amazon associate, I earn from qualifying purchases.
Bach and the Pipe Organ
Bach and the Pipe Organ begins with the life of Johann Sebastian Bach. Narrated by renowned storyteller Yadu, the story is punctuated by Bach's music, which adds excitement and emotion to the story. Children learn about Sebastian's childhood as one of the many musical Bachs, his deep interest in playing the organ, and his career as a composer and organist. Bach's life is full of surprises and twists and Yadu does an excellent job making it interesting for kids.
After hearing about Bach's life, children learn more about the pipe organ mentioned in his story. While I've seen organs of varying sizes in many churches, I didn't realize that organs are all custom-built in the building and can't be moved, or that they've been around since Roman times. These details about organs helped me understand Bach's fascination with them as well as his reputation as a great organist.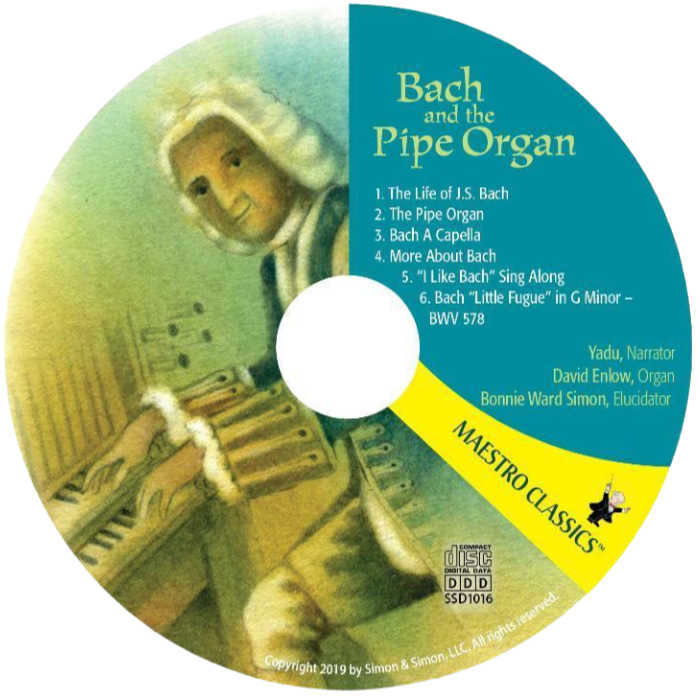 The next track on Back and the Pipe Organ features a capella music by J.S. Bach. I really appreciate the way that the Maestro Classics CDs weave together music and story. Children may not listen to Bach's music on their own, but after hearing his story, they are drawn into the music as well.
Bonnie Ward Simon then explains more about Bach's life. Because he's so respected as a composer today, it's hard to imagine his music ever being forgotten or overlooked. Yet as Simon explains, Bach himself wouldn't have expected to be a renowned composer. He composed his music for special occasions—and each new occasion received new music. That's mind-boggling to someone with little musical skill like me, but I guess that was just what Bach did.
Kids then get the chance to sing along with Bach. This is the part of Back and the Pipe Organ that my kids really like. Catchy lyrics are written to go with a section from Bach's Little Fuge in G Minor. I find that the lyrics help my kids remember the tune. They start singing along pretty quickly (they have a better ear for music than I do!). In the final track, they listen to the Little Fuge in G Minor but now have a sort of "signpost" to follow the music with because they've learned the basic melody.
Bach and the Pipe Organ also comes with a booklet that includes more information and activities for kids, including a Bach's bio, more about pipe organs, words and music for singing along with Bach's Fuge, information about the harpsichord and clavichord and the Baroque period, and a crossword puzzle and other games. Beautiful, whimsical illustrations accompany the text in this 12-page booklet, which is a great addition to all the information on the CD.
Musical Stories
I've noticed, both in my own years of taking music lessons and now in watching my daughters take music lessons, that we connect more with musical pieces when we know the story behind the piece. The girls get excited learning about a piece by Bach or Handel or Tchaikovsky because they know the stories of those composers, thanks to Maestro Classics. These CDs really bring alive the lives of these musicians and make their music more interesting to a new generation of children.
We've been listening to the Maestro Classics collection for several years now. These stories have gone on road trips with us and often get popped into the girls' CD player as they are playing or working in their room. Like Bach and the Pipe Organ, all the CDs move from story to music and back again. Kids connect with Bach as a little boy sneaking music from his big brother or tagging along behind his dad to see the new pipe organ being built. And they absorb the music as it's woven through the story and explained in bite-sized, kid-friendly chunks for them.
If you're looking for a great way to teach your children about classical composers, I highly recommend checking out Bach and the Pipe Organ and the other Maestro Classics CDs. The entire collection makes a great Christmas gift for your little musician!
More about Maestro Classics
Bach and the Pipe Organ is the thirteenth album in the Maestro Classics collection. Founded by Bonnie Ward Simon and Stephen Simon, these CDs teach kids about music. In 2004, the couple set out to create a kid-friendly concert experience after the birth of their first son. After a decade of sold-out concerts, they began create the Maestro Classics CDs to reach a wider audience. Our family is so glad they did!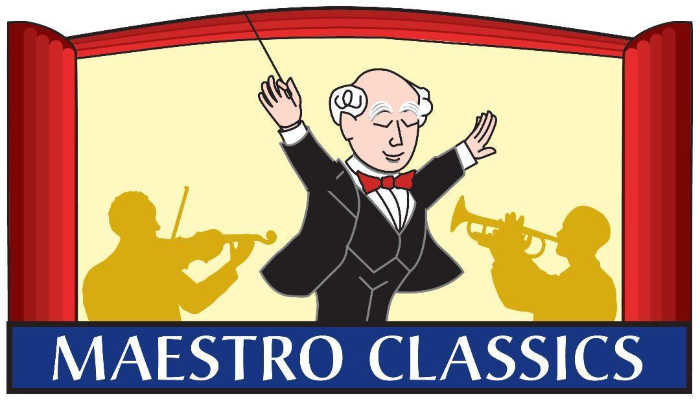 Drop by the Maestro Classics website to listen to a sample of this album or order Bach and the Pipe Organ for your kids. Albums are available as either MP3 for immediate download or as CDs. Bach and the Pipe Organ is also available on Amazon.
Follow Maestro Classics on Pinterest, YouTube, Facebook, Instagram and Twitter for news and fun educational and musical activities.