Rubik's Cube is celebrating its 40th anniversary this year! This classic little puzzle is now offering fun for a whole new generation of puzzlers. We have several of the classic cubes that my kids like to play with (or mess up for Daddy to solve), so I was excited to try out some different variations on the Rubik's Cube. While self-isolating this week, we've been challenging each other to solve the Mini Cube or beat us at Rubik's Race.
(Pssst – Read on for the chance to enter to win a Rubik's Race game for your family!!!)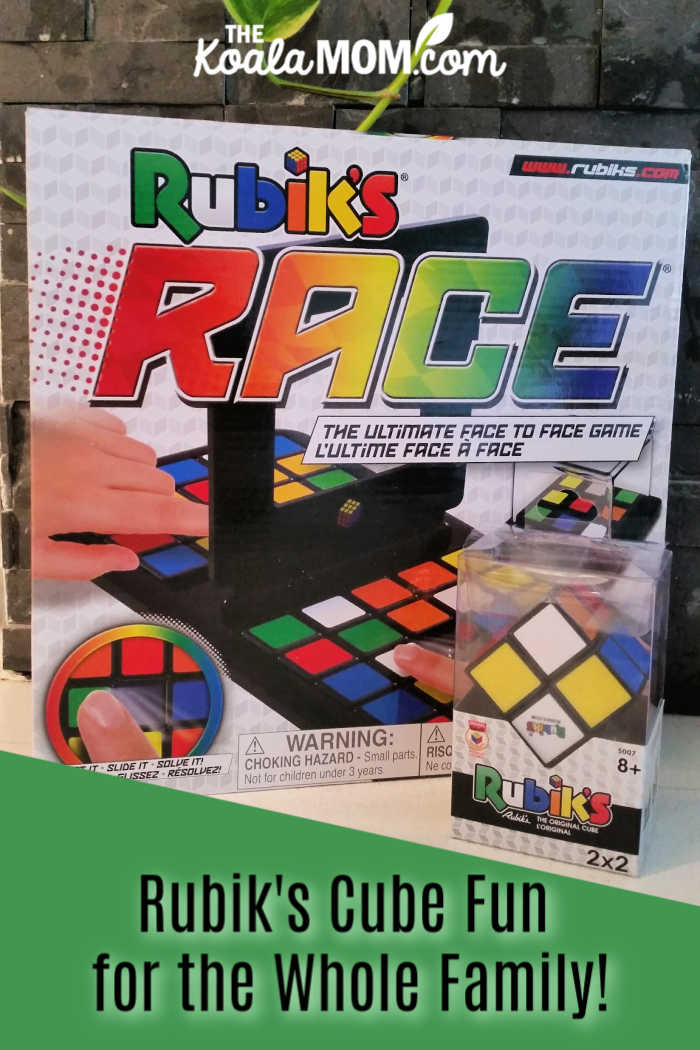 I received these products for review; all opinions expressed are my own. This post contains affiliate links; as an Amazon associate, I earn from qualifying purchases.
Rubik's Mini Cube
My husband got a Rubik's Cube earlier this year and began playing with it. He's our puzzler extraordinaire, who enjoys games of logic and patterns. The girls were, of course, interested in anything Daddy was playing with. They'd twist it up during the day, then present it to him when he got home from work to solve it. He looked up tips on the Rubik's website to figure out the solution, but the girls kept giving him opportunities to practice. He can now usually solve the cube in a few minutes without looking at the computer.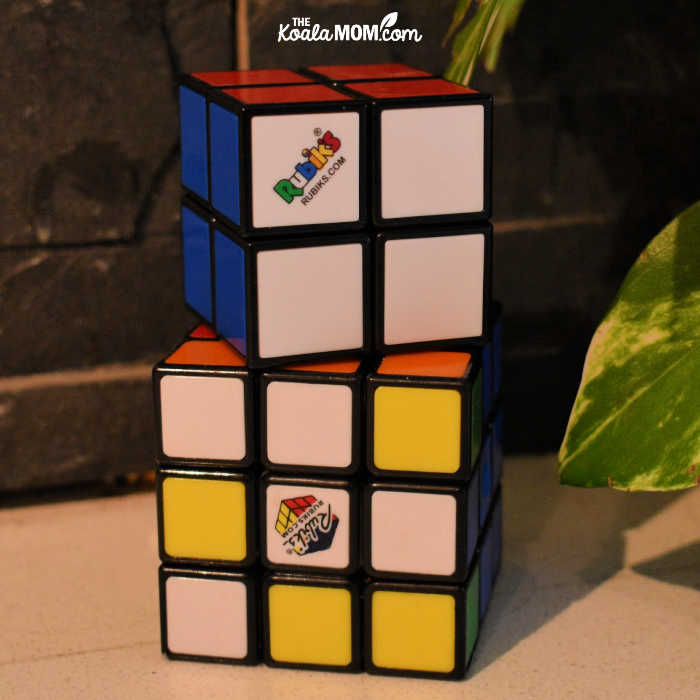 The Mini Rubik's Cube is a 2x2x2 cube that I thought might be easier for the girls to figure out than the traditional 3x3x3 cube. It's recommended for ages 8+ and all the kids like it as it looks quite cute. Jade (age 6) got frustrated on her first attempts to solve it, but Daddy gave her a few tips. Don't let the small size fool you—the mini cube is still a challenge! I haven't gotten past solving one side, but then, I haven't tried as hard as others…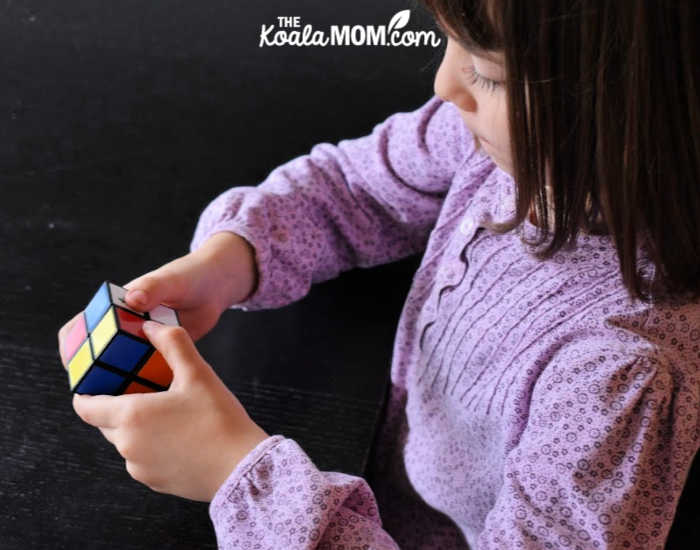 Rubik's Race
Rubik's Race caught my attention because we love board games. I'm always looking for 2-player board games, either for my husband and I to play after the kids go to bed, or for two of the kids to play with each other. Even in a big family, it's sometimes hard to find enough players to play some of our bigger board games.
Rubik's Race has been hugely popular with the girls. They can all play it, from 12-year-old Sunshine (who is proud of the fact that she hasn't yet lost a game—but she hasn't yet played Mommy or Daddy) to 4-year-old Pearl (who hasn't yet won but still likes sliding the tiles around).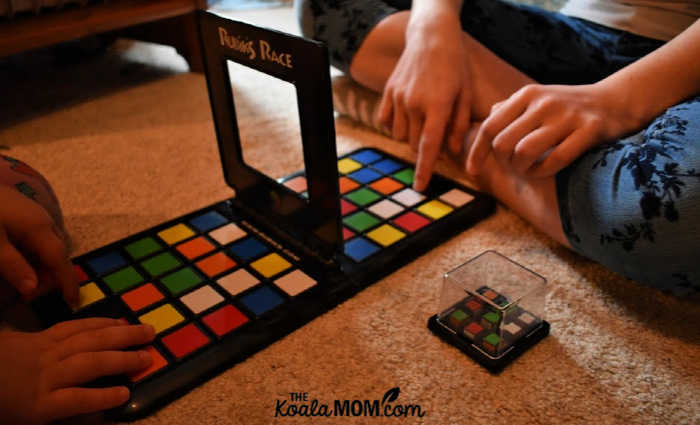 Rubik's Race consists of a game board with two sides, and an upright frame in the middle. Each player gets twenty-four coloured tiles (four of each colour). They then race to see who can arrange their tiles in the correct pattern first. The first player to get the pattern slams the frame down on their side. Players can either arrange their tiles in an agreed-upon geometric pattern, or use the shaker cube to create a random pattern.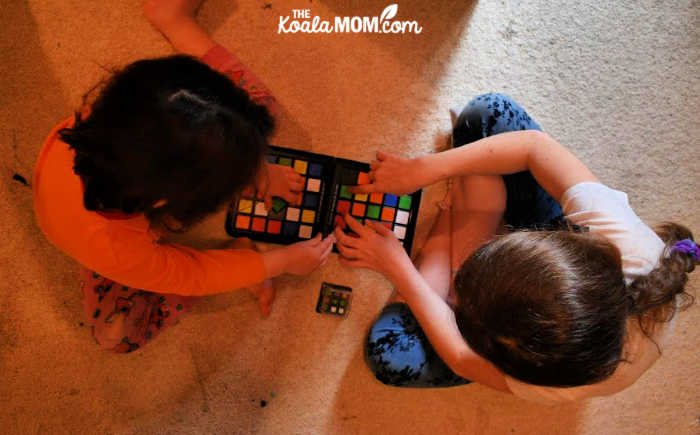 One thing both my husband and I thought could be better about the game is its design. It would be nice if the tiles locked into each side (to prevent lost tiles), although having the loose tiles allows players to change the number of tiles they are playing with to create different patterns. We also thought the game would be better if it folded; when putting it away, it breaks into three pieces, rather than folding nicely together. The shaker cube is at least once piece, so the tiny cubes inside don't get lost!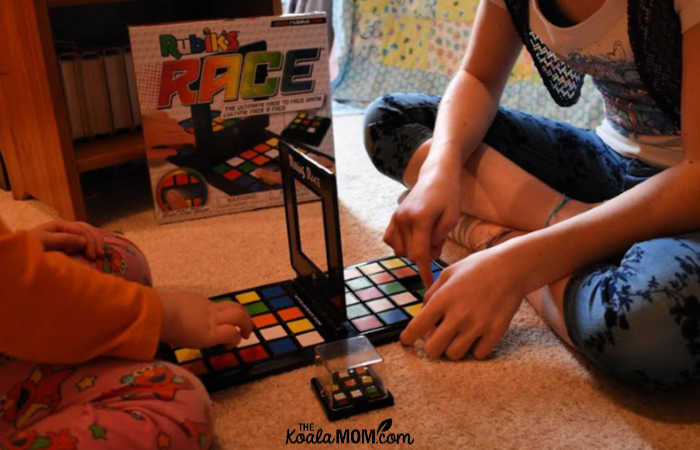 Lily also enjoys challenging herself with Rubik's Race. She'll sit and play with one side of the board game, using either the shaker or the patterns suggested in the instruction booklet.
Some Rubik's Cube History
The Rubik's Cube was actually invented in 1974 by a Hungarian sculptor and architecture professor, Erno Rubik. He wanted to help his students understand three-dimensional problems. It took Erno himself a month to solve his first puzzle, which he called a Magic Cube. He got a patent for it in 1975 and it became popular in Hungary. In 1979, Erno took it to international toy fairs, where it caught the attention of a toy company.
The toy company rebranded the cube as Rubik's Cube and started selling it worldwide in 1980. It won German Game of the Year and has since become the world's top-selling puzzle.The first world-wide championship was held in Budapest in 1982; the winner solved the puzzle in less than half a minute.
The Rubik's Cube has appeared on Big Bang Theory and the Simpsons, as well as in other movies, TV shows, art, and architecture. In The Pursuit of Happyness, Will Smith solves the Rubik's Cube to get a job. Walt Disney gave a nod to the classic cube's longevity in its futuristic animated movie, Wall-E.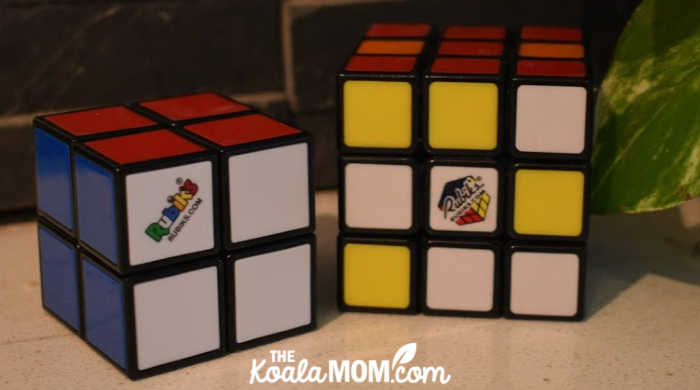 In response to requests from teachers for learning resources about the cube, You Can Do the Cube was created. They have a cube lending programs, solving tutorials, competitions, mosaic templates, units and lessons, and more. This program is STEM accredited.
Original puzzles had stickers which could be peeled off (as one of our toddlers discovered, to Daddy's chagrin) but newer cubes have coloured plastic panels, which are more durable. Rubik's also has several other fun puzzle products, including a geometric snake (which Lily has and enjoys playing with).
Fastest solve of the Rubik's Cube: 3.47 seconds!
For more about the Rubik's Cube, drop by the website. You can also follow them on Facebook, Twitter, Instagram and YouTube.
Enter to Win a Rubik's Race!
Enter to win a Rubik's Race board game for your family! Just use the Rafflecopter form below to enter. Giveaway is open to residents of CANADA over the age of 18 except where prohibited by law. One winner will be chosen randomly by Rafflecopter on April 1 and notified via email. The Koala Mom is not responsible for prize or shipping.