Becoming an Amazon affiliate is one of the easiest ways to monetize your blog. However, adding affiliate links to your blog posts can be time-consuming. As a work-at-home mom who blogs in short spurts while my kids are busy, I've often skipped adding affiliate links to a post because it's another step on top of checking keywords and editing images and everything else that goes into post creation. That's why I was delighted to discover AmaLinks Pro—the EASIEST way to add Amazon affiliate links to your blog posts.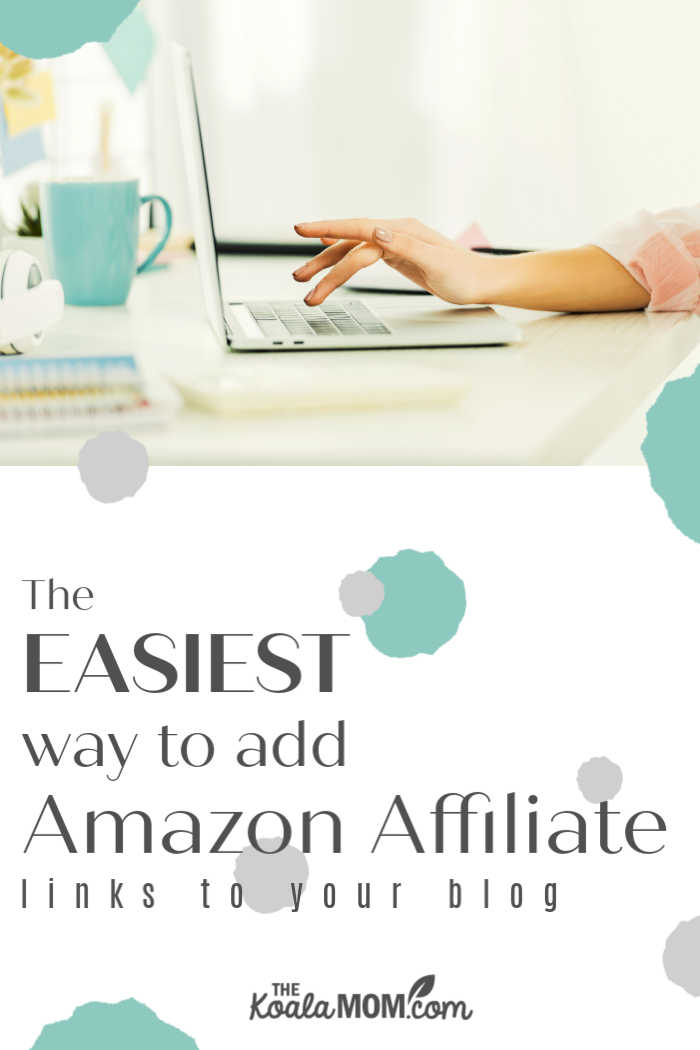 This post contains affiliate links; as an affiliate for AmaLinks Pro, I earn from qualifying purchases.
What is AmaLinks Pro?
AmaLinks Pro is a plugin that connects your WordPress site to the Amazon Product Advertising API and allows you to quickly and easily insert Amazon affiliate links into your posts without ever leaving WordPress!

This plugin works with both the Classic Editor and Gutenberg. It allows you to create text and image links, call-to-action buttons, product showcases, and even tables comparing different products on Amazon.
I started using AmaLinks Pro just over six months ago. Immediately, this plugin made a HUGE difference in my blog productivity. I often have limited time to create a blog post, with kids hanging over my shoulders wanting a snack or another crayon or an answer to a math question. Logging into my Amazon account to look up a product to copy and paste the link into my blog post and then go into the HTML editor to add the nofollow tag was a few extra steps I didn't always have time to do.
AmaLinks Pro changed all that. Now, adding affiliate links to my blog is just as easy as adding an image. I simply click on the button in my post editor, search for the product, click two more buttons to add the link or image to my post, and don't even have to worry about the nofollow tag because AmaLinks Pro does that for me. Whether I'm writing a new post or updating an old post, AmaLinks Pro makes affiliate links easy peasy lemon squeasy.

How I Add Amazon Affiliate Links to My Blog
I've been an Amazon affiliate for over a decade now. I joined the affiliate program shortly after I started reviewing books on my blog. It's an easy way to direct my readers to more information about the books I review, and maybe earn some money if they decide to purchase the book based on my recommendation.
Now, I review a lot of other products too. Amazon is a trusted online store that makes it easy for moms to shop for products they love (or need NOW thanks to Amazon Prime!). So when I recommend a product, I also try to make it easy for readers to find that product.
Sometimes, you want to create links to a variety of products and let your readers browse. This is what I wanted to do with my post about "How a Mother-Daughter Journal Builds Relationships." I didn't have a specific mother-daughter journal to recommend. There are quite a few great journals available for moms and daughters, and each will appeal to different people.
It was fun and easy to use the AmaLinks Pro Table Builder Add-on to create a table that showcased several ideas to get moms started with shopping for the right journal for their daughter.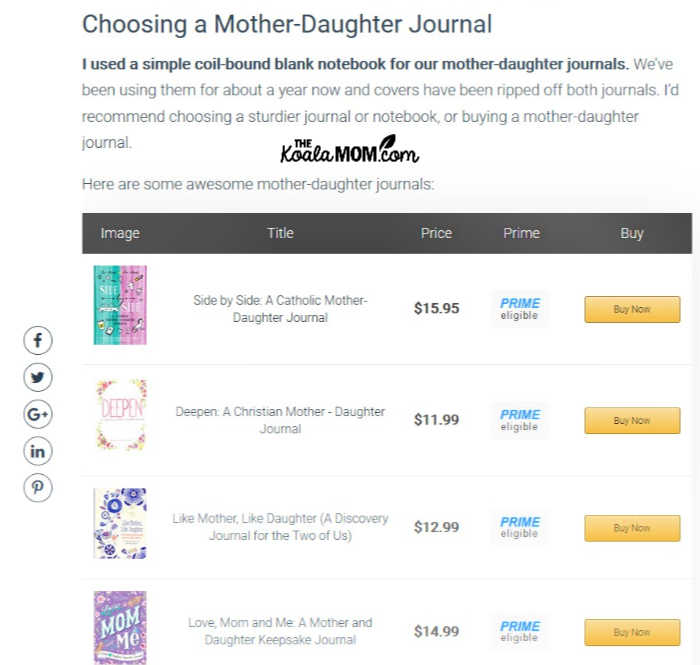 Creating gift guides for special occasions or holidays is also much easier using AmaLinks Pro. Again, it's fun to come up with a list of gift ideas around a certain topic or person. It's a lot more time-consuming to add links for all of those ideas. AmaLinks Pro lets you include either text or image links or create product showcases with more details for your readers.
My affiliate link clicks for July / August (after installing and using AmaLinks Pro on my blog for several months) were double what they were for January / February (before I started using AmaLinks Pro). As I keep updating old posts and adding more affiliate links to my new posts, I'm hopeful that the number of clicks will continue to climb and will also result in more conversions and more income for me via Amazon.
More about AmaLinks Pro
AmaLinks Pro was created by Matthew Allen from Dumb Passive Income and Alchemy Coder. Both of them have affiliate sites that use Amazon affiliate links. Matthew was using two different plugins to add affiliate links to his sites. He knew there had to be something better, an easier way to add affiliate links, and so he came up with the idea for AmaLinks Pro.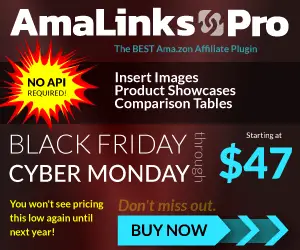 Yes, there are other plugins that will help you add Amazon affiliate links to your blog—but none of them does everything that AmaLinks Pro does. Matthew downloaded and tested all those plugins while developing AmaLinks Pro. He wanted to create something better: "a plugin that would replace ALL other plugins that connect WordPress to Amazon Associates. I would take the best aspects of each of the others and make them better—and remove any of the unnecessary or bad aspects."
AmaLinks Pro is also 100% compliant with Amazon's policies. This is really important to me! I've heard of bloggers who've been kicked out of the Amazon affiliate program because they didn't have proper disclosure, weren't using nofollow tags, or were violating Amazon's policies in other ways. One of my first questions to Matthew about AmaLinks Pro was whether it added the nofollow tag to links (because WordPress has made nofollow tags harder to add since Gutenberg). When he said yes it did, I said tell me more.
AmaLinks Pro has also been updated to remain compliant with Amazon. An early version of the plugin used the Amazon Prime symbol in the tables. Amazon said that was a no-go. AmaLinks Pro changed that and sent out an update to all of us using the plugin.
Add Amazon Affiliate Links to Your Blog Now!
If you are also an Amazon affiliate, I highly recommend checking out AmaLinks Pro. This plugin is super easy to install and use. If you are uncertain about how to use the plugin, they have great tutorials to walk you through the process. Most of the plugins I use on my blog are free, but this is one of two plugins that I believe is worth the money. Check it out and let me know what you think!
Do you add Amazon affiliate links to your blog posts or website?

Was this post helpful? Check out my other Recommended Resources for Bloggers!