This July, a friend and I hiked into Golden Ears Provincial Park for one night. It was my first overnight backpacking trip in over a decade, and it was a glorious weekend. I grew up hiking in Banff and Jasper National Parks, so hiking in BC's provincial parks was a slightly different experience. Here's what I learned about getting ready for an overnight backpacking trip in BC…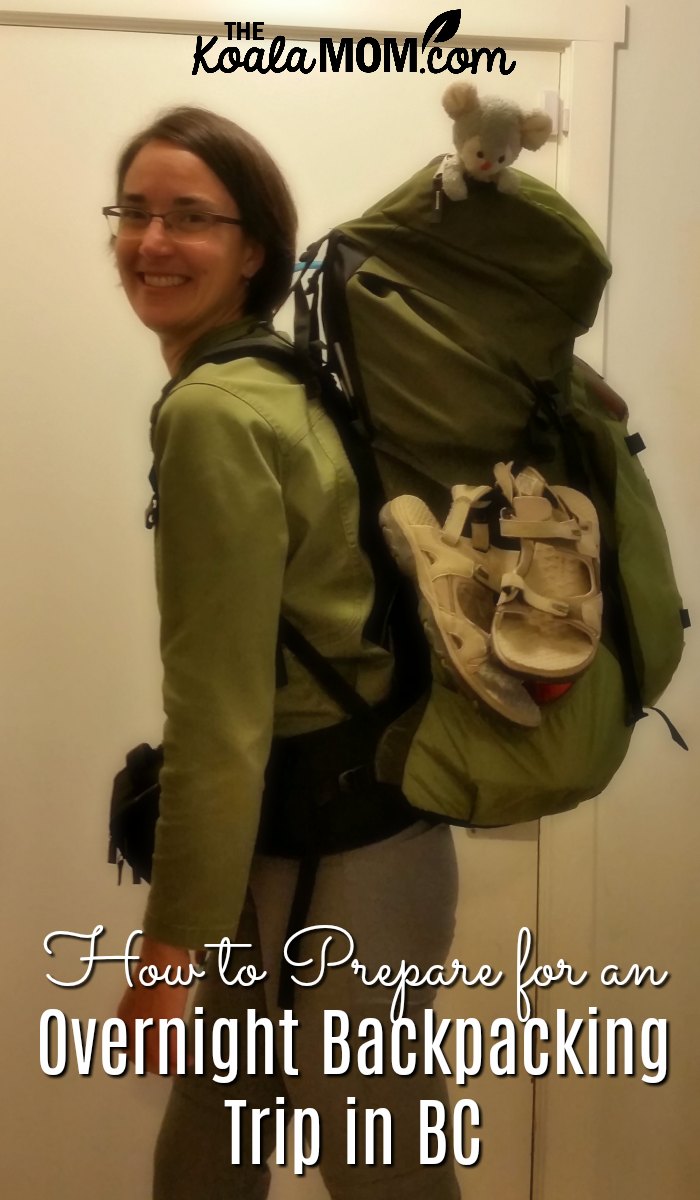 This fall, I'm planning to hike the West Coast Trail with my cousin. I've been saving backpacking recipes on Pinterest, checking my gear, and trying to get myself in shape to hike 15+ km per day. I really wanted to get out for an overnight trip to test out my gear and my pack and try a few recipes, but between kids and lack of hiking partners, that seemed difficult.
Then a friend of mine mentioned she was coming back to Vancouver to visit for a couple weeks. We dayhiked together frequently when she was here, and I knew with her sense of adventure, she'd be up for overnight backpacking trip in BC. I tentatively shared my idea… she said she was interested… and then a flurry of text messages flew back and forth as we began planning.
This post contains affiliate links.
Picking the Trail
My friend and I had one weekend in which to hike, between her plans while visiting Vancouver for two weeks and my husband's work schedule (so he could watch the kids while I was gone). Unfortunately, because we were booking a trail slightly last-minute with no flexibility, that affected where we were able to hike.
Saturday nights seem to be the most popular nights for an overnight backpacking trip in BC. My friend suggested Garibaldi, but it's one of BC's most popular hikes and was booked solid for the night we wanted. Like us, many people seemed to only have the one night available to hike.
I wanted a trail that was about 10 km in. That's farther than my kids can hike right now, so it would give me a good chance to stretch my legs. Back in my teens, my mom and I would plan to hike 15-25 km per day, but I knew that I wasn't quite that fit yet. Know how far you can hike in a day (and remember you may be more tired or sore the second day), and factor in your pack's weight when considering distance too.
My husband and I spent an evening scrolling through the Discover Camping website. I also looked up trails in two hiking books we have for the local area: 105 Hikes in and Around Southwestern British Columbia and Best Hikes and Walks of Southwestern British Columbia. We compared information in all three sources, trying to find a trail that fit our ability levels and availability.
Some hikes were too short, some were too long. Some online trail reports were outdated, and others said the trails were now overgrown and not maintained. I grew frustrated as we came up with more questions than answers.
I even tried calling one provincial park to ask for advice about overnight backpacking trips in BC, but got sent in circles on the pre-recorded voicemail. There didn't seem to be a person available to ask questions about BC's provincial parks. (I miss chatting with the rangers in the Jasper trail office!)
Then I remembered Louise from Talk Nerdy to Me. She and her husband also enjoy hiking, and I've appreciated her tips about local day hikes with kids. I searched her blog for ideas, and came across Golden Ears Provincial Park. She described it as an easy overnight hike with kids (including her four-year-old). Looking at the trail map, I could see a few ways that we could make it into a longer hike.
Just a few days before our planned hike, I bought our permit and printed the map. For BC's provincial parks, only Garibaldi and Mount Robson (the very popular trails) have a reservation system, where you book a specific campsite. The other trails merely require that you buy an overnight use permit, for $5 per night per person. That permit must be carried with you (and a ranger did request it!).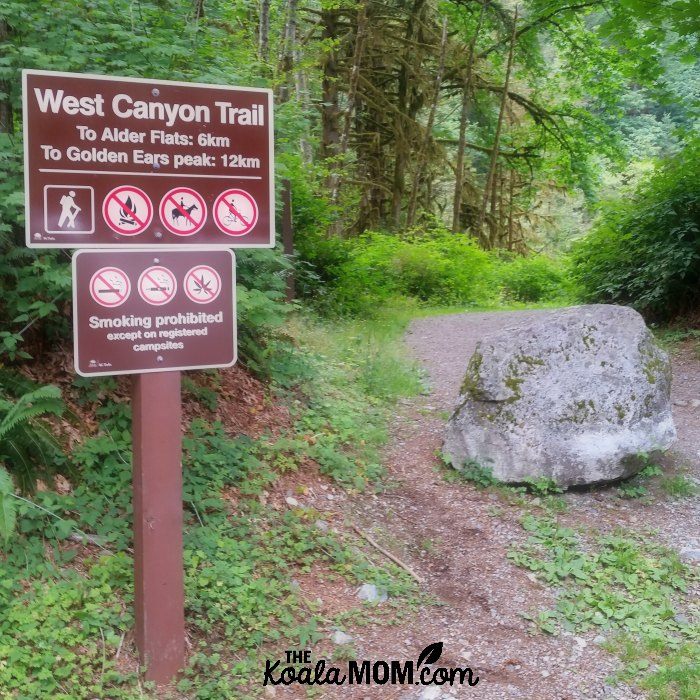 TIP: find a hiking partner, choose your dates and plan your itinerary as soon as possible so you can register for your desired trail.
Planning the Food
My next question was what to pack for our meals on our overnight backpacking trip. My friend was flying in from Alberta and had no backpacking experience, so meals were up to me. She suggested buying pre-packaged backpacking meals, but I really wanted to try some of the recipes I'd found on Pinterest. I went back to those recipes and began reading through them to find something suitable.
One "backpacking meal plan" had me laughing. I sent it to my friend and she agreed that even at home, she doesn't eat that well! The meal plan included breakfast, lunch and dinner plus two snacks, with meals that required freeze-dried shrimp and chanterelle mushrooms. Not my kind of backpacking food (although my dad might have made something like that!)!
I went through Pinterest again and found a recipe for Moroccan Chicken Couscous. It sounded like something Mom and I made back when we were hiking together. All the ingredients were actually in stock at my local grocery store (although I swapped dried chicken for canned chicken). It took me less than ten minutes to prep the recipe at home, and about that long to make it in camp.
I also found a recipe for Puffed Amaranth and Peanut Butter Bars that sounded yummy. I couldn't find puffed amaranth so I used rice krispies instead. The recipe turned out slightly gooey (so I want to try tweaking it a bit) but it was finger-licking yummy.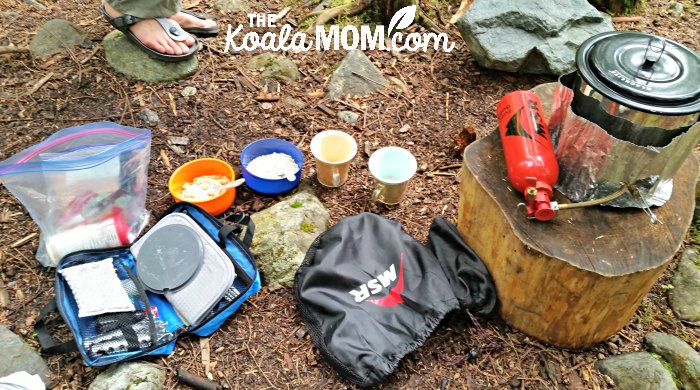 Our meals for the weekend:
Breakfast: instant oatmeal and instant coffee (just boil water in camp)
Lunch: dried fruit and nuts, peanut butter bars (no cooking)
Supper: Moroccan Chicken Couscous and tea (just boil water in camp)
TIP: Plan your meals at least a week before you leave for your trip. Give yourself time to shop for groceries and prep meals at home. If you are dehydrating any foods yourself, give yourself extra time for prep.
Packing the Gear
On Friday night, my friend came over and we went through hiking gear for our overnight trip. Some of my gear I've used over the past couple of years as we started car camping. I knew that my stove and kitchen were in working order. I only took one pot, as we just needed to boil water for all the meals. My pack was brand-new and had never been used, so I wanted to see how it would fit.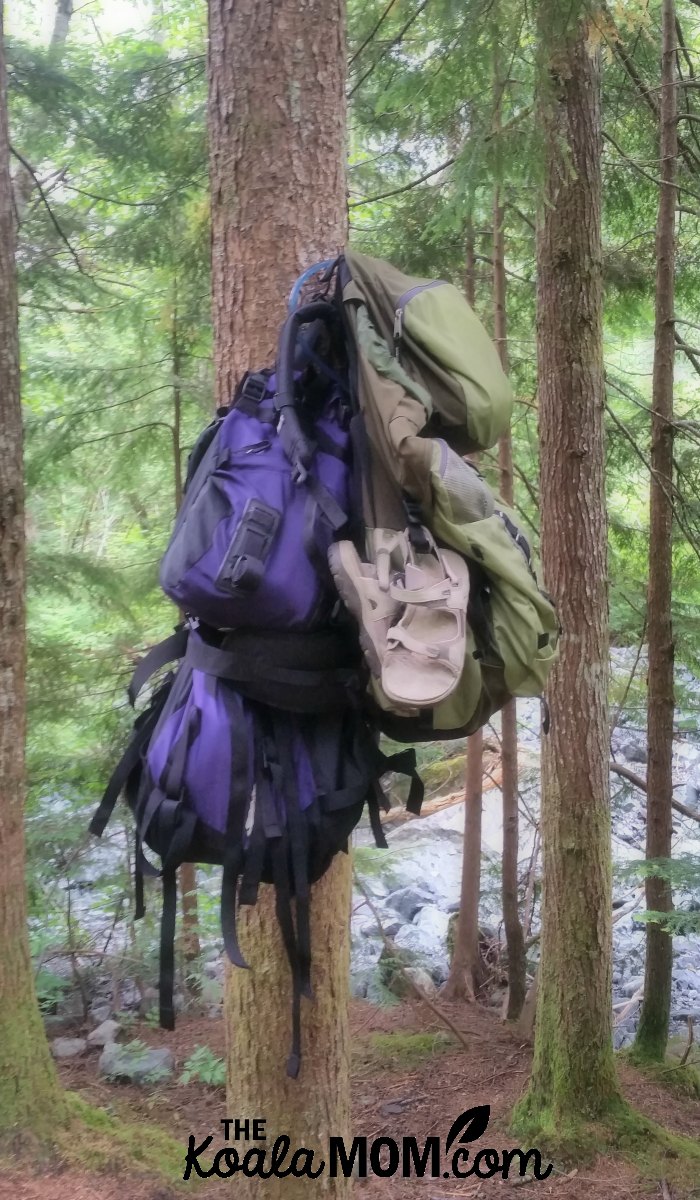 Years ago, when I was winter camping with another hiking buddy of mine, she joked about how we'd split the gear. One of us could carry the tent and stay dry but starve if we got separated and stranded. The other could carry the food and die of exposure while staying well-fell if we got separated and stranded.
That method has always worked for me (and we've never gotten separated and stranded), so I took the "kitchen" and food while my friend carried our tent.
My husband watched us packing and tossed out ideas for things we might need, like toilet paper. (Yes, I almost forgot that, and yes, we did need it!) My friend had also been researching backpacking tips, so we chatted about other ideas. I also googled a backpacking checklist myself to see if we'd forgotten anything.
In the end, we both had our packs, sleeping bags, Thermarests, clothes, rain coat or poncho, hat, light sandals, toilet paper, sunscreen, bug spray, and water bottles. She had our tent. I had the stove, fuel, pot, food, kitchen kit, first aid kit, water filter, and bear spray.
Those last two items I picked up the day before our trip. Mom and I never used a water filter when backpacking in the Rockies in my teens. Hubby and I have always camped in campgrounds with water taps. Mom and I did hike with bear spray, but if it's not expired, she still has it.
Buying bear spray was easy; buying a water filter was harder, as there are quite a few brands, types and sizes available. I should have done more research or asked more questions of backpacking friends before going, but we'll see how the filter I chose works out.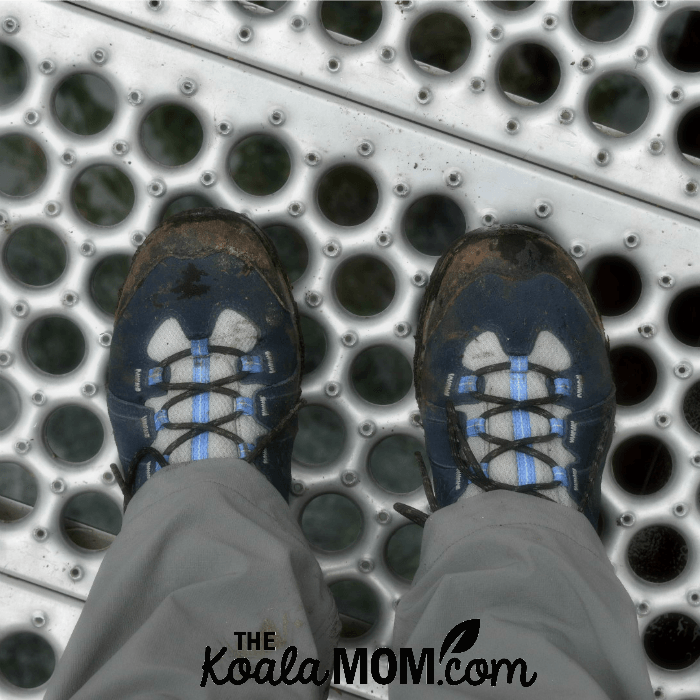 One thing we didn't take was a rope for a bear pole, and we needed it. Hiking in the national parks, bear poles were always provided. When I read the description for Alder Flats, I thought it mentioned an outhouse and a bear pole. We found the outhouse; the ranger confirmed that a bear pole "would be a good idea." We ended up using some fly lines from my tent to rig a bear pole over a tree, but I suspect if a bear had really come along, he'd have gotten our food no problem.
TIP: get a backpacking checklist at least a week (or even a month) before you leave and inventory your gear. If you need anything, give yourself time to research it and buy it online or get to the store. You may also want to double-check your current gear to make sure it's in working order. My stove didn't work one trip, so I made sure it would start before leaving for this trip.
Ready to Go!
On Saturday morning, I stepped on the scale with my pack. I had 35 lbs before filling up my 3-litre Camelback. That's just a bit heavier than wearing Joey in the baby carrier these days. I filled my water bottles, grabbed my keys, and walked out the door, feeling like a teenager again with all my gear on my back.
Then I threw my pack into the back of my Jeep and went to pick up my friend. We were off to go backpacking in Golden Ears Provincial Park!
Have you done any overnight backpacking trips in BC? What tips would you suggest to help prepare?