Last week, a big box arrived at our door. The girls, as usual, were excited about any parcel that shows up and barely let me cut the tape off the box before they were tearing into it. Jade began screeching, "CARS! Cars! Cars!" as soon as she saw the contents. Sunshine exclaimed, "Hot Wheels!" as she began lifting each box inside out.
I smiled, picturing the fun we'd have with their new Hot Wheels.
I received the Hot Wheels tracks and cars for the purposes of this review; all opinions expressed are my own. This post contains affiliate links; if you purchase any cars using these links, I will earn a small commission.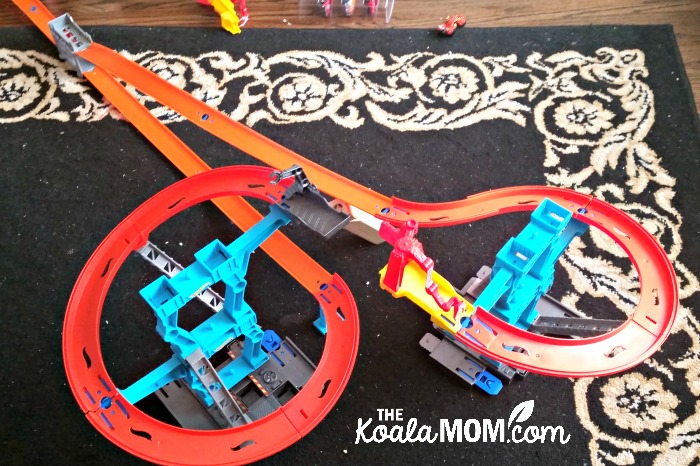 And fun they've had. I built one racetrack for them to play with (squinting at the instructions and wishing I'd made them wait until Daddy got home to build it for them, because I've never played Hot Wheels before). They divvied up the toy cars between themselves and somehow keep track of which car is theirs. (Heaven help the sister who tries to take someone else's car.) Then they played all day with their new Hot Wheels and race track.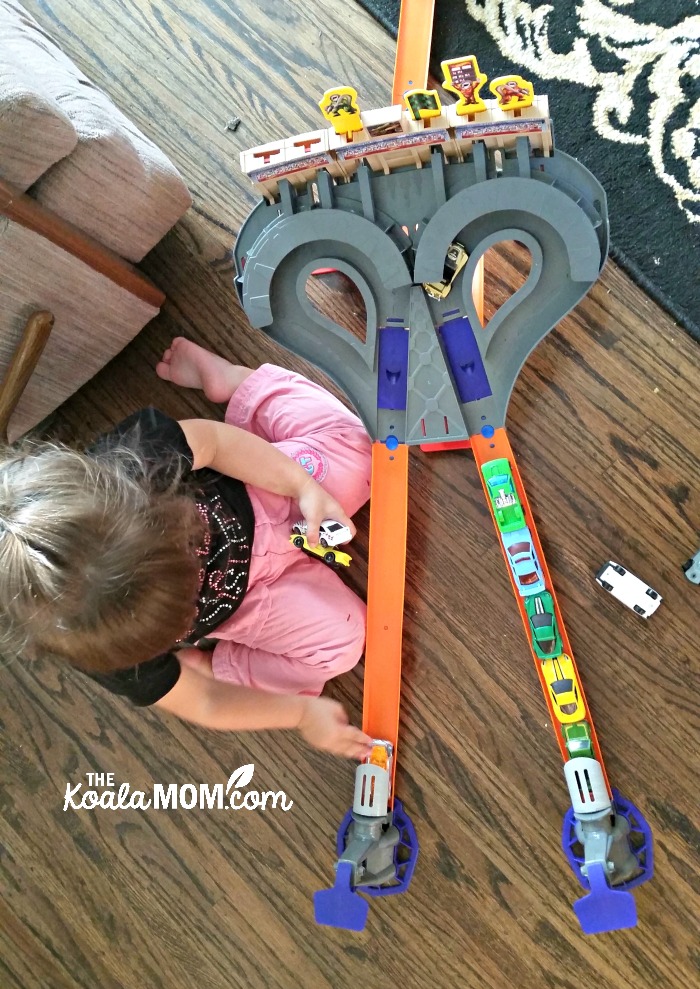 My husband's reaction to the Hot Wheels was just as good at the girls'. He walked in the door a bit late that night. I could tell at a glance that he was really tired after a stressful day. Then he turned around and saw the Hot Wheels track and cars and his whole face lit up. "Hot Wheels!" he said. I smugly told him I was doing a blog review for them.
He was just as excited as the girls and had the race launcher set up for them before he even sat down to have supper.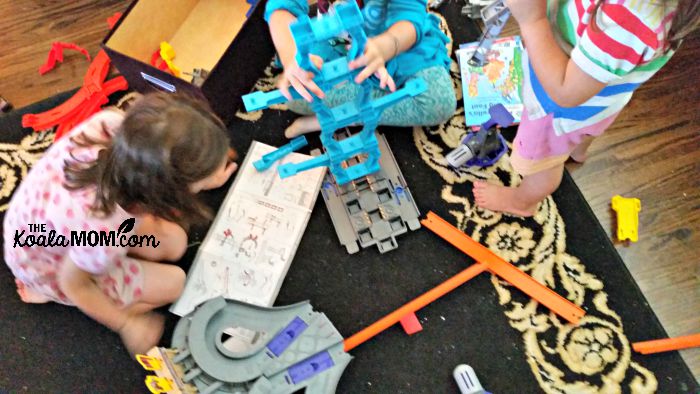 In a house full of girls, he's had to get used to lots of pink and glitter and dress-up. So he was excited to have a "gender-neutral" toy for the girls to play with. Until he woke up the next morning and overheard Sunshine saying, "These two cars are getting married." Yep, that's how girls play with toy cars!
Actually, there haven't been that many weddings among the cars. And I don't think any of them have names yet. But there's been lots of races, and that launcher makes me jump every time they hammer it because I think they're breaking something.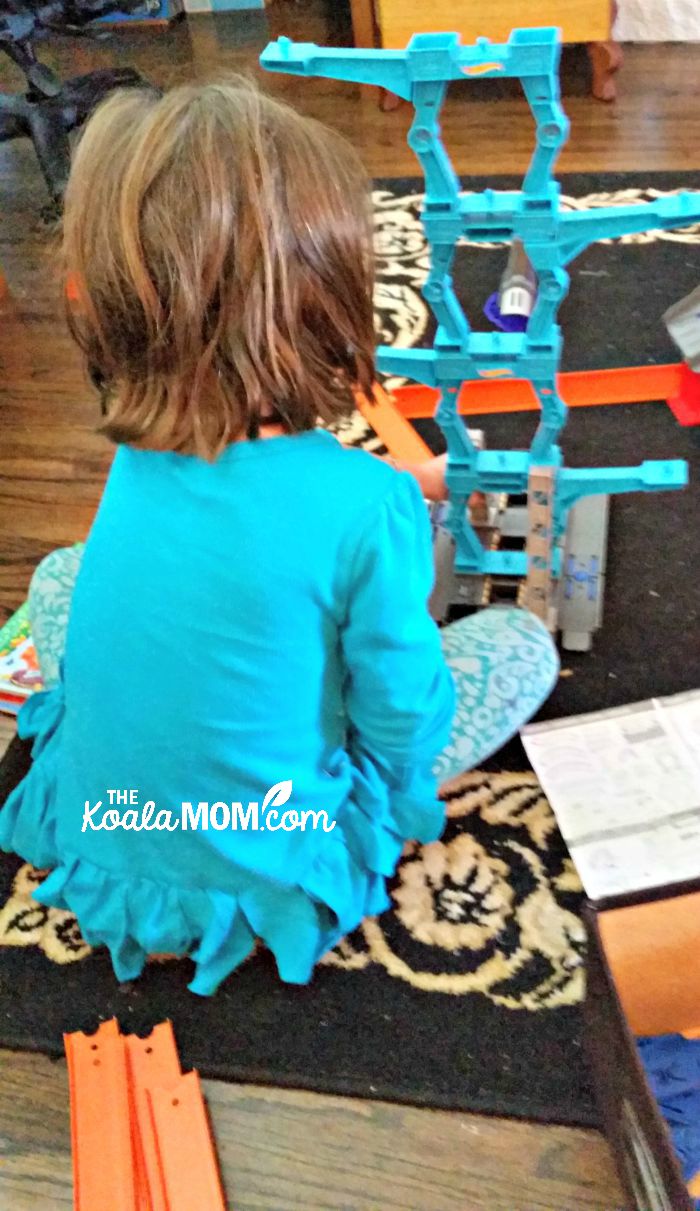 I like the fact that I'm not hearing, "Mom, what can I do?" very often since the cars showed up. Jade, who is our early riser, likes to have breakfast and then go play cars until her sisters wake up to play with her. Daddy has helped them fix or rearrange the track a few times, but overall they are content to line up their cars, race them down the track, and drive them around.
Jade couldn't wait for the track to get finished so she could race her cars: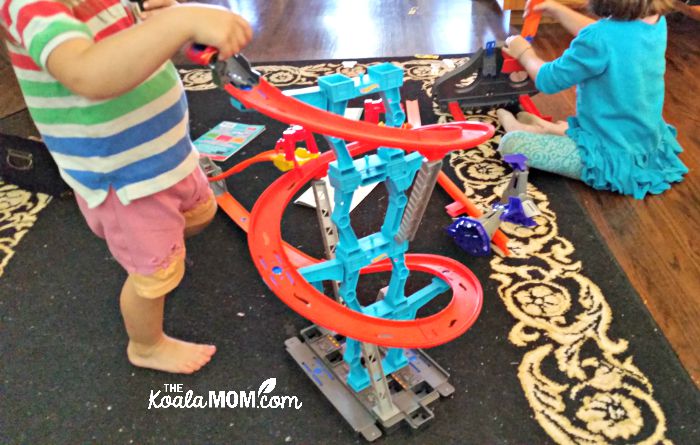 The girls built some garages for parking their toy cars: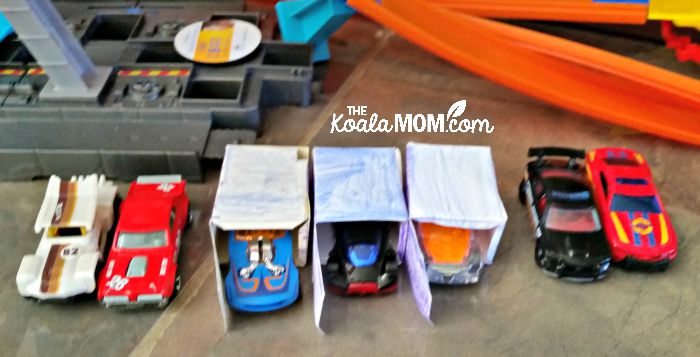 They also used their Jenga blocks to create more parking: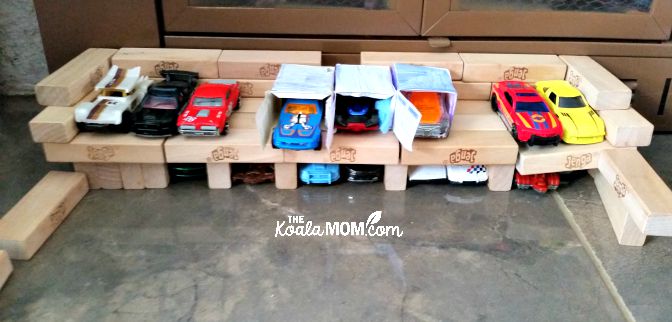 To see the girls' excitement about their new Hot Wheels and their first track, check out my video:
Do your kids enjoy playing with Hot Wheels? Do you try to find fun learning activities for them to do over the summer?