Hiking with baby is a fun, rewarding way to get out of the house together and enjoy the great outdoors. While taking an infant on a dayhike requires a bit more prep than heading off into the woods yourself, it's still worth the effort. We've been hiking with all our babies since they were very young. If you also enjoy hiking, here's my tips on how to take an infant on a dayhike.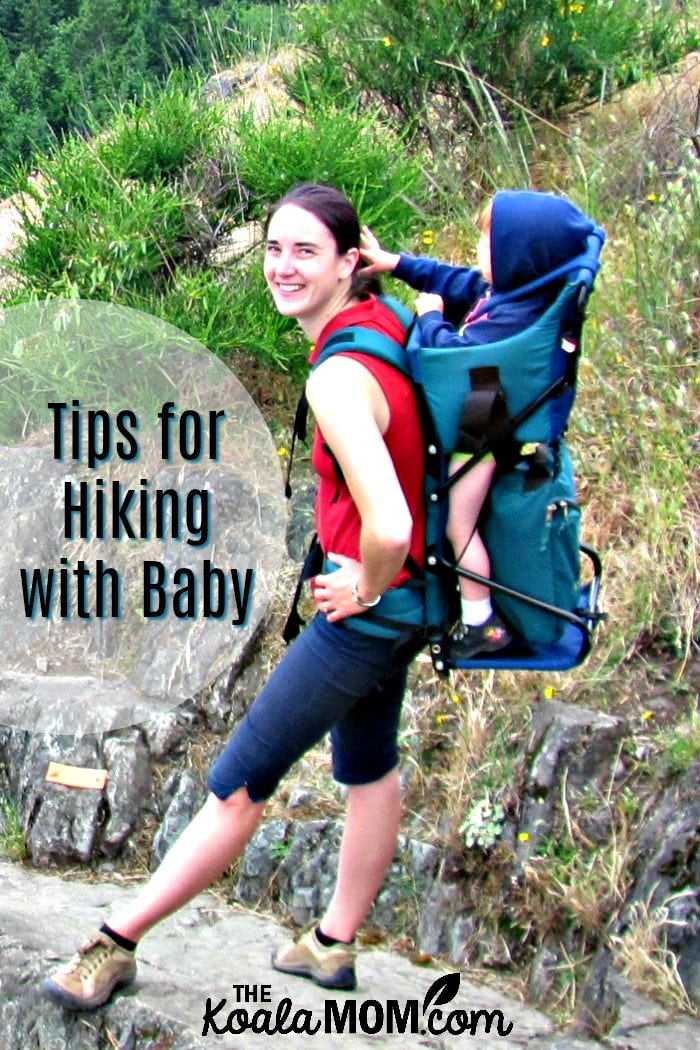 This post contains affiliate links; as an Amazon associate, I earn from qualifying purchases.
I haven't been on an overnight backpacking trip since hiking Skoki Valley while pregnant with Sunshine, but we have frequent gone hiking with a baby for shorter trails. Vancouver offers a wealth of day hikes that are great for the whole family.
Hiking with baby is fun family activity. It can help you meet fitness goals or return to pre-baby body shape. Hiking also instills a love of nature in your child and can be peaceful and calming. The BabyCenter says, "Many parents discover that hitting the hiking trail is the perfect tonic for parenting stress."
What to Take while Hiking with Baby
When hiking with baby, I recommend going with at least one other person—your spouse or a friend or another family with a baby or toddler. This is because there's safety in numbers, but also because you need someone to help carry everything. When we go hiking, I usually carry the baby and my husband carries our day pack.
Jenner, a fellow hiking mom, says, "Now that you're responsible for the well-being of another human being, it is even more important to go hiking with a trusted buddy and all the essentials. If you can find another mom to hike with perfect! If not, choose a friend who is baby friendly and won't mind when you inevitably need to stop for feeding, bum changes, soothing etc. on the trails. It's a great way to make bond not only with your baby but other new parents as well!"
Take all the supplies you'd usually pack for a hike—water bottle, first aid kit, snacks, sunscreen, bear spray, map, camera, etc.—plus whatever the baby needs. This will vary depending on baby's age and the length of the hike, but includes:
diapers, wipes, and a plastic bag for carrying out dirty diapers and wipes (whether you use cloth diapers or disposable, you need to pack dirty diapers out as most trails do not have garbage cans)
antibacterial hand wash
bottle (unless baby is breastfed) and baby snacks (for an older baby)
hat, sweater, and change of clothes for baby (in case of weather changes and/or spit-ups, diaper blowouts, etc)
soother or teething necklace or another toy to keep baby busy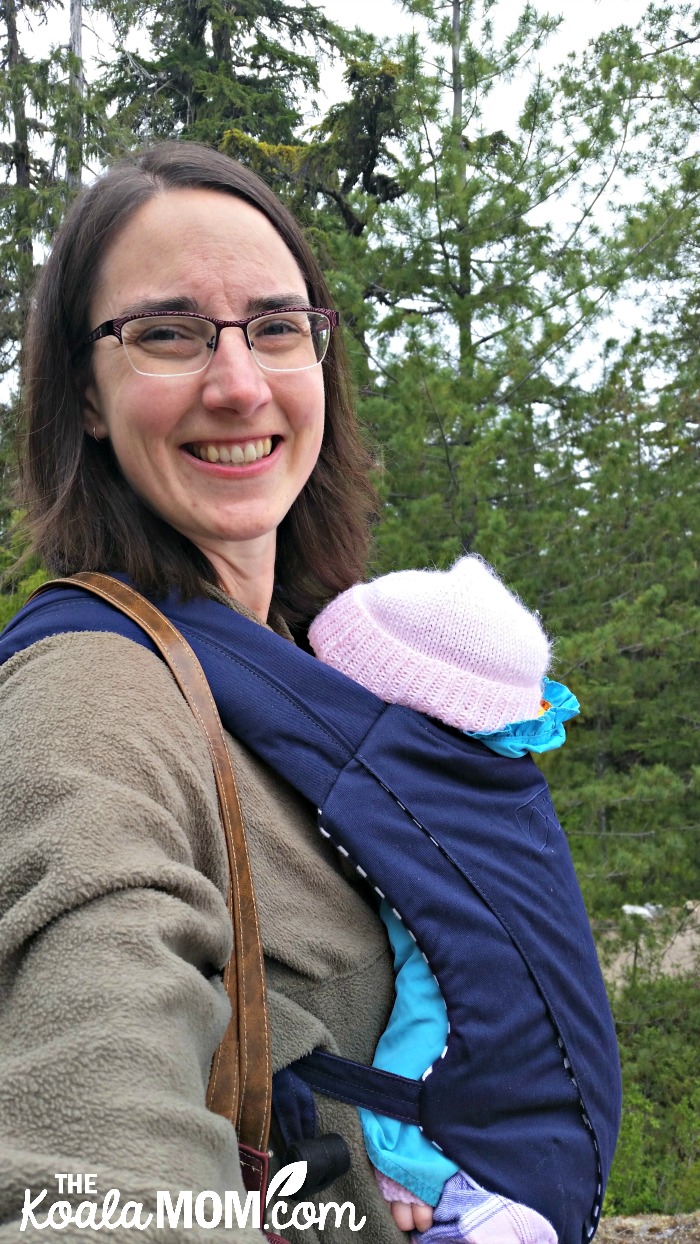 On top of this, be prepared for other things that a small hiker will require. Take a hat or a light blanket to protect baby's face from the sun. This blanket could also be spread on the ground to put baby on during breaks or be wrapped around the baby if the weather gets cooler. Pack an extra sweater or other clothes for the baby in case of sudden weather changes.
Choose a Good Baby Carrier
Even if you're hiking with a small baby, his weight adds up over several kilometers. You want a good baby carrier to make the hike comfortable for both you and baby.
My first criteria for a good baby carrier is a waist belt. (Unfortunately, many big-name carriers don't have waist belts.) When our oldest was about six months, we did an all-day hike with her in a carrier that didn't have a waste belt. All her weight was on my shoulders and I felt it. A good carrier should sit on your hips, putting most of baby's weight on your legs (your strongest muscles), rather than your shoulders and back.
You'll also want to consider baby's comfort. A good carrier supports baby's bum and hips, rather than leaving them hanging on a narrow seat. Think about the difference between sitting on a bike seat and sitting on a car seat; which would you rather endure for several hours? My favourite carriers give baby a good seat, with support from knee to knee under the bum.
I rarely carry my babies face-out. I see many baby carriers that offer this option, but I find it uncomfortable for myself and I'm not certain about how good it is for baby. Older babies can still look around while being on your back, facing you. If baby wants to see what's happening, simply stop and let them out for a break.
Leave Extra Time for Baby on the Hike
Allow more time to hike and be prepared to stop more often to take care of the baby. Robin Tawney Nichols, a conservationist, hiker and author of Hiking with Kids: Taking Those First Steps with Young Hikers, says, "Setting adult goals and expectations for any hike with kids is a recipe for instant disaster."
Baby may need diaper changes or time to eat. Expect that you'll be taking more breaks as you hike. Baby may not be willing to wait until that viewpoint in 1 km to nurse. I've plunked down on the side of the trail more than once to give a hungry baby a snack before we continue our hike. Do make sure the check diapers whenever you pause for a break, and to offer milk or food to your baby.
It may also be good to give baby a break from the baby carrier. Most babies will enjoy the new sights and sounds around them: waterfalls, animals, trees, etc. Take time to allow them to enjoy this to the fullest. Let baby touch pinecones, tree leaves, or unusual rocks (carefully supervised, of course, so they don't eat anything harmful).
Choose the Trail with Baby in Mind
Choose a trail that is well within the abilities of the group and "fairly flat without obvious hazards like a raging river or a lake with precipitous banks" (Nichols). Hiking with a baby is not the time to challenge yourself. The BabyCenter notes, "Mellow is the name of the game here. Let go of specific goals or destinations. Hiking only a few hundred yards while investigating the flora and fauna can make for a great trip."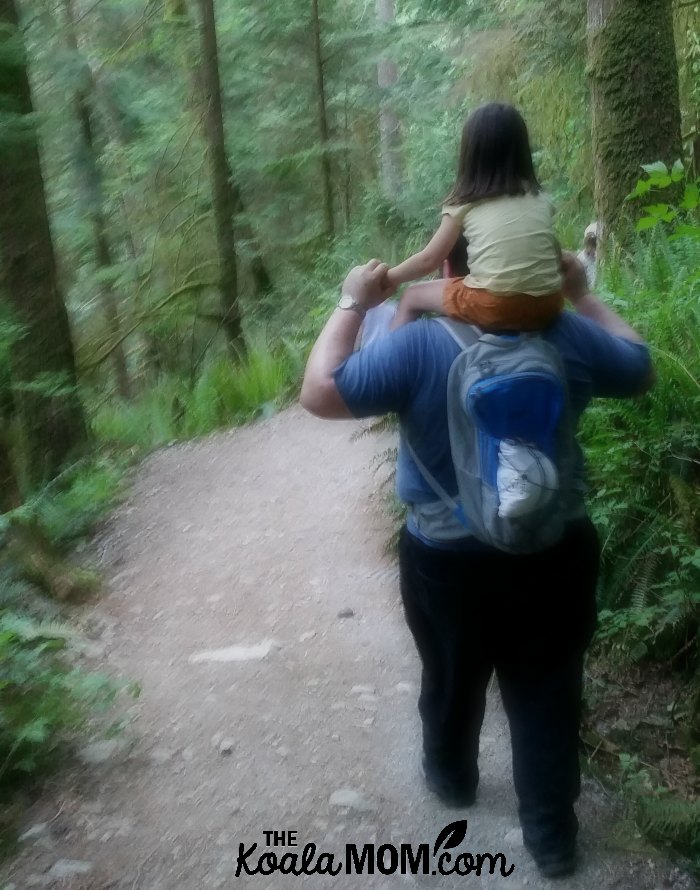 Hike easy trails or trails you are familiar with and have hiked before. Nichols recommends pre-hiking a trail with other adults if you are "unsure about the suitability of a trail for family hiking." Be prepared to turn back if the terrain gets too tough, the weather changes suddenly, or the baby becomes overly upset.
We tried to hike a trail with my cousin and brother this fall. We didn't get started until late afternoon, and the weather was quite foggy. After a couple hours, we realized that it would soon be dark. Because of the kids (including baby Joey), we decided to turn back before reaching the waterfall we were heading to. It was disappointing to miss the highlight of the hike, but it was more important to get home safely. We'll try to see the waterfall another time!
For some of our favourite trails, check out my list of family-friendly hikes around greater Vancouver.
Know the Weather Forecast
Check the weather before taking a baby hiking. Hiking with a baby is not the time to be out in inclement or uncertain weather. Penny Schwyn cautions that babies "lose body heat quickly, especially through extremities [hands and feet], because they are not generating heat through activity."
Avoid going out if the weather is rainy or extremely cold and windy. In the mountains, even if the weather promises to be nice, be prepared for sudden changes in the weather.
With this preparation, you can continue to enjoy the great outdoors and share your enthusiasm for hiking with your baby!
What tips would you share for hiking with baby? When did you take your little one on his or her first hike?