If there's one topic that has the power to unite parents in mutual sympathy, it's teething. Earlier this year when we were house hunting and dropped by an open house, the realtor looked down at Jade's red cheeks and winced. "Is she teething?" he asked. "I remember that." His sympathy made me smile. Here are the teething solutions that have worked for us.
This post contains affiliate links. As an Amazon associate, I earn from qualifying purchases.
#1: Cheeky Chomper Hippo
When Pearl starts chewing on my thumb or tries to put one of her sister's fingers in her mouth, one of them is sure to say, "Get her Chewy Chomper!"
This cute, natural latex hippo is one of their favourite teething solutions for Pearl. It has two curvy arms that Pearl can hold and lots of points for her to chew on, from its toes to its ears. It also squeaks. And it came with a strap, so you can strap it to a car seat or stroller to keep it from falling out.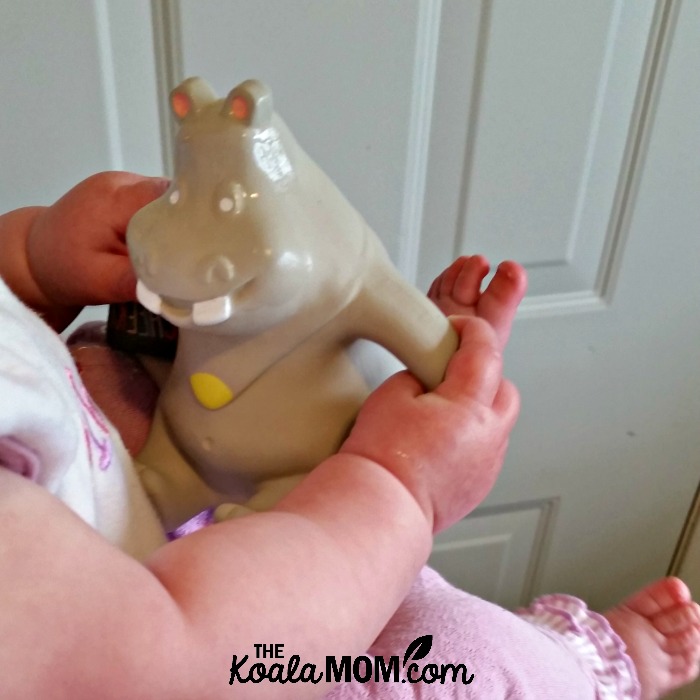 The Chewy is made from soft natural latex rubber. It has no phthalates, will never flake or peel and is 100% safe for babies to chew. It's available at Buy Buy Baby or Babiers R Us. You can also find Cheeky Chompers on Facebook.
#2: Pure Mitt
The Pure Mitt is another cute teething solution I've found for Pearl. It's an adorable little mitten with a textured silicone portion for her to chew on. The mitten Velcros around her wrist, so she can't drop it or lose it like other teething toys. It also has a fun crinkly sound when she's playing with it.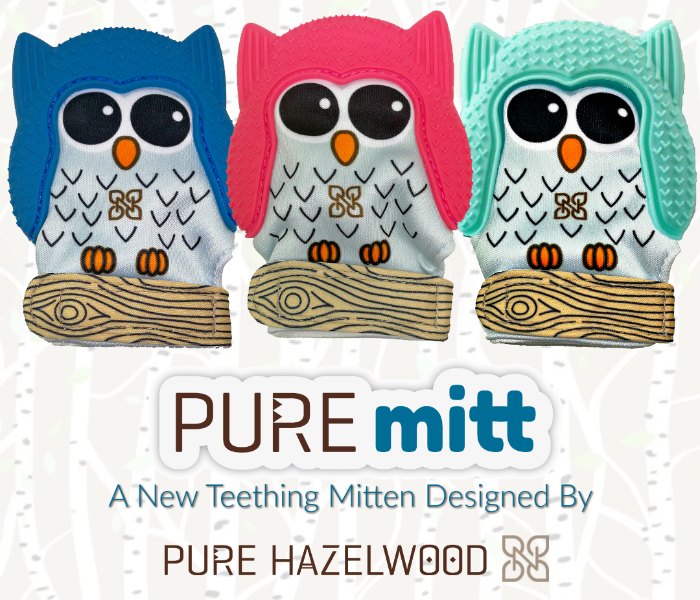 This has been a great teething solution for when we're out of the house. I can pop it into my purse since it's small. If it's on Pearl's hand, I know she's not going to drop it or throw it somewhere. And she won't lose it in her car seat and then get bored and fussy.
There are times when she's not super happy about having a mitt put on. I think it might be better for a slightly younger baby (maybe 3 months) who is starting to chew on his or her fists and cares less about grabbing things. I don't even have a picture of Pearl wearing it, because she waves her hands around too much!
The Pure Mitt is available in three fun colours and comes with a little bag for storing it or washing it. It's BPA and phlalate free.
#3: Silicone Chewelry
These days, I plan my wardrobe around my teething necklace. Whether we're out and about or just staying at home, it's the teething solution that I never have to go looking for. Pearl loves shoving it into her mouth and it often helps calm her down.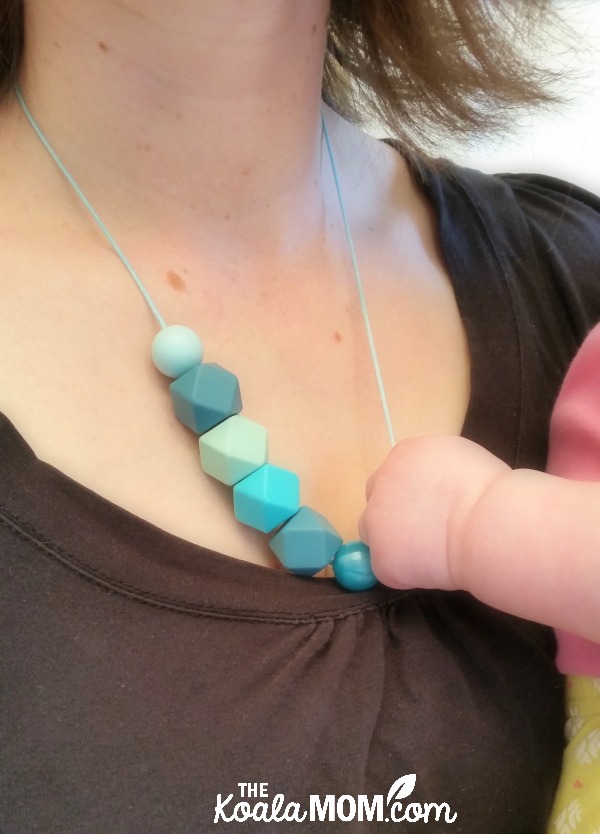 #4: Boiron Camilia
Boiron is my go-to for homeopathic remedies (their products probably make up half of my medicine cabinet). They have so many great products for both adults and kids. Camilia relieves pain, restlessness, irritability and diarrhea due to teething. It was developed specifically for babies and toddlers ages 1 to 30 months and is made with sterile water and contains no sugar, no colouring and no preservatives.
I haven't actually used this product with our babies (they usually just like chewing on things and haven't had other teething symptoms), but I trust the Boiron name and wouldn't hesitate to grab this if Pearl seemed to need it.
#5: Watermelon Rinds
You may laugh at this, but watermelon rinds are what Sunshine cut her first teeth on. We were at a family reunion in August when she was six months old and everyone was eating watermelons. She thought the rinds were great—she could hold them and chomp on them. They were sweet and yummy and I didn't have to worry that she'd choke on them. Only a few days later, when her teeth poked through, did we realize just why she liked chewing on them so much.
The options given above are great for aiding in your baby's teething phase. However, nothing can replace the advice of a dental professional. If you have concerns about your baby's teething problems (or lack of teeth), book an appointment with your dentist. If you're looking for one, an internet search for phrases like "dentist near me kiln creek" should produce a list of options that you can reach out to.
What teething solutions helped when your babies got their first teeth?