You might have heard the saying that "breakfast is one of the most important meals of the day" and it couldn't be truer! A good breakfast is a perfect way to give your body what it needs to kick start your metabolism. Here are some favourite healthy breakfast ideas to give you lots of energy to start your day feeling fantastic!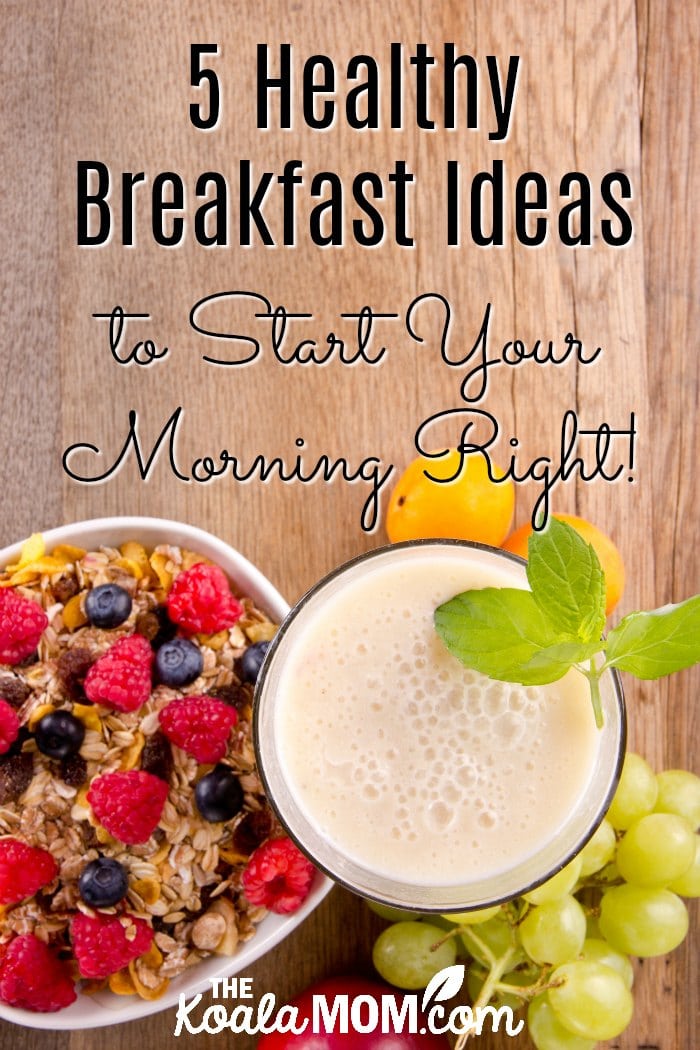 This post contains affiliate links; as an affiliate, I earn from qualifying purchases.
Eggs Eggs Everywhere
Not only are eggs really high in protein, they are also very filling. If you seem to have sugar cravings in the day, try having eggs for breakfast. There so many options when it comes to preparing them, but here are two healthy breakfast ideas.
Boiled Egg with vegemite soldiers. This is a favourite Australian breakfast. Not only is it quick to prepare but it's fun to eat. All you need to do is soft boil a few eggs. While these are cooking, toast a slice or two of sourdough bread. Give your toast a quick spread of vegemite and cut into 6-8 rectangles. When your egg is ready, pop it in an egg cup and knock off the top. Use your dippers to get into that lovely soft yolk.
Omelettes are perfect for using up what you have in the fridge. A favourite omellete is mushroom, spinach, tomatoes, and feta but you add anything you might have laying around. An omelette only takes a few minutes which is perfect for a quick breakfast. Try serving it with some avocado and chili to really amp up the flavours.
Super Smoothies
If you're not used to having breakfast, smoothies are a great way to ease yourself into it. All the good stuff in a smoothie will keep you energized and feeling full until lunchtime. A strawberry banana smoothie is a classic, but you can also add extra ingredients like avocado or chia seeds to make it healthier.
You can also pop ingredients in a snap lock bag and keep them in the freezer for when you're in a rush! You can also use pre-prepped smoothie mixes like Garden of Life's RAW Fit for an easy, nutrition-packed breakfast.
If your morning are ultra-busy, prep your smoothie the day/night before. I've also found frozen fruit and vegetable mixes in my grocery store that take care of the prep for you—just dump in your smoothie cup, add water, and blend! If you leave home early, smoothies are a perfect meal as you can put it in a to-go cup and take it with you.
Another really great reason to include smoothies into your breakfast routines is the incredible variation you can make. From tropical fruits to all green veggies and even indulgent chocolate and peanut butter ones, the choices are endless.
Some of our favourite healthy breakfast ideas include the chocolate banana oatmeal smoothie and the pineapple coconut smoothie bowl.
Coconut Yogurt and Fresh Fruit
Coconut yogurt is a perfect alternative to yogurt. If you want to try something different or have trouble with dairy, this is perfect for you. You can pick it up from most supermarkets as well as health food shops or make it yourself at home.
Coconut yogurt is perfect with fresh fruit, homemade granola, and honey. Otherwise pair it with some nuts, seeds and goji berries for a superfood start to the day!
Some of our favourite seeds and nuts include almonds, sunflower seeds, and linseed. This blend otherwise known as LSA can help with your digestive system, skin, liver and immune system. It is also rich in essential fatty acids and full of fibre.
Oats with Fresh Fruit & Berries
Oatmeal for breakfast is incredibly good for you, with a good dose of fibre and some important minerals such as magnesium, phosphorus, zinc, and more!
Berries and oats are always a good combo, but go ahead and switch in any other seasonal fruits that you enjoy. If you looking for something a little more exciting with your oats try baked oats bars as they are perfect for a busy morning. A delicious flavour is baked apple pie. They only take an hour to make and you will be prepped for a whole week worth of breakfasts.
Chia Seed Pudding
An ancient grain, chai seed has been consumed for centuries, dating right back to the Aztecs and the Mayans. These seeds are high in essential fatty acids, amino acids as well as micronutrients. They make a great addition to any healthy breakfast ideas.
You can make a yummy chia seed pudding by mixing any liquid of you fancy with the seeds. Nut milk, coconut milk, and fresh juice are some delicious options. Try adding some ingredients like vanilla, orange zest, stewed apples, sliced banana, cinnamon or nuts.
You only need to add 2 cups of liquid for every half cup of chia seeds. Give the mixture a stir and leave for at least 10 – 15 minutes, overnight is best if you have the time!
You will notice your seeds starting to swell and become jelly-like consistency. This chia pudding lasts well in the fridge, so it is perfect to make ahead of time and have at any time of the day. Low Carb on the Go has some great ideas for chia seed puddings, as well as ways to prep them ahead of time and take them with you.
So as you can see it is easy start your day off with a good healthy meal. With just a little bit of forward thinking and awareness, you can easily create a repertoire of healthy breakfast ideas you will love to eat.
What are your favourite healthy breakfast ideas?
Brittnay makes her home in Melbourne, Australia. She likes keeping her family healthy and exploring Australia in her campervan. She's also a long-term house sitter. Drop by her blog, The Nut Butter Hub, for more tasty recipes and travel stories.