When I first heard about adult colouring books, I thought, "I don't have time for that." Then I was given a colouring book, and I've been hooked ever since. Colouring is one of my favourite ways to relax at the end of a long day or to spend time with my girls (and my husband!). So I thought I'd compile a list of gift ideas for colouring book fans. Whether you're shopping for Christmas or Mother's Day, there's sure to be something on this list that would delight moms who love colouring.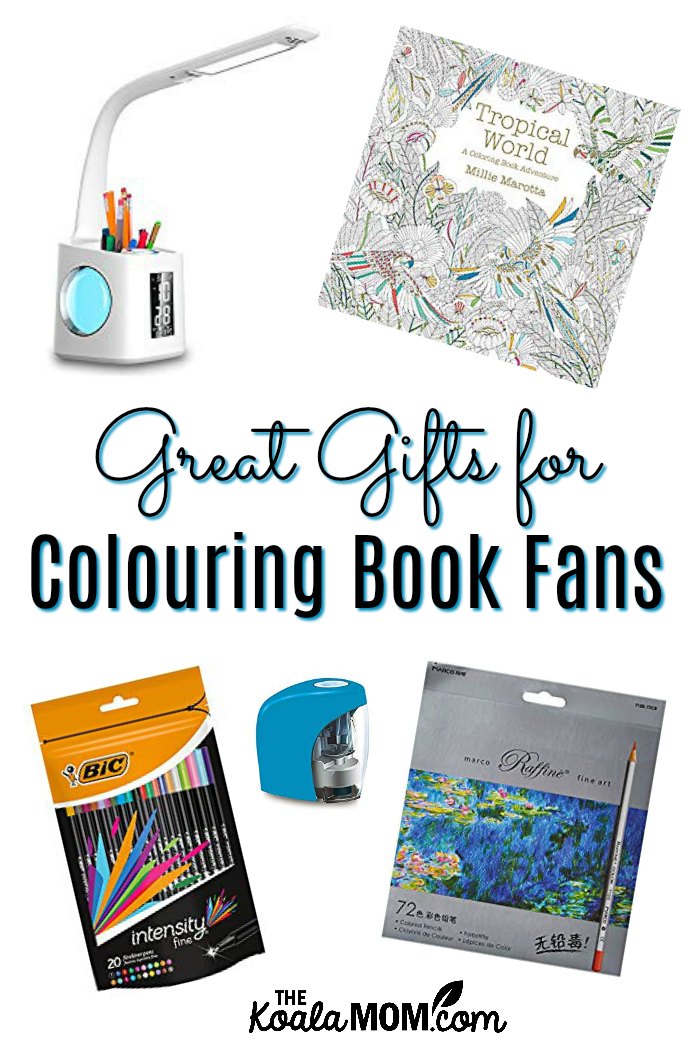 1. Pencil Crayons
I started colouring with my daughters' school pencil crayons. I mean, pretty much every schoolkid has some pencil crayons kicking around, right? I soon got frustrated by the short, broken, or missing pencils.
Treat moms who love colouring to a nice set of their very own pencil crayons. I have the Marco Raffine Fine 72 Colors Art Drawing Pencil Set. I find 72 colours is a nice selection of colours for my projects. $28
BUY NOW
2. Pencil Crayon Case
Even if you're being careful with your pencil crayons, pencil boxes don't last. Plus, pencils don't stay in order, making it hard to find the right colour at times. A pencil crayon case solves these problems, while also making pencils easier to transport. (Hint: give mom some time to head to a coffee shop or park to colour!)
I have the Huhuhero Colored Pencils Roll up Pouch Canvas Pen Bag
. It holds 72 pencil crayons, plus a couple erasers and another pen or pencil. It's easy to roll up and tuck in a bag if I'm going out. I can also see at a glance where each pencil goes (especially if I'm letting the girls colour with me). $25
BUY NOW
3. Electric Pencil Sharpener
Adult colouring books are known for their beautiful details, which require a sharp pencil. There's nothing worse than colouringwith a flat pencil crayon. Unless its running to the garbage to sharpen that pencil. We've used an electric pencil sharpener for years and I love it. All the shavings fall inside the sharpener, and I don't get sore hands twisting pencils until they're sharp.
I recommend a battery-powered sharpener for ease of portability. Find a pretty one for moms, like the SanSiDo Electric Pencil Sharpener
. Throw in some batteries with this gift. $16
BUY NOW
4. Fine-tip Pens or Markers
I bought my 8-year-old a set of markers to use in one of her activity books. Then we all started using them for colouring. While I like pencil crayons for the control they give me over soft or vivid colouring, markers have been fun for other pages, especially where there's lots of fine details.
We have a set of the Papermate Felt Tip Writing Pens, which don't bleed through the paper. These are easy to colour with, but the felt tip will soften if you press too hard. They came in a nice plastic case that also makes them easy to take out to a cafe. $17
I've also looked at the BIC Intensity Fineliner Pens, which offer a few more colours (20 instead of 16) for colouring book fans. They have a slightly different tip and bright colours.
$13
BUY NOW
5. Desk Lamp
One of my pet peeves with colouring is dim lighting. If we're at home, I have to sit at the right end of the table to get the best light, or at my desk, where I have overhead lights. We also have a desk lamp, which I sometimes use, especially if I'm working on tiny details. If Mom is colouring at home a lot, a desk lamp can make a huge difference.
There are a lot of lamp options available. Consider where Mom will be colouring and what her decor tastes are. Some ideas for moms who love colouring:
The Wanjiaone LED desk lamp includes a USB charging port for her pencil sharpener, adjustable lamp, and even space to keep her pens and pencils.
$40
The Sunbeam flexible neck lamp is a classic yet adjustable black desk lamp. $10
The iEGrow Flexible Touch LED Desk Lamp looks like a plant in a white pot! It has natural LED light and a rechargeable battery
. The light itself is also adjustable. $12
BUY NOW
6. Colouring Books!
My favourite colouring book is still the first one I ever received, Millie Marotta's Tropical World: A Coloring Book Adventure. This beautiful colouring book features detailed designs of fish, birds, flowers, and tropical life. The girls are constantly begging me to let them colour in it too!
Other books from Millie Marotta include Wildlife Wonders: Favorite Illustrations from Coloring Adventures, Beautiful Birds and Treetop Treasures, and Curious Creatures: A Coloring Book Adventure. Any of these are sure to delight colouring book fans!
Colouring is a calming yet creative activity. It can be a great way to meditate on something like a prayer or Bible verse. Another colouring book I really like is Live Loved: Craft God's Word Into Your Hear Through Creative Expression by Margaret Feinberg.  Each page features a Bible verse in calligraphy with a border of flowers. The colouring pages are accompanied by a writing page, with space to pray & reflect on the Bible verse.
When we have family colouring parties, my husband gets out Canada to Colour
. I have to admit, the girls and I have been eyeing up his colouring pages too. Canada to Colour features pictures from across Canada, such as Totem poles, iconic mountains and lakes, prominent places such as Green Gables and the Lion's Gate Bridge, lighthouses, Canadian plants and animals, and more. If Mom isn't into flowers or fantasy, she might enjoy this book.

Another fun colouring book is To the Ocean Deep, a 15-foot long colouring book. The page folds out of the book so the picture continues from top to bottom. The ocean is light green at the top and gradually grows darker, until it's a deep teal where it meets the sand. Fantastic creatures like sea serpents and merpeople mingle with real creatures like crabs and sharks.
For Christmas last year, my husband found me Intricate Ornaments: 45 Christmas Designs to Color. The beautiful designs in this colouring book are a great way to get into the holiday spirit. I also had fun using them as crafts. Coloured ornaments were made into Christmas cards or just cut out and hung on our Christmas tree. These ornaments are small, making them easy to finish quickly—a perfect holiday activity, between visiting and eating leftover turkey!
7. Time to Colour!
If mom already has a colouring book she loves and some nice pencil crayons and pens, then give her the gift of time to spend on her hobby. Get her a gift card to her favourite coffee shop so she can colour in peace and quiet. Or write some coupons for babysitting that she can redeem to have some time to herself.
Do you know any moms who love colouring? What gift ideas for colouring book fans would you add to this list?