There are some novels which stand the test of time. They remain relevant to their readers decades and even centuries after they are published. Louisa May Alcott's novel Little Women, published 150 years ago, is one of those novels. The 2018 movie remake is proof that the story of four sisters still resonates with women of all ages. I was very excited to have the chance to review Little Women before it hit theatres.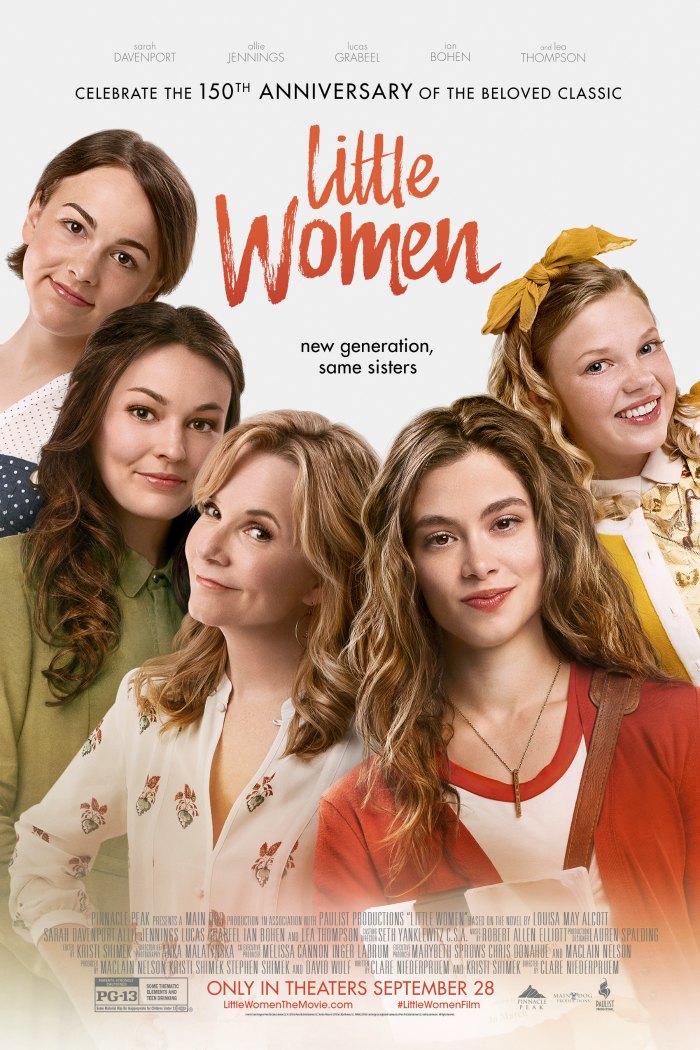 I received a pre-screening link to review this movie; all opinions expressed are my own. This post contains affiliate links.
We have an oft-repeated saying in our home: "The book is always better than the movie (with the exception of Shrek and Forrest Gump)." There are many movies based on books that I won't watch, because I know I'll be disappointed. Despite that, I was excited to see Little Women, absolutely loved it, and think you should go see it too. (Get a copy of the movie and plan a mom's night out!)
Little Women Plot Overview
Jo is a girl with big dreams: to be a world-famous writer and do all the things. She fills pages of notebooks with fantastical stories of dragons and pirates and mythical lands. Someday, she's going to go to Oxford and tour Europe and watch every play ever written. She confides all these dreams to the ever-encouraging Beth, fights constantly with pretty, pouty Amy, and rolls her eyes at Meg's desire for marriage. Then, as they grow up, life doesn't turn out as she expects…
Little Women modernizes Louisa May Alcott's classic novel, placing it in the present day. The girls use a video camera to record one of Jo's self-performed dramas. Laurie tries to get her to write her novels on his old laptop instead of  in her notebooks. They text and call each other with cell phones. Mr. March is overseas in the military, and video-calls his daughters.
It's a movie for every girl who's ever read Little Women and imagined herself to be one of the sisters. (Take the quiz to see which sister you are!)
My Thoughts on This Modern Retelling
My one complaint about this movie is that it was too short. Little Women is a big novel to fit into a 2-hour movie, but the screenwriters hit all the high points. Actually, I'd love to see the creators of this movie make another for each of the other sisters—and even Marmee.
Little Women focuses on Jo and her dreams, but it would be fun to follow Amy to Oxford and Europe, or to see Meg's relationship with Brooke play out, or to watch what Beth does at home while her sisters are away.
The Cast of Characters
I smiled with each new character we met, as I guessed who they were before they were introduced. Another complaint I have about movies based on books is that someone doesn't usually fit my mental picture of them. (Michael Landon doesn't look like Pa to me.) I loved the cast of Little Women. Each character felt true to the book, and to the modern retelling of the story.
In Little Women Alcott boldly adapts Bunyan's rugged pilgrimage to the domestic space of the March women. In this way, she offers a vision of what female virtue liberated from the limits of sentimentality could look like. ~ Elizabeth Grace Matthew, "What Louise May Alcott's classic can teach us about female empowerment"
Jo (played by Sarah Davenport) is brash and outgoing; Beth (Allie Jennings) is shy and quiet; Marmee (Lea Thompson) is creative and wise; Laurie (Lucas Grabeel) is brotherly and fun. Mr. Baer (Ian Bohen) is probably the biggest departure from the character in the novel; he doesn't have a thick German accent, beard, or stout figure, but that Mr. Baer wouldn't have fit this story.
A Family-Friendly Movie
The 1994 Little Women movie was one of the first movies I ever saw in theatres. My mom took me for a rare mother-daughter date when it came out. With that memory, I wanted to watch this movie with Sunshine (10) and Lily (8).
A grumpy baby prevented us from viewing the pre-screening together before I had to write this review, so now we have to watch for the DVD to come out. I can't wait to see it again myself!!!
While there is a couple brief kisses, and some scenes of drinking at a party, this was a very clean, family-friendly movie. However, I'm not sure Jade (5) will follow the transitions from past to present throughout the movie. Most of the movie takes place when Jo is either 16 or 29, so some of the scenes are probably a bit over Jade's head.
More about Little Women
For more about Little Women, including the trailer, cast details, fun quizzes, and more, drop by the official movie website. Follow the movie on Instagram and Facebook. You can also buy the movie on Amazon.