This year, I've been doing more homeschool reviews and less book reviews. When Janet Sketchley reached out to me about reviewing her new novella Unknown Enemy, I said yes immediately. Janet and I worked together on FellowScript years ago; she did acquisitions and wrote the fiction column, while I edited submissions and did the layout. Now, Janet has three suspense fiction novels under her belt and is embarking on a new series of novellas—the Green Dory Inn Mysteries.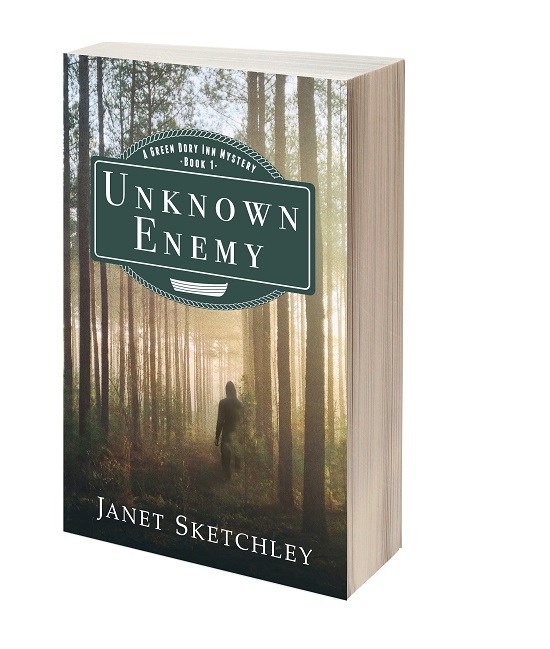 As Unknown Enemy opens, Landon is reluctantly returning to Lunenberg, Nova Scotia. She thought nothing could make her return to this place of past trauma, but a friend needs her help. Anna runs the Green Dory Inn and recently lost her husband. Now, someone is playing tricks on her—or is Anna just imagining things?
Landon is determined to get to the bottom of things quickly so she can return to university. She just needs to prove whether Anna needs mental or physical help. But being in Nova Scotia brings back memories of the past. Can Landon help Anna without compromising her own healing?
Janet Sketchley drew me into Landon's story from the first few pages. Landon is a real, likeable character with relatable struggles. The hints at her past trauma were realistic, without any big long flashbacks about what happened. The suspense at the Inn builds slowly, while pressure in Landon's own life adds to the urgency of finding out what's going on.
Drop by Janet's website to read the first chapter of Unknown Enemy. Because it's a novella, it's a quick, fun read (even for me, with a baby who prefers bouncing to rocking and thus eliminates my reading time!). You can also subscribe to Janet's fiction newsletter to get updates about her books, as well as recommendations for other books you may enjoy.
Janet Sketchley is a Canadian author with a passion for fiction. She has over 50 varieties of tea in her house, has ridden an elephant, and is really good at untangling yarn and Slinkies. She's the author of the Redepemtion's Edge trilogy and a devotional. She and her husband have two grown sons.