It's time to go behind the blog with another blogger! Kimberley Linkletter is a fellow homeschooling blogger. Here, she shares how she started writing at Vintage Blue Suitcase, her favourite things about blogging, and her tips for other bloggers.
TKM: First, tell us a bit about yourself.
Kimberley: The travel bug bit me at an early age and I have shared that with my husband of 37 years, our three adult daughters (our son-in-law didn't have a passport until he got engaged to our daughter) and our ten-year-old grandson. (I'm hoping our new baby grandson will love to travel as much as his big brother.)
After working in government and politics for 20+ years, I decided it was a good time to leave the rat race as my boss was retiring at the time. This worked well for us since our daughter had been considering homeschool for our grandson and I love having someone to travel with me as we drive around North America learning as we go. (I have to say that I have learned to use online resources a lot more than those first trips where we were packing along totes of books!)
TKM: When and why did you start Vintage Blue Suitcase?
Kimberley: I began blogging originally for a communications class I was taking at the university. After the class I stepped away from my blog for a bit until some of my friends and family members told me they were missing my weekly posts. After participating in a couple of blog challenges and retiring from my job as a political assistant, I decided to begin a new blog focusing on family travel and our homeschooling adventures.
TKM: How did you come up with your blog name?
Kimberley: My blog name, Vintage Blue Suitcase, was inspired by the suitcases my mom had for her honeymoon. I loved those suitcases and used them for several years until they finally gave out. I managed to find another set (that are pictured on my blog) that I continue to use on our travels.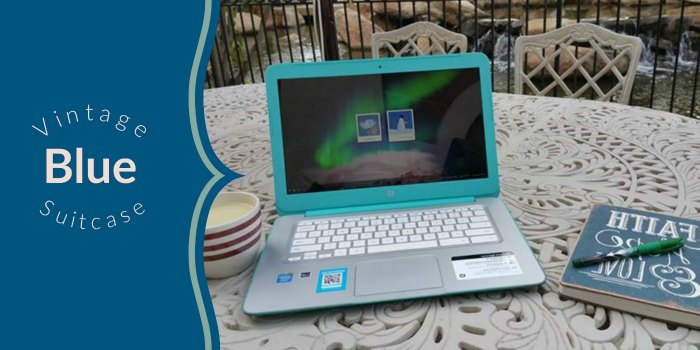 TKM: Do you have a blog schedule or do you post when you feel like it?
Kimberley: Up until now, I've been posting as I have something of interest to write about but I'm trying to become more disciplined and keep to a schedule. I'm going through an update on Vintage Blue Suitcase right now, switching from Blogger to WordPress and redesigning it to organize my posts a bit more by topic, rather than all in one main stream.
TKM: What is your favourite part of blogging?
Kimberley: My favourite part of blogging is feeling like I am speaking with my readers. I love to share stories of our adventures and, hopefully, help others learn about places they might enjoy visiting with their own families. I also enjoy sharing how we manage homeschooling while we travel and take advantage of learning opportunities wherever we go.
I do appreciate when someone takes the time to comment or respond to a Tweet about something I've written.
TKM: Your least favourite part?
Kimberley: My least favourite part is making myself sit down in front of my computer and typing it all out. I have a much easier time getting my words down with pencil and paper and have several notebooks filled with ideas for blog posts and stories that I never manage to complete.
TKM: What advice would you offer other bloggers?
Kimberley: My advice for other bloggers, relax and don't stress over using exactly the right word or phrase, be yourself and let your own personality come through. The blogs I enjoy reading the most are the ones where I feel connected to the writer, almost as though we are having a conversation at our kitchen table.
TKM: What is your favourite social media platform and why?
Kimberley: It's tough for me to decide on which is my favourite social media platform. I use Twitter a lot and love participating in Twitter chats about travel but I also enjoy Facebook where I connect with other homeschooling families daily. I also find I use Facebook to keep in touch with family and friends who don't live nearby.
I've begun posting on Instagram a lot more, it's so quick, easy and visual.
Read more blogging tips from other bloggers: