January is a good time to work on planning your editorial calendar and SEO-strategy for the year. I like printing a blog planner every year, but you can also use online planners or apps. However you do it, sitting down to plan content and SEO is important. Here are some tips to get you started in creating a SEO-ready editorial calendar for your blog.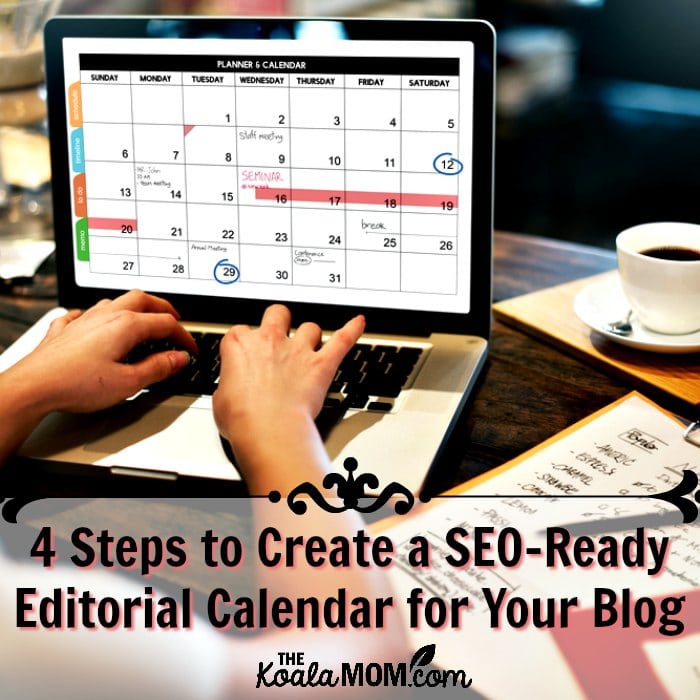 When you're running a blog, it's essential that you stay organized and one step ahead. Otherwise, things can go wrong very quickly when you stop posting content or run out of ideas.
One of the best ways to keep on top of things is by using an editorial calendar. This is similar to a business plan for your blog and helps you plan the future as well as the direction your blog is going to take. With a strong editorial calendar behind you, you can do amazing things. Start by brainstorming ideas for posts you want to write, and filling in deadlines for sponsored posts and reviews. You'll want to make sure you balance your content so that you don't have more sponsored content than editorial content.
While creating your editorial calendar, consider your SEO strategy too. This gets two birds done with one stone, and it's one less thing you have to rush around completing further down the line. For example, you should be planning your editorial content around specific keywords to attract your ideal audience and customer. Here are four steps you can take to make this plan a reality.
Define Your Target Audience
When it comes to SEO, Google's only priority is giving their users the best experience possible. If you're producing content that doesn't really have a purpose and isn't written for a specific audience to read, then no specific audience is going to read it. Google will to put it at the bottom of the results page.
When considering your audience, start to brainstorm what kind of keywords you're going to use in your content as well as planning the ones you're going to use in the future. You can use tools like Word Stream and the Keyword Density Tool to manage and prepare your keywords professionally. Defining your audience will also help you determine what kind of language you'll want to use and what channels you're going to distribute each content piece on.
A great way to define your target audience is to narrow it to one person. Think of your ideal reader. What does she like to do in her spare time? What does she need help with? What sorts of things might she be searching to end up on your blog? These questions can help you create a list of keywords and blog post ideas that will attract that reader to your site.
Recognize a Good Editorial Calendar
It's virtually impossible to create a good editorial calendar if you don't know what one is. There's a big difference between an "all right" calendar and a successful one.
Of course, you can sit and create a plan of what you're going to blog about and when. To create a plan that will take you to success, you need to consider your target audience, the quality of the posts you're going to be producing and the length of each piece of content and its purpose. Try to plan a mix of short and long content, but don't worry about being too long. If you write a high-quality article, readers will often read the entire article and want more.
I highly recommend taking Kelly's Sticking SEO e-course to help you learn how to research keywords and plan your editorial calendar. Kelly walks you through everything you need to know about search engine optimization, finding the best keywords, and writing content for those keywords so that you get the readers you want.
Become Forward Thinking
Imagining your calendar is similar to your blog's business plan. When creating your calendar, you need to be thinking ahead to the future and what your long-term goals are with your blog. Consider where you want your blog to be and what sort of success you want to have.
The more specific you are in setting these goals, the more accurately you can work towards them. Sites like Australian Help and Academadvisor are home a range of professional writers who can talk you through how to set achievable yet inspiring goals.
Always Deliver Quality Content
The biggest and most important thing you need to remember is to give your users quality content to read. This is for the benefit of both Google and your readers. The better the quality of your content, the more successful your blog is going to be.
This means checking your content for any silly mistakes that are going to cost you precious SEO points. This includes your grammar, spelling and use of punctuation. One trick I've learned is to write the post one day, and then give myself another day to come back and reread that post to check for errors, readability, and anything else I might want to add to it. You can also use online blog resources such as State of Writing and Spell Checker for guides on how to proofread your content properly.
If you doubt your skill in proofreading or simply don't have the time, don't risk releasing the content. Instead, you can use professional proofreading services like Academized and Assignment Help to do it on your behalf.
When planning your calendar, be sure to leave enough time during your days and weeks to solely focus on perfecting the quality of your content. By dedicating the right amount of time, usually a good few hours per piece, you can be sure that Google and your readers will love every single post. Rushing through the writing process because you have a deadline coming up won't result in stellar blog posts.
Do you have a blog planner? How do you plan your editorial calendar?