Saint Gabriel Lalemant was the last of the eight Canadian martyrs to arrive in New France. He served for the shortest amount of time and was martyred with Saint Jean de Brebeuf.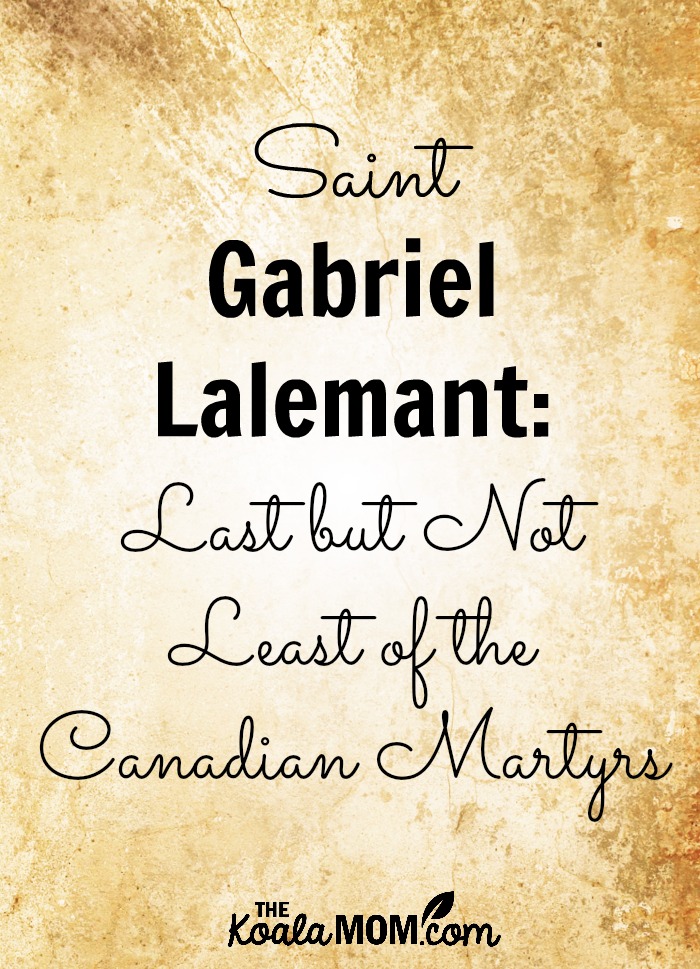 Saint Gabriel Lalemant was born in Paris on October 10, 1610.  His uncle Charles Lalemant was the first Jesuit superior in New France. Charles was also the friend and priest of explorer Samuel de Champlain.  Another uncle, Jerome Lalemant, was a Jesuit priest who served as a missionary to the Huron, established the order of donnes, and wrote many of the Jesuit Relations.
Thus it seems only natural that Gabriel should follow his uncles into the Order. He became a Jesuit at the age of twenty.  Along with the usual vows of a Jesuit, Gabriel also "added a fourth vow to devote his life to the Indians" (John J. Wynne).  Historian Angus McDougall notes that Gabriel's mother must have been extremely devout. Five of her six children entered the religious life and she herself, after her children had left home, became a nun. Gabriel's life can thus inspire us as moms to keep praying for our children and God's callings on their lives.
Saint Gabriel Lalemant Arrives in New France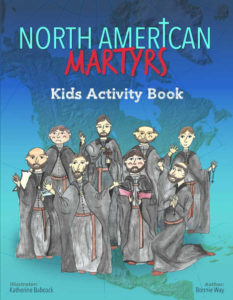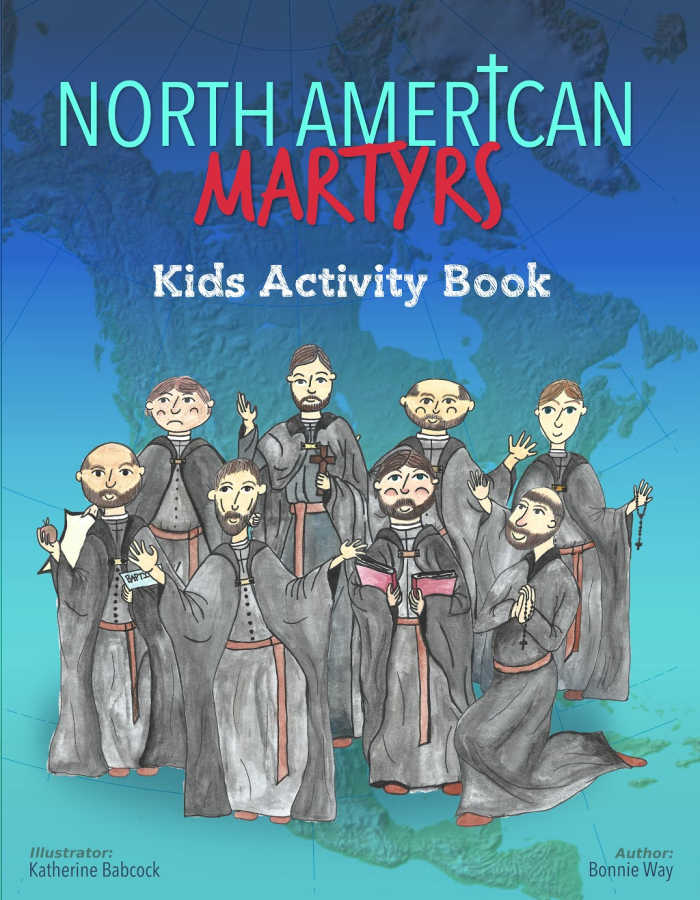 Gabriel was ordained as a priest in 1638, after eight years of study.  He taught for several years, before and after his ordination, at various Jesuit colleges.  He also served as a chaplain for a year at the college of La Fleche, "owing to weak health" (Wynne).  His desire to serve the Indians like his uncles was granted in 1646 when he sailed to New France to join his uncle Jerome, who had arrived there in 1645 to oversee the Canadian missions.
Just a month after Fr. Lalemant's arrival, Fr. Isaac Jogues and his assistant, Jean de la Lande, were martyred by the Iroquois.  This was an indication of what Fr. Lalemant could expect as a missionary to the Huron.  George Anderson records that "Jesuits and Hurons alike were well aware of the danger posed by their hostile neighbors to the north who periodically swept down to make devastating raids."
Fr. Lalemant spent two years serving in Quebec itself.  A fellow missionary noted that Fr. Lalemant was "a man of extremely frail constitution" (McDougall). Likely his uncle tried to keep him from the more strenuous postings.  In August 1648, Fr. Lalemant traveled with several other priests into Huronia.  He stayed in the mission station at Ste. Marie, studying the Huron language. He was apparently an excellent student who made rapid progress.
Saint Gabriel Lalemant is Martyred
In February 1649, Fr. Lalemant joined Fr. Jean de Brebeuf, replacing Fr. Noel Chabanel, who went on to another village.  Wynne notes that Fr. Lalemant was "a profound theologian" who was "fond of teaching children and candidates for baptism."
Barely a month later, the Iroquois burned St. Ignatius, one of the villages established by the Jesuit missionaries.  News of this attack quickly reached the nearby St. Louis, where Fr. Brebeuf and Fr. Lalemant were serving. Many of the Huron fled St. Louis. The priests remained with the warriors who had chosen to defend their village against the Iroquois.
The Iroquois burned St. Louis and killed many of its residents, but took the priests back to St. Ignatius.  There, both priests were tied to stakes and tortured.  Anderson says, "The Iroquois' special vehemence was directed toward de Brebeuf, whom they had long known by his name of Echon, the strong one."  Fr. Lalemant witnessed Fr. Brebeuf's death on March 17 before enduring further torture himself.  He was killed early the next day.
The End of the Jesuit Mission in Huronia
After the Iroquois withdrew, Fr. Ragueneau, the superior at Ste. Marie, sent men to recover the priests' bodies.  In the Relations, he says that his men "found there a spectacle of horror,—the remains of cruelty itself; or rather the relics of the love of God, which alone triumphs in the death of martyrs" (quoted in Wynne).  Ragueneau noted further that  "they could easily and without sin have put their lives in safety, if they had not been filled with love for God rather than for themselves."
Then, with the Huron dispersed and the Iroquois still a threat, the Jesuits reluctantly dismantled the mission at Ste. Marie and retreated themselves.  They burned Ste. Marie to prevent its use by the Iroquois. Then they accompanied some of the Huron leaders to an island in Lake Huron.
Since the 1950s, archaeologists have excavated Ste. Marie and reconstructed what the missions would have been like during the Jesuits' work in New France in the 1600s.
Gabriel Lalemant was canonized in 1930, with the other seven North American Martyrs. Their feast day is celebrated on September 26 in Canada and October 19 in the United States.
Saint Gabriel, pray that I may inspire my children to a life of holiness and service as your mother did. Pray that I might instruct them well in the doctrines of our faith. Amen.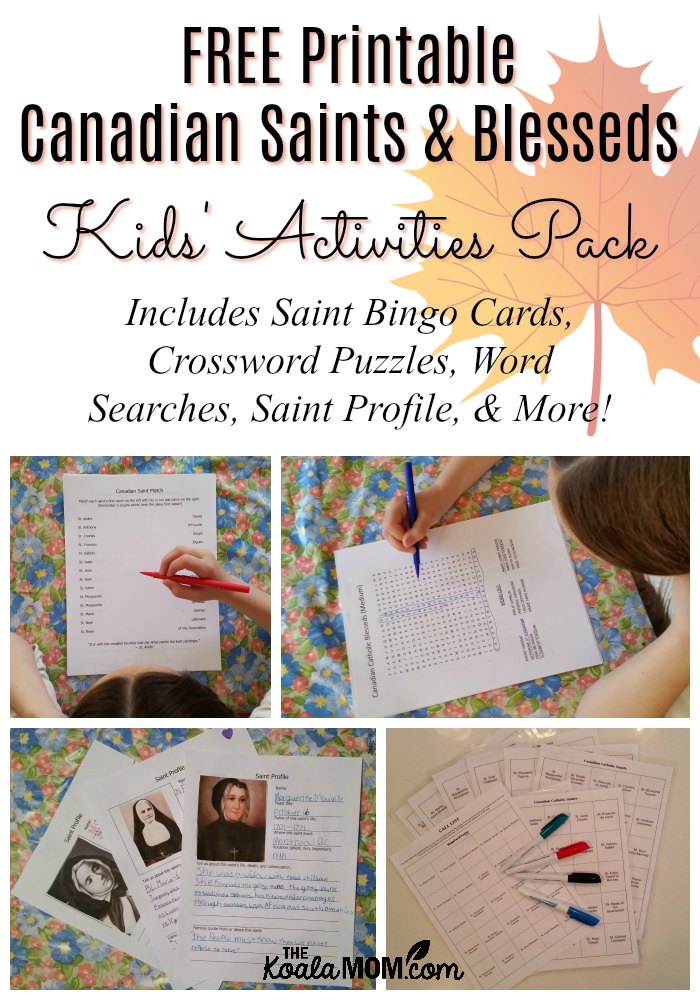 Subscribe to my weekly email newsletter to download your FREE printable Canadian Saints & Blesseds Kids Activities Pack, which includes 8 Bingo cards with 30 Canadian saints' and blesseds' names, crossword puzzles and word searches, saint matching and sorting games, and a saint profile sheet. These activities are intended for kids about Grades 2+ (or children who can read and write). This Kids Activities Pack would be great for catechism classes, homeschool lessons, or a Canadian All Saints Day party.