The applause echoed through the room as we pounded our hands together. One person toward the front stood up, then another halfway back, and then we were all getting to our feet, still clapping as hard as we could. On the stage, a man stood, a grin splitting his face as he looked out at the standing ovation he was receiving. A rock star or famous actor, you ask? No. A man who had just committed his life to God.
That was the second ordination I'd attended in less than a month. Both the deacons who presided at our wedding ceremony were ordained shortly after. We were there to celebrate with them, to rejoice at this culmination of their journeys, and to thank them for their gift to God and to the church. These men have whole-heartedly and unreservedly answered God's call on their lives. I'm excited to see where He will lead them in the years to come. They are godly young men who will serve Him well.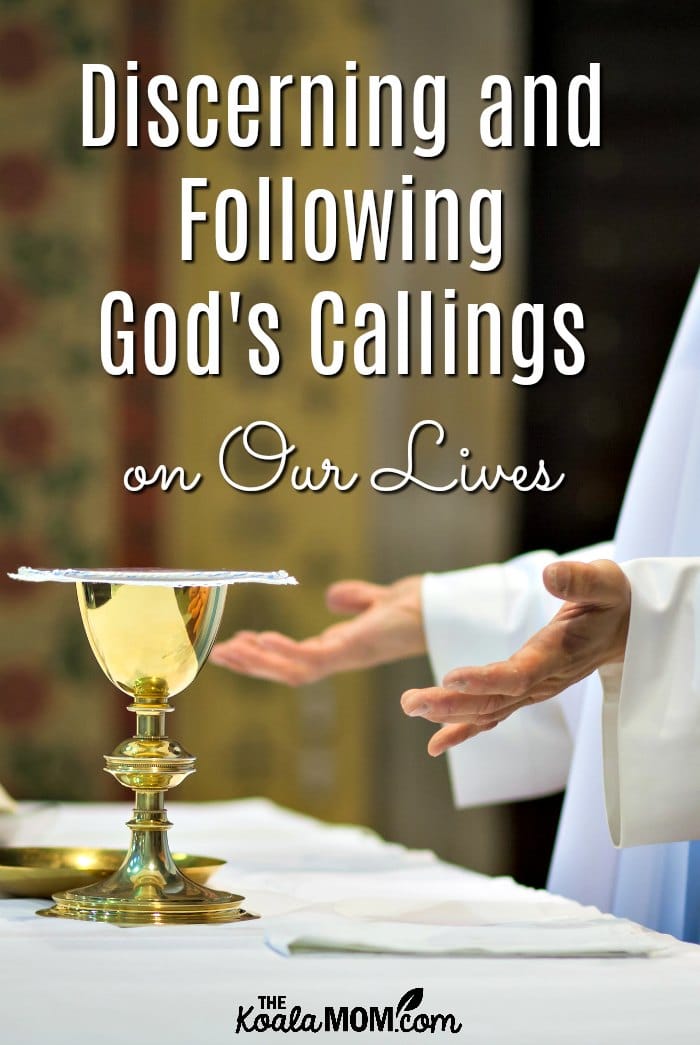 As I thought about their calling and response, I got thinking about my own calling as well—as a wife and someday a mother. These priests are called to live Christ to the world; I am called to live Christ to my husband and children
Discerning God's Callings on Our Lives
The years these young men spent in seminary were not only years of formation and training, but also of discerning God's callings on their lives. I knew a little bit about this process from my husband, who had been in seminary when we met. He spent a year and a half discerning whether God was calling him to the priesthood or not. Some of our friends joked that I prayed him out of the seminary, but I always prayed that he would know God's will for his life. He was open to giving himself to God as a priest, but God called him to give his life in other ways.
Even as a child, I knew I wanted to be a mom. I loved babysitting and knew I wanted to have a large family one day. Often, however, I felt that I had to hide this desire because others weren't supportive of it. In today's world, moms are looked down upon. I was supposed to "dream bigger" than wife and mother. Yet that was the desire God had planted in my heart.
Dating was another time of discernment for my husband and I. Yes, there was all the fun and excitement that comes with a relationship. Underneath it all were some serious discussions about what we felt God wanted in our lives. We spent time in adoration together, going to Mass, and talking with our friends and family. All of those helped us as we discerned God calling us to marriage.
Following God's Callings on Our Lives
St. Gianna Beretta Molla said, "One earns Paradise with one's daily task." We have a tendency to "rank" what we do in those world, and to value some tasks or vocations more than others. It may seem to us that a priest is doing more to earn Paradise or to spread the Gospel than a mother. And yet God doesn't call everyone of us to be a priest. He gives each of us our own tasks and vocations, and calls us to love Him by doing those daily tasks.
Too often I fail to love and serve as I should. I gripe about my daily tasks (because as a mom, there are a lot of tasks that need to be done every. single. day). I'm lazy, impatient and selfish. As I watched the new priest making his vows to God and the church, I thought of the vows I had made to my husband—to love him and honour him. That's easy to say, and easy often to do in the big things, but harder in the small things.
One theme ran through both ordinations: that the priests look to God for their strength to carry out what He was calling them to do. I've realized that too often I try to do it on my own. I hold up the ideal of what God has called me to and go at it with all my strength. The problem is that my strength isn't enough. I stumble and fall more often than I succeed.
Thankfully I have a patient husband, who keeps giving me second chances. And God keeps waiting to give me the strength to do what He's called me to, if I'll only ask Him. Along the way, He gives support and inspiration through good friends who are also living out their callings.