Finance is a huge topic for many of us as parents, but one that we often overlook when teaching our children. My girls love getting money for their birthdays, but I've found it harder to explain the concept of credit cards and banks to them. Today, Josh (a dad of 3) is sharing his tips on how to teach your children about personal finance, using kid-friendly apps and websites.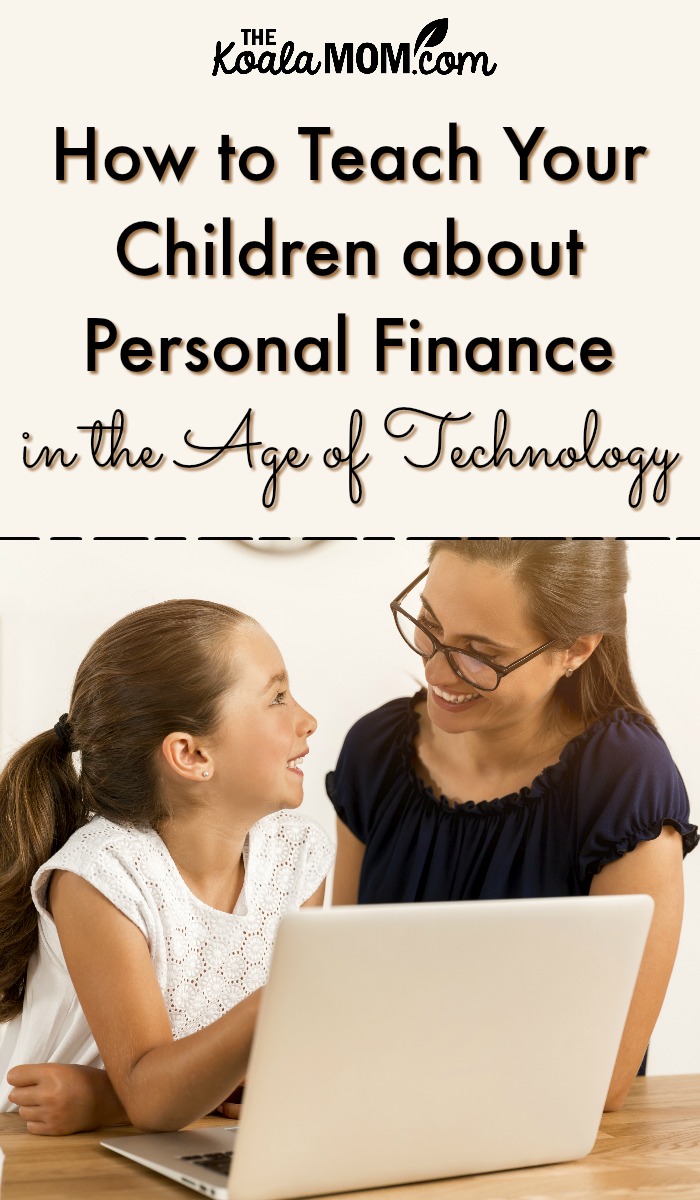 The financial landscape our children are growing up in has changed dramatically over the past few decades, even from the time when we Millennials were growing up in the 80's and 90's. Most transactions are now entirely cashless, and most are now made with credit cards.
Credit cards, online shopping, and even online banking to some extent makes it difficult to present money as a real and concrete learning experience. It's probably more important than ever to teach our children how to handle money responsibly before they learn bad habits which we, ourselves, might have made as young adults. Without handling real money, how do we even begin to teach our children about financial responsibility?
Children learn primarily by example, which means setting a good standard for your money management. These are essential ways of boosting financial common sense, but there are also new tools available for us which help teach kids in the digital age. There have been significant changes to the way we use and manage money in the past ten years. There have also been innovative developments in how to teach children responsible and reasonable money management skills in this new environment. Not surprisingly they rely on technology, and many can be downloaded directly to your mobile device.
The Virtual Allowance
Giving a weekly allowance to your children is still one of the primary ways to teach kids about the value of working for their money. However, the days of the piggy bank are long gone. Considering adults rarely use cash or carry around loose change anymore, the next obvious step is to move our children towards a virtual system as well.
Some apps rely on virtual currency systems by teaching kids the value of saving and managing their money between virtual savings and chequing accounts. In some cases, children can take photos and collect information on a special toy they want, and track their progress as they save money towards that goal. It's an excellent tool to teach kids about responsibly managing their money, and also encourages the saving and sharing of their money with the use of goal setting and achievements.
Smartick is a website that allows children to earn "ticks" by completing math lessons. They can then spend their "ticks" in the store to buy pets and toys for their virtual rooms or accessories for their avatars. Children can only complete one fifteen-minute session each day (like "going to work"). Prices in the store vary from a few ticks to up to 40, encouraging children to save their ticks if they want to purchase bigger items. The virtual allowance thus reinforces math concepts (children can add up how many ticks they have, and how many they need for a desired item) while also teaching money management.
Online Resources to Teach Your Children about Personal Finance
While many of us might be hoping that the education system catches up with the modern world regarding financial education, it's unlikely that a new class on credit cards or investment management will pop up anytime soon. We need to take charge of our children's financial education by using the plethora of online resources for a little homeschooling. There are many online resources available that provide excellent databases of information detailing how to make every day experiences a way to teach children about money management.
Promoting Smart Credit Card Use
Credit cards are a leading cause of consumer debt for millennials. As such, we should ensure that our teenagers start off on the right foot when it comes to understanding the benefits and risks associated with their use. How many of us millennials started out in college with a brand new credit card, not understanding of how it would affect our credit score in the years to come? Before we watch our teens make the same mistakes, why not begin their credit card education early on?
There are a few ways to start this training as they come of age. One common place to start is to begin having open and frank conversations about how credit cards work, for example discussing how interest rates work, and how credit scores come into play as they get older.
As your teenager becomes more financially savvy, it can also help to open a credit card in your name with a low credit limit, and put your teen's name on as an additional user. If the card is visible to them through their online banking (and also to you as the parent), it will provide real life experience using one of the most common forms of virtual payment. Having a credit card in their name will help teenagers grasp responsible spending on credit, and perhaps, more importantly, learn from a mistake or two along the way.
Start a Savings or Investment Account
Most children have dreams of things they'd like to buy—a new bike, an iPod, a fancy doll, etc. Use these dreams to help your child save up money towards that goal. Even if your child's goal has a really big price tag, don't discourage them. You may be surprised by what a determined child can accomplish! Having a specific goal in mind will motivate kids to earn more money or to refrain from spending their allowance on candy and other fleeting pleasures.
You can also encourage your children to think long-term by contributing to their own RESP or one of the best custodial account options for kids on the market. If you haven't already opened an RESP for your kids, now is the time to do it! Government grants can boost your (or your child's!) contributions to the RESP. Your child could put part of their Christmas or birthday money toward their RESP, or commit to setting aside a part of their allowance every month for their RESP. Share your own stories of college or university and talk to your child about what they want to be when they grow up to encourage them in this goal.
What tips would you share to teach your children about personal finance? Have you brought up this topic with your kids?
Josh Wilson is the owner of a start-up personal finance blog, Family Faith Finance. He and his wife have three children ages 8 to 3. They live in New York and enjoy exploring the wilderness, practicing their faith, and helping others. Feel free to check out his blog and learn more about his journey through life.