Saturday found the girls and I down at the PNE for the Vancouver Mini Maker Faire. I heard about this event from Chris at DK Books (one of the sponsors of the event). He sent us tickets and a copy of Out of the Box
to get us excited about the faire. The girls spent the week before playing and building with cardboard boxes.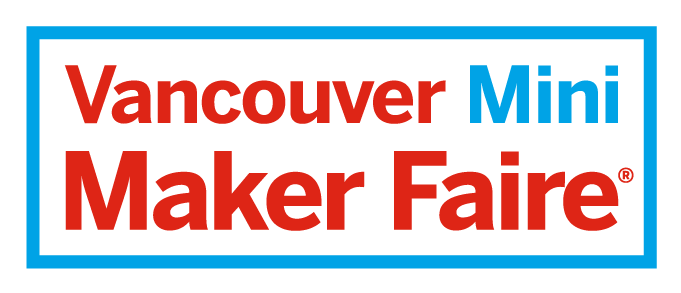 I wasn't totally sure what we'd find at the Mini Maker Faire, other than a bunch of things different people had made. I was completely blown away by what we found. I thought we'd drop in for a few hours to check it out; we ended up spending most of the day down there. Not only were there tons of cool things to watch and beautiful creations to admire, there was also lots of hands-on stuff for the girls to do. And my girls are huge fans of trying things out for themselves.
I kept telling the girls, "Ask before you touch!!!" Some of the booths had items that were fragile or even dangerous. All of the exhibitors were great with kids, though, and the girls were often welcomed to touch and try out things. We saw a Tesla coil in action, tried on a light mask, watched a glass bead being made, and drew an animated film strip. And that was just our first half-hour at the Mini Maker Faire!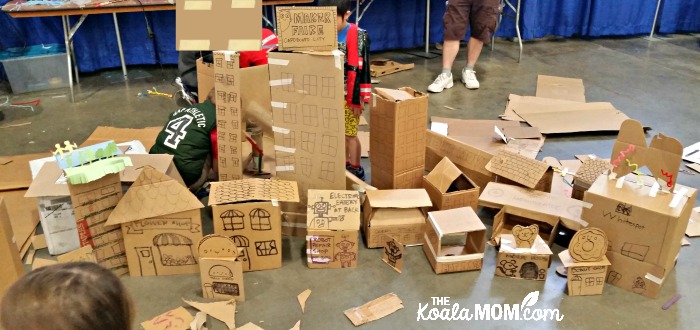 The cardboard village at the DK Books booth was really cool! It was neat for the girls to see what they could do with cardboard boxes. Lily even made another little house while we were there, to bring home and start her own village. Again, I thought it was great that there was a wide-open space here for kids to add their own creations to the cardboard village.
In another corner, the girls got to make their own pencils boxes. Each chose a block of wood, then sanded it carefully to get the rough edges off. Safety first was stressed, as they each had to don a pair of safety glasses and tie their hair back before using the tools. One of the volunteers there helped them clamp their boxes and drill the holes for pencils. Lily wasn't a huge fan of the noise of the drill, and Jade just watched someone drill her holes for her, but Sunshine really liked the drill and made 7 holes for her pencil box.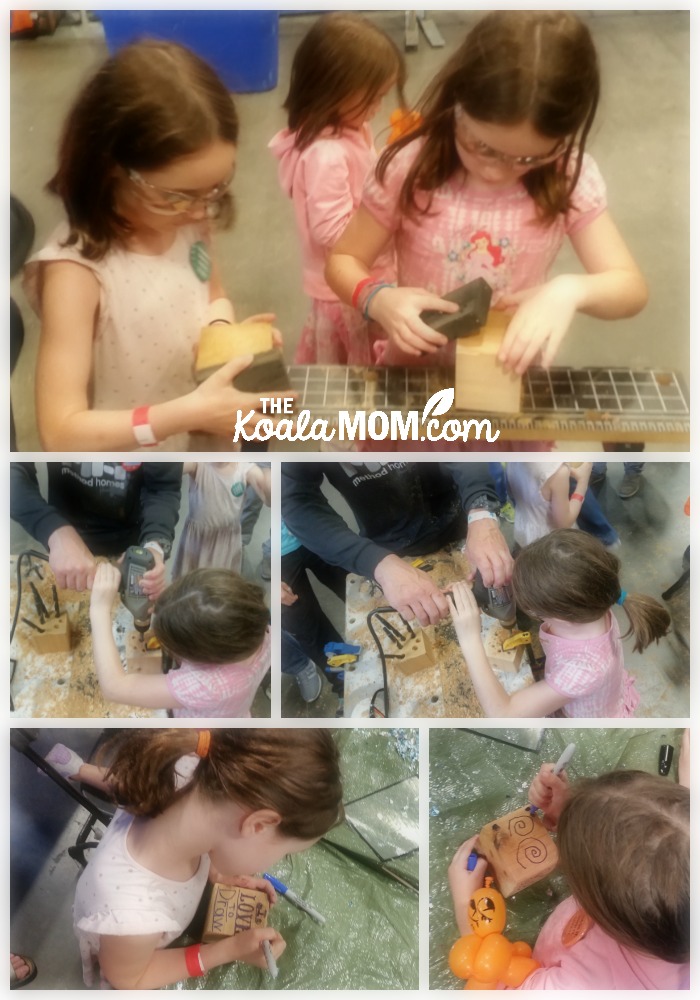 After sanding the drilling their boxes, the girls got to move to another table to decorate. They had fun drawing and writing on their boxes with Sharpies and stencils, and trying to add some sparkly stuff with ModPodge. Maybe now they'll remember to put their pencils away instead of leaving them all over the table and floor!
There was also a balloon artist entertaining kids in one corner. You can see Jade's orange balloon puppy on her arm above, as she decorates her pencil box. The balloon artist was great at not only making the balloon critters, but also joking with the kids. Sunshine had fun figuring out his "magic trick." Jade loved her little puppy and I was happy it was on her arm so she didn't lose it.
We wandered on from there to watch a woman spinning wool (where the girls had lots of questions), duel with light sabers (yes, even girls like swords apparently!), shoot marshmallow guns (without eating any marshmallows), and paint some posters (the highlight of Pearl's day). Then we found the 3D printer.
We've been hearing about 3D printers for a while. I really couldn't mentally figure out how a printer could make something 3D. It was fascinating for all of us to see the printer in action. The volunteers showed the girls examples of several things that had been made on the printer, from a folding blue flower to a "pi" vase to a cute little kitten. We saw the printer start on another kitten, which would take about an hour and a half to print. So we wandered around the booths in the area and then came back to see how far the kitten had gotten—only its feet were done!
Before we arrived at the Mini Maker Faire, I checked to see where we need to park and whether the event was wheelchair accessible. I was very happy to find that it was all on one level, so I could take the stroller. Poor Pearl spent most of her day buckled into the stroller, snacking, while her sisters tested out electrical circuits and folded origami doves. By the end of the day, the stroller came in handy for carting all the "stuff" the girls had made or acquired at the different booths!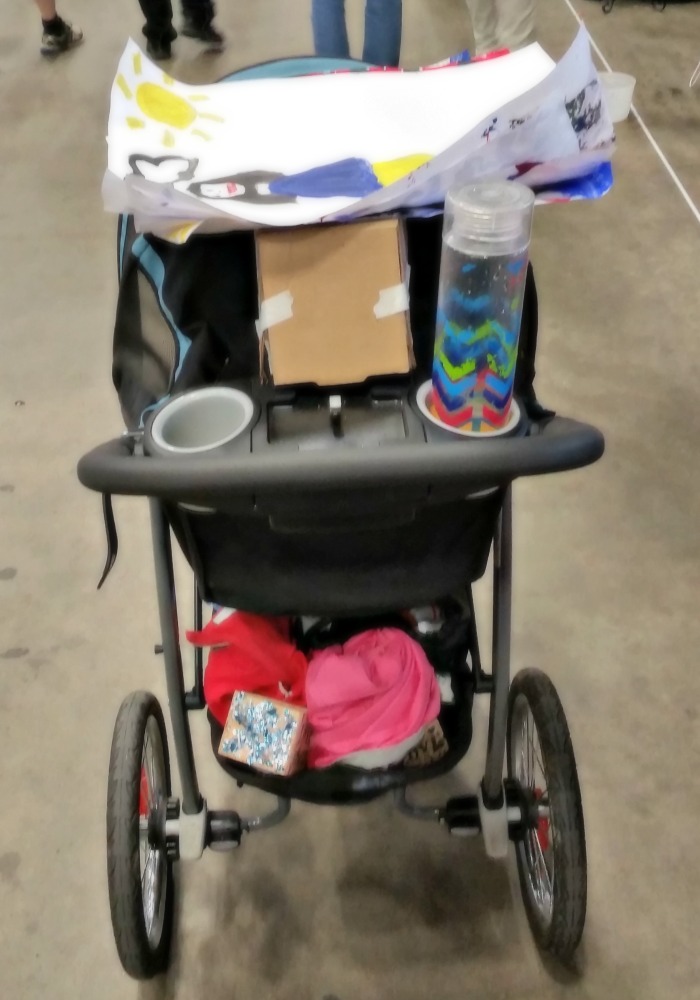 Overall, the Vancouver Mini Maker Faire was a fantastic day. If there's one in your city, I recommend checking it out. We'll be definitely watching the for the Faire when it comes back to Vancouver next year. It was fun to see all the amazing, creative things other people have made. Plus the girls enjoyed the chance to try making so many things themselves.
For more information about the Vancouver Mini Maker Faire, the vendors there, or Mini Maker Faires around the world, drop by the website. If your kids love creating things, check out the huge selection of books at DK Books to inspire their creativity.
I received tickets to the Vancouver Mini Maker Faire for our family courtesy of DK Books; all opinions expressed are my own. This post contains affiliate links; as an Amazon Associate, I earn from qualifying purchases.