The idea that "children should be seen and not heard" seems like an antiquated idea these days… except with children in Mass. Many a Catholic parent has come to dread attending Mass with small children in tow. Reactions to children's natural energy and innocent noise from priests and parishioners alike is often humiliating and hurtful. Over the past nine years, we've had our share of ups and downs in taking our daughters to Mass.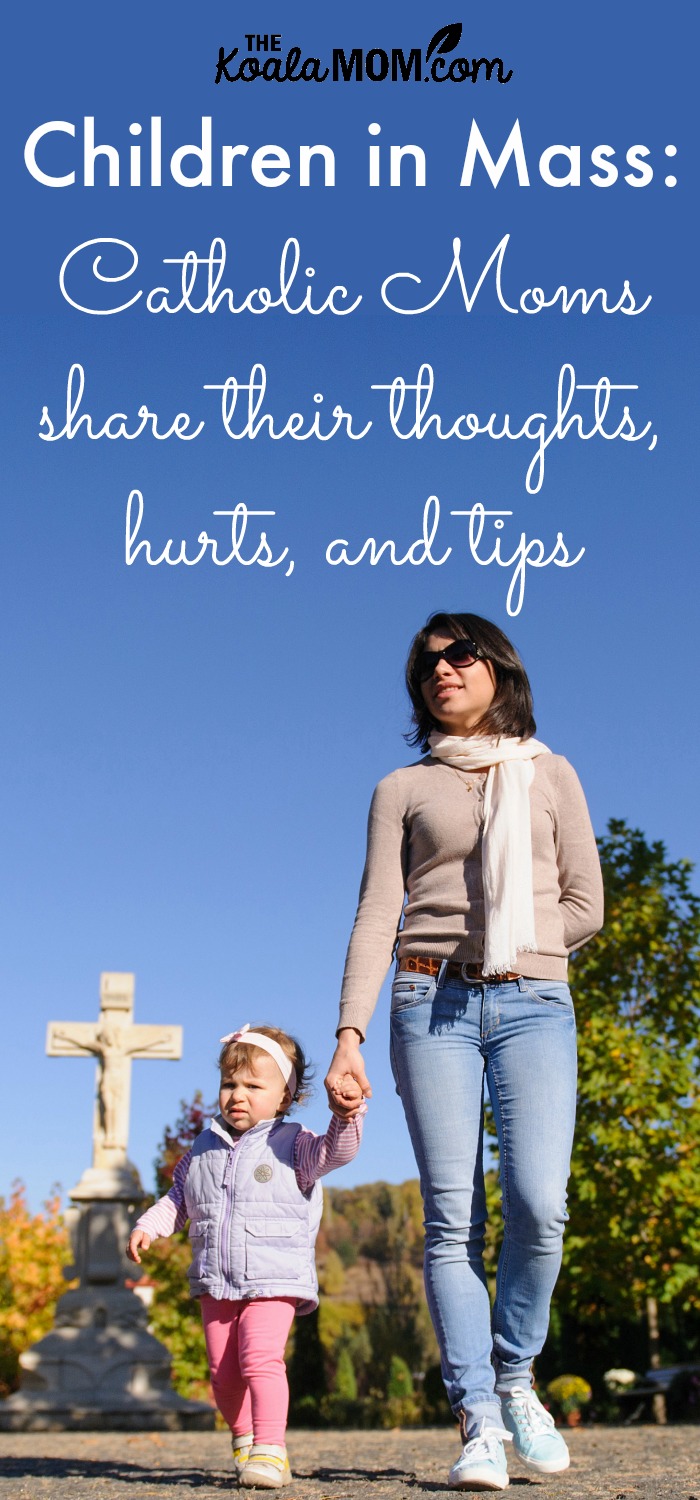 Here, I've gathered a list of posts by fellow Catholic moms about taking children to Mass. If you are a Catholic parent with young children, I hope these posts will inspire and encourage you. A few share practical tips that may (or may not!) help as you venture into Church with your littles. I pray that you will find a welcoming parish for your growing family.
If you are a Catholic but not a parent, I'd like to invite you to read these posts with an open, prayerful heart. Please think about how you treat the parents of young children at Mass. Our parishes should be welcoming places for families of all ages and sizes.
Catholic moms talk about children in Mass
That Time I Cried In Church—How Parishes Can Be More Family Friendly by Kirby at Under Thy Roof. Yesterday was the first time in a long time, perhaps the first time at this parish, that I had a run in with one of the church ladies of internet mom lore. The ones who make it clear that they are tolerating your kids in mass, but that only extends as long as perfect silence reigns. One wrong sound and the glares start. Two and the snippy flares up.
Putting on the Armor of God to Defend the Souls of Our Children by Anni at Catholic 365. After the start of the Mass, the toddler boys (my child and the boy in front of us) seemed to take cue and became quite rambunctious. My little guy kept running toward me, and then running out of my reach quicker than I could grab him, and giggling at the little game he was playing. We got through the first 3 readings, and the priest got through 3 words of his homily, before the priest stopped his homily, looked at us squarely in front of him, and said, "I cannot compete with them. They need to go."
Purgatory in the Narthex by Jenny at Heart of a Mother. For a few minutes, I gave thanks that I was living that purgatory there (with wiggly boys climbing all over me and battling for lap space), because with the suffering of purgatory comes the guarantee of eternal life with God. I remembered that there would be crazy-wonderful grace later in addition to the grace of the moment.
Mama, Bring Your Special Needs Child to Mass by Ginny at Not So Formulaic. Yes, these are statements I've heard. Though not always directed at me, they remain proof positive that churches aren't the friendliest of places for special needs families. If it's clear in the catechism that "the human individual possesses the dignity of a person, who is not just something, but someone," (CCC 357) how long before we realize the problem lies not with the doctrine, nor with the children themselves? The truth is that the problem lies with us.

Preparing for Mass with a Tornado by Alicia at Sweeping Up Joy. For a few weeks we've been splitting up for Mass, so I was nervous about getting back on the "going to Mass as a family" horse.  It sounds lovely, but in reality it's just hard at this stage with Moe. Actually, maybe it's good?  I spend a lot of time praying, "Lord, give me strength," when at Mass with Moe. Does that mean he inspires constant prayer? Could that be a good thing?  Hmmm…
Take the Kids Too—In Your Sunday Best! by Anni at Beautiful Camouflage. It's Friday morning, and if you are anything like me, you are beginning to steel yourself for taking your children to Mass this weekend. Will they be quiet and reverent? Will they cause a scene, ensuring everyone is looking at you as you fumble your way out of the pew and sanctuary? Will they be redirected easily to pay attention to parts of the Mass? Will you be able to get anything out of Mass?
Undeniable Laws of Mass Behaviour by Elizabeth at Elizabeth Clare. I see lots of blog posts about surviving Mass with little ones in toe.  There are lots of different views so I figure I might as well confuse blog-land even more by throwing my two cents into the ring. I'm hesitant to dole out much advice on this blog – that is the role of the Titus 2 women in your life.  However, I do think it can be helpful to see how other families work. I've already outlined what we expect from our children at different ages and stages, as well as strategies we use to get us to our goal.  Today, I'd like to give you a list of laws governing our little ones' behavior in Mass.
Catholicism from a Cry Room Window by Elaine at Humble Dwelling. There I was again, watching daily Mass through the sound proof window that separated the very audible babies from the rest of the quiet congregation.  This particular Mass I had only my littlest 3 with me.  My older three kids were quietly sitting with their friends in the front pews while my friend, Jean, graciously asked my middle child to sit with her.  Slightly easier Mass, yes, but I was still spiraling down into a pity party as Henry was yanking my hair while I was nursing him, and Stella was crying because I wouldn't let her sit in the window sill so she could realize her dreams of smudging tiny fingerprints all over the stained glass.  Each time Fr. Hough started to speak, Max asked me a question such as, "How high can Charlotte Bronte jump?"
No Magical Formula: Ideas for Mass Survival with Young Kids by Rose at A Blog for My Mom. Nor is this a post with a magical formula to help you get your kids to behave during Mass.  Believe me, I've read way too many posts with "The Answer" and nothing has worked for us. Here's the thing:  I have no answers.  BUT I have some tips that sometimes work for us, and if they work for us sometimes, maybe they'll work for you sometimes? They might be no-brainers, but maybe you'll learn something new!  So share this with your friends with young kids, and share your strategies with me!
On Gawking and Wayward Ducklings by Alicia at Sweeping Up Joy. Now on to the Mass escapades on Saturday night.  Grab some popcorn.  Or maybe a stiff drink. Let's set the stage: our parish, most the young families attend on Sunday morning.  The Saturday night crowd is more mature, typically with few kids.  This week it worked out that Saturday night was an attractive option for us, even though we're usually Sunday people.
Your Screaming Kids Are Distracting Me by Meg at Held By His Pierced Hands. I was at a holy hour the other night, totally focused and immersed in my thoughts, when from the back of the church came the sound of a wailing toddler.  Just like that, I lost it.  I was completely distracted by some kid who was far too young to be stuck sitting in a church. And thank God for that.
How to Help Young Children Appreciate Mass by Bonnie at the Koala Mom. A few weeks ago, I found myself at a 5 pm Mass with the girls. We'd had a busy day out and they fidgeted back and forth on the pew. I gave the LOOK and rearranged their seating orders repeatedly in an attempt to separate each from the sister they couldn't currently agree with. As Mass continued, my frustration mounted. I wondered what the young man behind us thought of our busy family and how many other people heard Pearl's shrieks whenever her sisters did something she didn't like.
What I Wish I Said to the Mom Who Approached Me After Mass by Theresa at Ordinary Lovely. A few years ago, a woman I had never seen at church before approached me after Mass.  She had a toddler with her, and because there are very few other children that attend the Mass we do, I was pretty sure it was the toddler I heard during Mass.  I had a toddler of my own at my side, a baby in my arms, and two older kids off somewhere else (I think this was around the time the boys were infatuated with the confessional, so probably there).  
In Pursuit of Good Behavior: Our 8-part strategy for getting kids to behave in church by Julie at These Walls. I am about to do something stupid. I'm about to hit "publish" on a blog post on how to get children to behave well in church, mere hours before taking my own children to Mass. They're going to be terrible – I just know it.
10 Ways to Help Your Young Children Enjoy Mass by Rita at Catholic Review. I called Gina Magyar-Russell, Ph.D., a clinical psychologist and assistant professor of pastoral counseling. Although she said she wouldn't call herself an expert on the topic, she does take her three daughters—ages 2, 4, and 6—to Mass with her every Sunday. In fact, frequently she takes them without her husband, who is not Catholic. I was immediately impressed. And I knew she would have plenty to offer. I hope you find her advice helpful, too.
View from Behind the Pew by Jill at Veronica's Violets. There are times when being in the back is a good thing. You know, like when you're at Sea World and the dolphins splash the crowds with water that goodness knows how many animals have done their business in since the beginning of the show. Or, when you're at a hockey game the puck goes flying over the protective glass. Those are times I'm glad I'm not front and center. But when it comes to Mass, I like being up front.
What I Learned about Faith by Being Distracted in Church by Bonnie at the Koala Mom. A few months ago, our church held an hour of adoration following the Saturday evening Mass. My husband and I agreed there was no way the girls would sit through adoration (they can barely make it through Mass), but I really wanted to go. An hour to pray quietly, without being distracted in church by doling out snacks and dire consequences for not sitting still, sounded heavenly.
The Theology of Cheese by Alicia at Sweeping Up Joy. Mass. With kids. (cue the most terrifying music ever known to humankind) The last two weeks we've resumed attending as a family after trying for the past yearish to split up so Moe didn't go regularly. Sometimes we couldn't avoid splitting up, so Moe has occasionally gone to church in that time.
What thoughts or tips would you share on seeing or being with children in Mass?