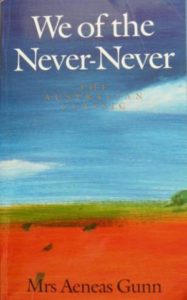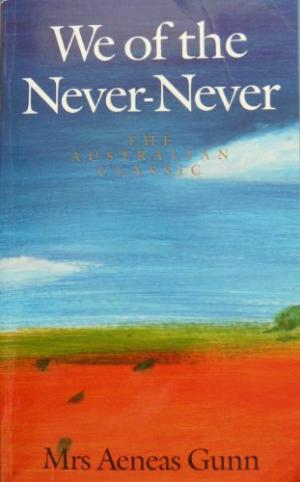 I found We of the Never-Never by Mrs. Aeneas Gunn in a hardcover Reader's Digest collection of four Australian novels. It had been left behind by the former occupant of the room I rented for a month while working in Alice Springs.  I don't remember the other three novels, but We of the Never-Never was so hauntingly beautiful I bought a paperback copy for myself before I left Alice.
(On the bus tour from Alice Springs to Adelaide, an Irish girl complained about the fact that she'd finished reading all her books and couldn't fall asleep without a book to read.  I raved about this Australian classic I'd discovered and offered to lend it to her.  She read it that night in our underground hostel in Coober Pedy and the next day while the bus rolled southward through the flat, never-changing outback. At our stop that night, she returned it to me. The front cover was creased and lined from being folded around to the back.  Lesson learned: never lend a book to a person whom you don't know will treat it with the same care you would.  Question asked: if a fellow passenger damages something of yours, should you request that they pay for the damage or say nothing in the interest of maintaining a peaceful atmosphere for the duration of the tour?)
We of the Never-Never is the story of Mrs. Aeneas Gunn's year (1902) in the outback of the Northern Territory after she marries the boss of a large cattle station.  With poetic language and gentle humour, Mrs. Gunn writes about being the only white woman in a remote area.
The outback, she explains in her prelude, is nicknamed the Never-Never
because they who have lived in it and loved it, Never-Never voluntarily leave it.  Sadly enough, there are too many who Never-Never do leave it.  Others—the unfitted—will tell you that it is so called because they who succeed in getting out of it swear they will Never-Never return to it.  But we who have lived in it, and loved it, and left it, know that our hearts can Never-Never rest away from it.
Even when Mrs. Gunn talks of the loneliness and hardships she endured in the isolation of her cattle station home, she does so with such beauty and poetry that I wanted to be there.  Each place is made a character in itself, from the tiny settlement of Katherine which they pass through on the way to their new home, to the cattle station itself.
Mrs. Gunn is an acute observer throughout the book, in it and yet not in it, as she shares the stories of those around her. She gives those she meets nicknames such as "the Sanguine Scot" and "the Dandy."  She acknowledges she is a young, city-raised white woman. On this remote cattle station, she has "long ceased to be anything but the little missus—something to rule or educate or take care of, according to the nature of her subordinates."
Waiting each week for my day off so I could call home at an hour that didn't fall in the middle of the night for me or my family, I understood the importance of the telegraph and mail train for Mrs. Gunn.  Being halfway around the world from home, I could also understand the isolation she felt at moving from Melbourne to the Northern Territory.  Something about this place, with its harsh beauty, captured both of us, though we only spent a short time there.
Mrs. Gunn's novel is a product of its time.  She refers to the black women who help her as lubras and despairs of ever teaching them to clean and manage a household to the standards she expected in Melbourne.  She is immensely grateful when a Chinese man shows up to run her kitchen. In one funny scene, she shares his reactions to the "stuff" she brings with her, such as the brass lamp which Cheon insists is gold: "Me savey gold all right.  Me live longa California long time."
Mrs. Gunn also challenges the expectations of her time by doing things unexpected of a white woman, such as riding out on a round-up with her husband or crossing a flooded river on a basket hung from a wire.
Before her marriage, Mrs. Aeneas Gunn was a school teacher and a graduate of the University of Melbourne.  She was in her late thirties when she met and married Aeneas Gunn, who had spent the 1890s exploring the Northern territory and establishing sheep and cattle stations.  They had been married only a month when they sailed from Melbourne around the coast to Port Darwin for Aeneas to take over the Elsey.
The Northern Territory, according to some of its occupants, was no place for a woman. Mrs. Gunn's "pluck in tackling the journey, her sense of humour and her fine horsemanship won her the admiration and friendship of the stockmen" (Australian Dictionary of Biography).
Unfortunately, just when a new house had been built for Mrs. Gunn at the Elsey and she had made friends there, Mr. Gunn died of malaria. She returned to Melbourne to live with her father and wrote We of the Never-Never and The Little Black Princess: a True Tale of Life in the Never-Never.  Both books won her the fame and respect of Australians.  During World War I, she actively helped soldiers and their families.  She died in 1961.
Mrs. Gunn's novel makes me sad that, while I saw the outback around Alice Springs, I never made it to Katherine or Darwin.  She inspires me as a writer with the poetry of her words, the humour with which she tells the stories, and the way she brings the character and places she saw alive on the page.
We of the Never-Never makes me wish I had tried harder to find a job as a jilleroo after completing my training at Leconfield or that I had hopped the train going north instead of south when I left Alice.