I enjoy fiction set in places I know. I also enjoy fiction that tackles tough topics. Gladys Krueger's novel False Love, True Love does both of these. The story is set in small-town Saskatchewan, not too far from where I grew up in Alberta. Through a teacher's point of view, Gladys addresses the topic of child abuse.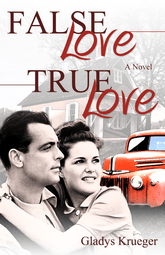 Jill is excited about starting her first year as a teacher in a small town just outside of Saskatoon, Saskatchewan.  She quickly gets to know her neighbours and her students. One student—shy, quiet Melissa—attracts Jill's attention.
Her boyfriend, Dan, who is always ready to take her to Saskatoon for dinner, warns her not to worry about Melissa, but the girl draws at Jill's heart.  Will Jill's interest in Melissa be the breaking point in her relationship with Dan, or will she find a way to help her young student?
Gladys bases her novel on her own experience as a teacher. When I asked why she chose to write about child abuse, she said,
"I realized that perhaps there were students that I was teaching at the time who were victims and I had no way to know or help. Anyway, as I visualized the emotional and physical pain these children endure, I wanted to make it something for my readers to note. Maybe one of them will realize that they are in a position to help a child."
False Love, True Love is Gladys' first novel.  Her characters are realistic and likeable.  I enjoyed experiencing life in 1955 as Jill goes roller skating with her boyfriend and teaches multiple grades in the same schoolroom.  I wondered how Jill and Dan met and thought the central conflict in the story could have been developed a bit more. Overall, Krueger tells an engaging, easy-to-read story.
Gladys Krueger makes her home in Didsbury, Alberta.  She has worked as a teacher, speaker and writer. She and her husband have volunteered in Africa, Asia, and South America. They lived in Edmonton, Alberta, for 25 years before retiring in southern Alberta.