Erin Hatton's novel Otherworld grabbed me from the first pages and kept me reading until the end.  Even when I realized that this story was an allegory, I was intrigued. More a novella than a novel, this story is a quick, easy read.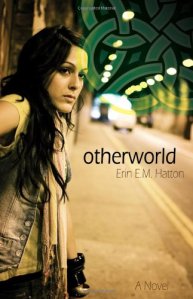 The first time I saw him, I didn't think much of him.  That's how Emma Delaney begins her story.  She's a prostitute, but this man isn't like any other man she's met.  He takes her for coffee at a diner, sits in a park bench with her, treats her like a lady—and insists that in another time, they were madly in love with each other.
When Emma finally agrees to run away with him, she discovers the other part of her story… the part she had forgotten.  But with that part of her story comes a load of guilt—and a responsibility to make things better again.  To be with her true love, Emma must trust him and face her enemy.
More about Otherworld
Emma is a likeable character and Erin's descriptions of Emma's world—both the "real life" part and the fantasy part—were easy to picture.  This was a beautiful, thought-provoking debut novel and I can't wait to see what Erin writes next.
If you enjoy reading allegories or parables, you may also enjoy:
More about Erin E. M. Hatton
Erin E. M. Hatton is an author from Barrie, Ontario with a lifelong passion for writing, particularly historical fiction and fantasy.  She graduated from Redeemer University College with degrees in Education and Music, and has previously published five short stories.  She makes her home with husband Kevin and four young children, as well as a large number of pets.  Her published works include several short stories and two books: an urban fiction/romance novel entitled Otherworld, for which she was shortlisted for the Grace Irwin Award, and a Regency-era romance anthology called To Woo a Lady.