Dangerous substances and toxic chemicals hide in many common products we use every day. Sometimes, these hidden substances cause a huge uproar, such as the BPA found in plastic water bottles. Other times, these chemicals continue to lurk, unknown to us. One of the reasons I've started using more natural remedies and products around my home is to avoid harmful chemicals.
One of the detractors to using natural products can be their higher price tag. However, natural doesn't have to mean expensive. You can make your own natural beauty products, cleaning solutions, health remedies, and more with simple items found around your home. 1001 Natural Remedies tells you just how to do this.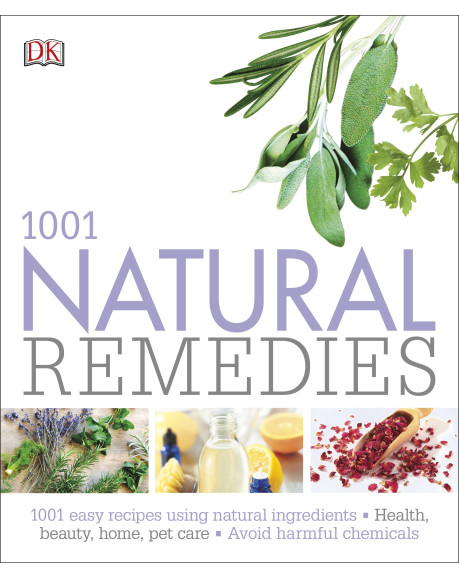 1001 Natural Remedies has recipes for everything from baby care to pet care to home care. For me, this makes natural remedies so much more convenient. I've seen many natural solutions online—but I'm not going to implement them right then. By the time I'm ready to clean my oven or bathe my kids, I want to turn on the computer and find that article about doing it naturally. Now, I have it all at my fingertips with this handy, encyclopedic book
.
The first remedy I tried was for ear infection. Jade came out of her room a few days ago, holding her ear and crying. Even though none of her sisters have had an ear infection, I knew what it was. They've all had colds for the last week, soit made sense that it would have settled in Jade's ear.
I quickly pulled out 1001 Natural Remedies and flipped to the entry on Ear Infections. We were past preventing her infection, but I could boost her immunity with echinacea (#44) and ease her ear ache with a hot water bottle (#47). I also made garlic oil (#45) to fight the infection. Now I have it on hand should any of the girls get another ear infection. (Thankfully, Jade's cleared up that night.)
Because I've been struggling with low moods and depression lately, I looked that up. 1001 Natural Remedies suggests walking and keeping a journal (both practices I've done in the past and am trying to return to). The book also had a herbal recommendation and aromatherapy tips. I'll likely try to implement all four ideas, which is the benefit of natural remedies… they can be used together, instead of relying upon one drug or treatment that may or may not work (and may have unwanted side effects).
A big place I want to avoid harmful chemicals is in cleaning products and around the kitchen. 1001 Natural Remedies has some great tips for cleaning everything from the oven (my least favourite task!) to streaky windows. The tips for repelling insects and other pests will likely come in handy this summer. With kids around, I don't like putting out harmful chemicals to get rid of ants and spiders, so it's great to know which plants, herbs, and essential oils will do the job.
1001 Natural Remedies is a great companion to Essential Oils: All natural-remedies and recipes for your mind, body and home. Many of the remedies in 1001 Natural Remedies use essential oils. Together, these books have a natural solution to every problem you'll face in caring for your home and family without resorting to harmful chemicals. If you don't have essential oils, many of the natural remedies use ingredients commonly found around your home—or, as I mentioned above, simple solutions like warmth or exercise.
If you also want to avoid harmful chemicals in your home, I recommend grabbing a copy of 1001 Natural Remedies. The book has beautiful pictures throughout and a handy index at the back. It is divided into four sections (health, beauty, home and pet care) and is fairly easy to flip through (I found most solutions without the index).
I received this book for review courtesy of DK; all opinions expressed are my own. This post contains affiliate links; as an Amazon Associate, I earn from qualifying purchases.