One piece of advice my first midwives gave me, nine years ago, still sticks with me. They mentioned that most feminine hygiene products contain harmful chemicals that interfere with a woman's postpartum healing. Since then, I've looked for natural pads and products for my period. However, these products aren't always easy to find. Genial Day solves that problem.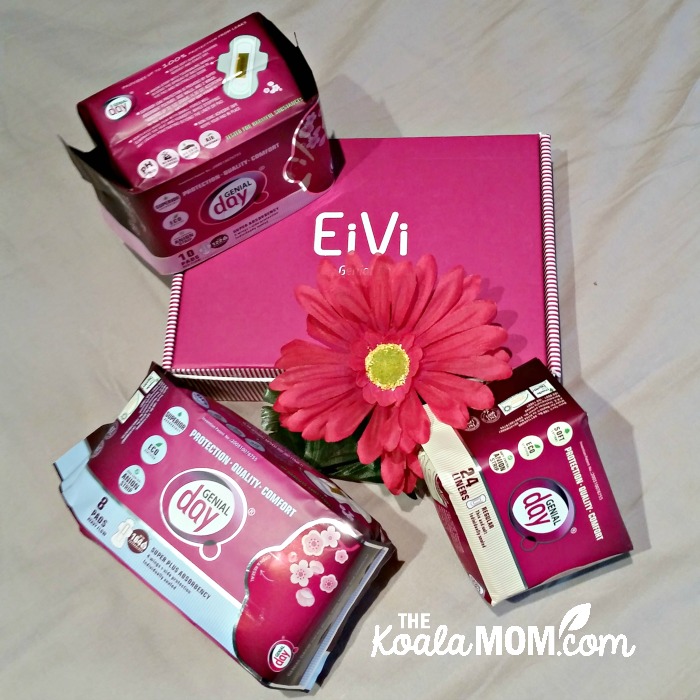 Genial Day is a brand of personal hygiene products for women. Their pads and liners are not only organic, they are also free of harmful chemicals. The pads feature skin-friendly pH, super absorbency, and an anion strip to eliminate bacteria and bad odour.
Most of us women will freely admit our periods are not the best time of month. I've been quite happy that breastfeeding has postponed my period until my babies are about a year old. Now that my period is back, I'm very aware of what's in the products I'm putting on this sensitive area of my body. We hear about some risks associated with feminine hygiene products, like toxic shock syndrome, but there are other side effects linked to the chemicals in pads.
Your reproductive system is a delicate and fragile system. Postpartum healing isn't the only thing affected by the pads or feminine hygiene items you choose. Chemicals in those products could cause various health issues such as allergies, skin irritation, endometriosis, polycystic ovarian syndrome, yeast infections, inflammation and more.
Genial Day products are different. They have passed Oeko-Tex® and Made for Health® certification, which guarantees that their pads do not contain harmful chemicals like formaldehyde or heavy metals like mercury. The anion strip in the pads is made from tourmaline, a mineral with beneficial properties. This strip naturally inhibits germs and bacteria in your pads.
Genial Day also offers a line of organic cotton underwear. EiVi underwear feature a double crotch for tucking pad wings into. They are super comfortable and breathable. EiVi also features antimicrobial SilverPlus Finish to ensure the best hygiene. This underwear line was designed with the input of a teenager, the daughter of Genial Day's founder. EiVi is based upon the names of this mother-daughter duo.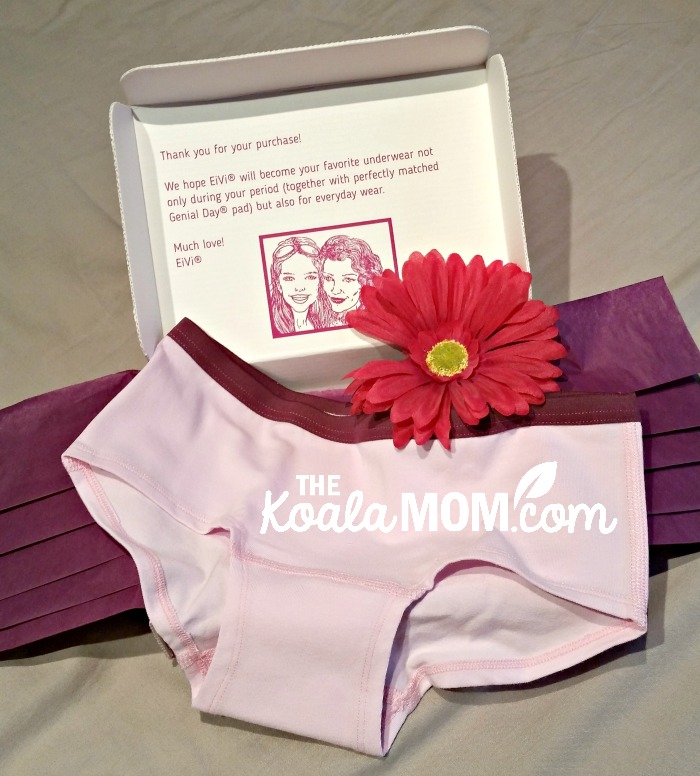 Best of all? It's available online, via subscription. No more trying to pick the right aisle at the grocery store that some teenage guy isn't putting your personal hygiene products through the till. No more trying to grab pads in a hurry before your kids ask you, "What's that, Mommy?" Just pop onto the website, choose your kit, set up delivery and voila! you're ready for your little friend to arrive every month.
I received a kit including a pair of panties and three packages of pads from Genial Day. Because I've had a hard time lately finding natural feminine hygiene products, I was super excited to try these pads when my period started. And I was very impressed. The variety of sizes of pads was perfect for the changing flow of my period. The pads are comfortable and definitely just as absorbent as promised on the website. Although I prefer slightly higher-rise underwear, it was also comfy. Plus, I felt good knowing that these products are natural and organic.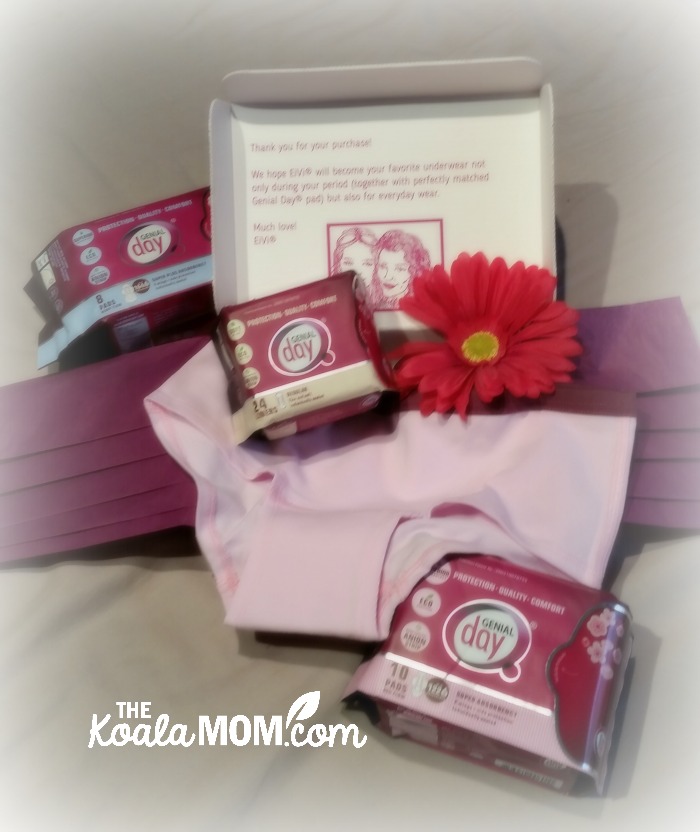 In a few years, I'll be having the talk with my own daughters. Knowing there's a mother-daughter team behind these products makes me feel good about sharing them with my girls. Their sensitive skin and young bodies should be protected even more than mine. I've worked to eliminate harmful chemicals in other areas of our lives, so it only makes sense that I'd look for natural products here too.
So whether you are looking for the right product for post-partum healing or for your teen daughter or just for comfort at that time of month, I recommend checking out Genial Day.
I received the products mentioned and pictured for the purposes of this review; all opinions expressed are my own.