One question that many of us ask is why God allows suffering. It's hard to understand how a good God can allow bad things to happen. The answer is fairly simple: choice. God gave humans free choice, and often we make choices that hurt others. This is the theme of Alison's Choice, a DVD about a girl struggling with a big choice.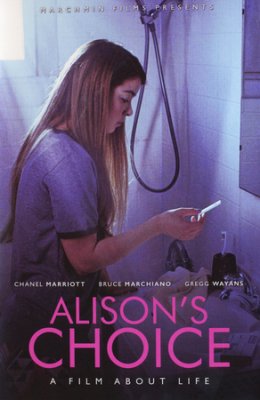 When Alison finds herself pregnant, her boyfriend urges her to "take care of it." In a most unlikely place, Alison encounters God… in the form of a janitor, who pleads with her for the life of her unborn child. He is gentle, and sad, and persistent, but He does not force Alison to do what He wants—just as He doesn't force anyone else to do anything.
As Alison waits for her turn, she has brief conversations with the other women at the clinic. They all have their reasons for being there and advice to share with Alison. The Janitor assures Alison that He loves each of them, even the doctor who boasts about his work.
As the clock ticks, Alison must decide who she is going to listen to… the cat-lady who pushes her to choose a life of freedom? the counselor who tells her to think of only herself? or the Janitor who urges her to consider her unborn daughter's life and the future He has planned for her?
I really enjoyed Alison's Choice. The story and acting are stellar. I especially liked the dialogue between Alison and the Janitor. Most of us will have to wait until heaven to ask God the questions that Alison asks. The Janitor's answers were beautiful and thought-provoking. I smiled and cried throughout the whole movie.
Alison's Choice is a thought-provoking movie about an important issue in today's society. It presents several sides to the issue by sharing the stories of the various women Alison meets. It is recommended for ages 13+ as it contains mature subject matter, but I appreciated the fact that there are no graphic details. The topic is handled tastefully and delicately.
If you are interested in this film, you may also enjoy Voiceless.
I received this DVD for review; all opinions expressed are my own.