Sometimes I watch movies for fun, to be entertained and to relax at the end of the day. Sometimes I watch movies to explore, to see new parts of the world or experience life through someone else's eyes. And sometimes I watch movies to be challenged and confronted. Voiceless is a movie that fits the last category; I knew it wouldn't be an easy movie to watch, yet I was curious to see how the filmmakers would handle a touchy topic.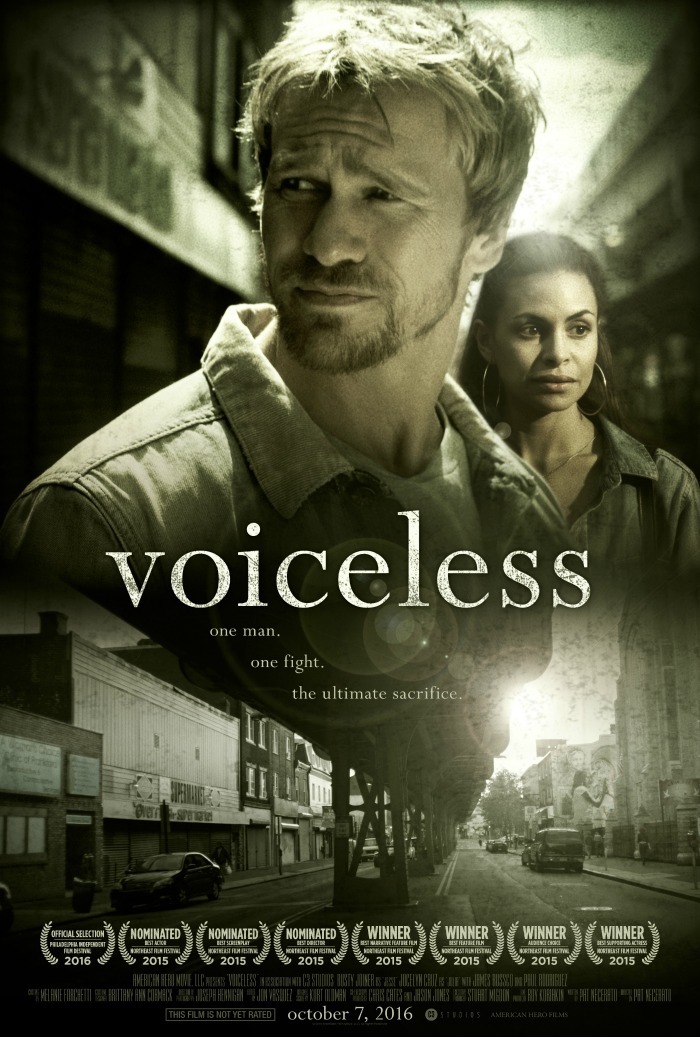 Voiceless Movie Synopsis
Jesse Dean (played by Rusty Joiner) is a recently discharged solider. His wife's persistence gets him a job at a church in Philadelphia, as the outreach coordinator. As Jesse works to renovate the centre and reach out to the kids in the area, he notices the women's clinic across the street. One day, he tries to talk to a woman on her way there. She's crying, hurting, uncertain, but Jesse's clumsy answers only push her away. A week later, the newspaper carries the story of her suicide.
Devastated, Jesse goes to his pastor, then the prayer group. He wants the church to do something about the clinic across the street, but the parishioners are reluctant to take action on this politically-loaded topic. Even Jesse's own wife resists his efforts. Only one woman—the founding pastor's daughter, now in her eighties—supports Jesse's fight.
Jesse's efforts to reach out to the women at the clinic result in a clash with his wife, then his pastor. Finally, his protests put him at direct odds with the law and the clinic manager. Now Jesse is faced with a choice: back down or go to jail.
My Thoughts on Voiceless
Voiceless is filmed from Jesse's perspective. He's clearly trying to make a new start, yet he's haunted by events of the past. He doesn't like public speaking, but he's an easy-going guy who connects quickly with the teens in the area. It's this desire to help and protect others—along with the pain of his past—that drives him to take action at the clinic.
From a movie perspective, Voiceless is well-done. We have a hurting hero with a few supporters and a few obstacles. We have a plot that rises in action to a final, climactic show-down. There were moments of humour, moments of tears, and a few surprises. (I guessed one of the plot twists before it happened.)

Voiceless is the winner of six movie awards, including Best Narrative Film (California Film Awards), Best Actor (twice), and Audience Choice Award (Northeast Film Festival).
Spark a Discussion
From another perspective, Voiceless raises some questions with me. I had strong doubts about Jesse's suitability for his job. He's in a leadership position with vulnerable youth, yet he's still in counseling (reluctantly) for his time in the military. Jesse wants to help the women coming across the street, but his efforts make at least two of the situations worse.
Where Jesse does manage to help is with one of the teens who comes to his programs. His girlfriend is pregnant, and her mom feels she's incapable of taking care of a baby and should have an abortion. Jesse offers the couple support and help, and tells the guy to find a job. They choose to get married and start a family together, thanks to the help they've received.
Voiceless tells the story of several women visiting the clinic. It highlights the complex issues that drive a women to consider abortion. I felt that what shines through this movie is Jesse's desire to help. He never judges, though he dislikes what the women are doing. He wants to be a Knight in Shining Armour, even if he doesn't know how.
While some might think it interesting to film a movie about a women's issue from a man's perspective, I think this movie highlights the fact that abortion isn't just a women's issue. It takes two people to make a baby. Voiceless highlights the actions of three men around this choice.
Watch Voiceless
To view a trailer, drop by the website.
"VOICELESS is pro-life but it's thoughtful, sympathetic and non-judgemental. It's real but it's attractive and is the 1-2 knockout punch to Planned Parenthood. The movie is amazing and could change America." ~ Jason Jones, producer of the pro-life film Bella and founder of Movie to Movement