Summertime means beaches, baby! Living in Victoria, BC, meant we were never very far away from a beach. And it didn't take long before we grew to love heading to the beach on a summer afternoon. The combination of sand and water is all it takes to keep a child entertained for hours on end. And watching the girls' play is often entertainment enough for me. Here's a list of our five favourite beaches near Victoria, BC.
#1: Cadboro Bay
Living at the university, we were just up the hill from Cadboro Bay. This beach has everything, from a playground, picnic area, and washrooms to the perfect sandy, sheltered beach. Because the beach is on a bay, it was often slightly warmer and less windy than other beaches near Victoria.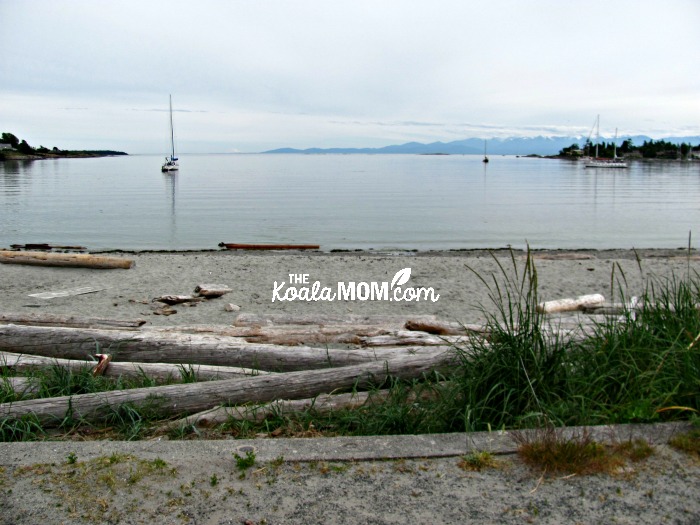 Cadboro Bay is the home of a sailing club, so we could often watch little sailboats zigzagging back and forth on the water. It's also the location of several fantastic festivals, including a sand art festival in August. Plus, Cadboro Village is a short walk away if you need snacks, coffee, or want to wander the quaint little shops.
#2: Willows Beach
Located just a bit further down the coast from Cadboro Bay, Willows Beach offers similar amenities: playground, picnic area, washrooms, and nearby shopping. Willows Beach is a much larger beach, though, and can be windy on a cool day. You're more likely to see kayakers and stand up paddle boarders here.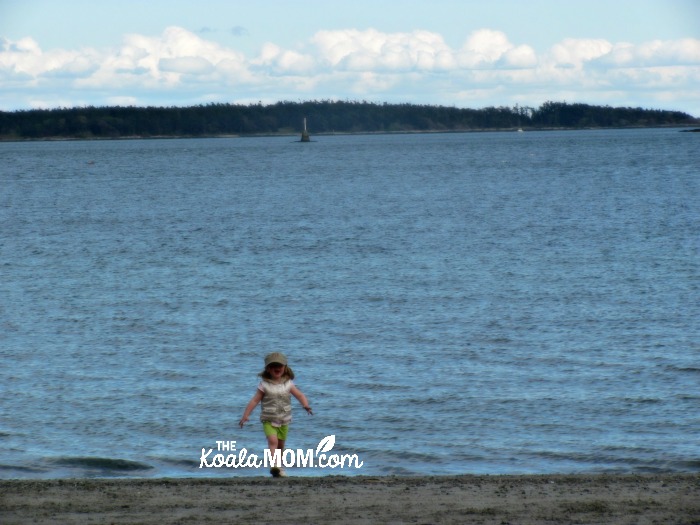 If you enjoy biking, Willows Beach is a great destination or jumping off point. It's located on the scenic Beach Drive, which curves along the coast of Oak Bay. For the most part, Beach Drive is fairly flat (there's one or two hills) and explores some of the most scenic places in Victoria. The speed limit is slow and it's popular with cyclists.
#3: Esquimalt Lagoon Beach
We discovered this beach thanks to friends. Don't let the name scare you off; this stretch of sand between Esquimalt Lagoon and the ocean is a delightful place to play. There are washrooms at one end of the beach, but otherwise, it's just a beach. It afford beautiful views of Hatley Castle, Fort Rodd Hill and Fisgard Lighthouse.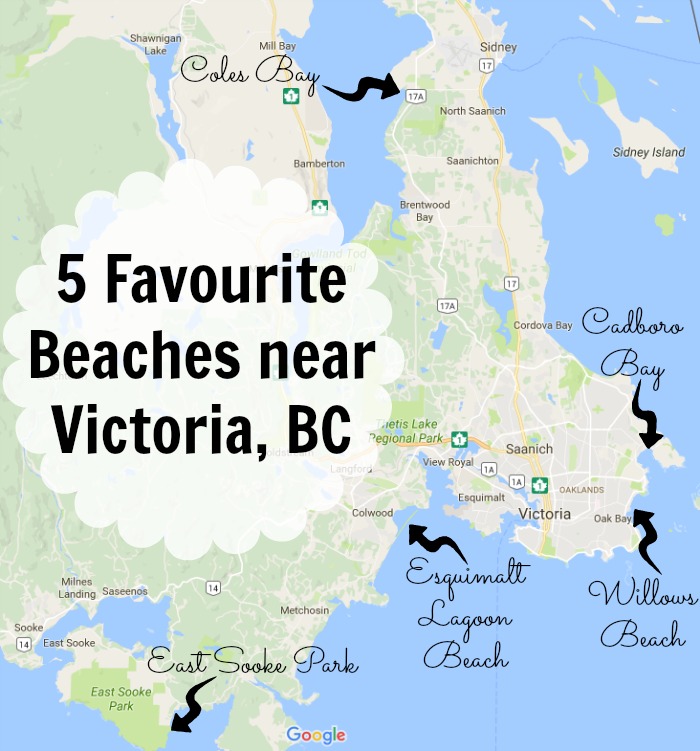 #4: East Sooke Park
This beach is, hands-down, my favourite beach on the Island. It's about a half hour drive from downtown Victoria, through Colwood and Langford and partyway down the windy Sooke Road. The road gets narrower and narrower until you reach a parking lot. Then you have a ten minute hike down to the beach, so pack your beach stuff carefully. From there, however, East Sooke Park is yours to explore.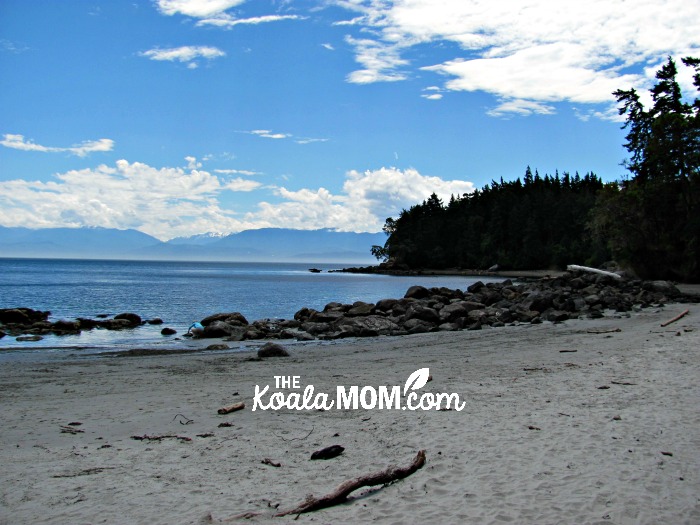 Enjoy the beach. Hike the coastal trail. Climb up to the lookout. Or find your own private little beach, as we did on one visit there. We made a sand castles, watched the waves come in, and looked for sea creatures among the rocks.
There are washrooms and a picnic area here as well. You'll also want to bring lots of water, as there are no shops nearby. On a hot summer day, the parking lot can get crowded. It is often patrolled by a parks volunteer, who may have water and maps with information on the area.
#5: Coles Bay
In the opposite direction from East Sooke Park is the only rocky beach on my list. Coles Bay is a gem over on the Saanich Peninsula. Like East Sooke Park, it can be a bit hard to find—the road gets smaller as you get closer—and you have to walk down from the parking lot. We've been down here both to play at the beach and to kayak.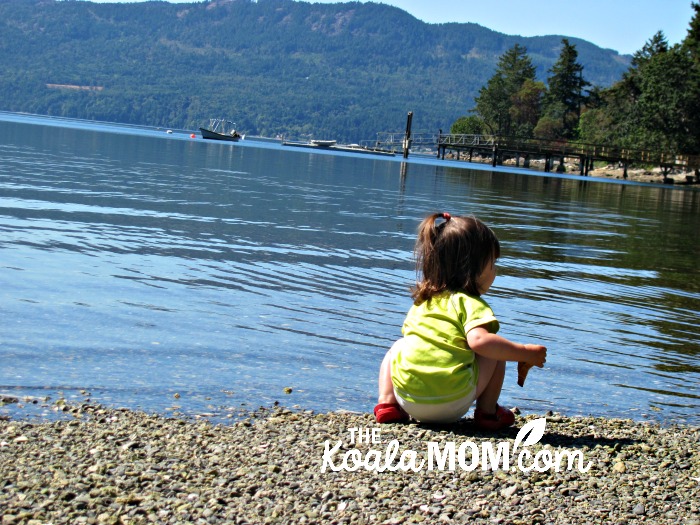 Coles Bay has always been quiet when we're there. It seems to be frequented mostly by locals. A creek flows down through the rocky beach to the ocean. This beach is perfect for looking for ocean creatures instead of building sand castles.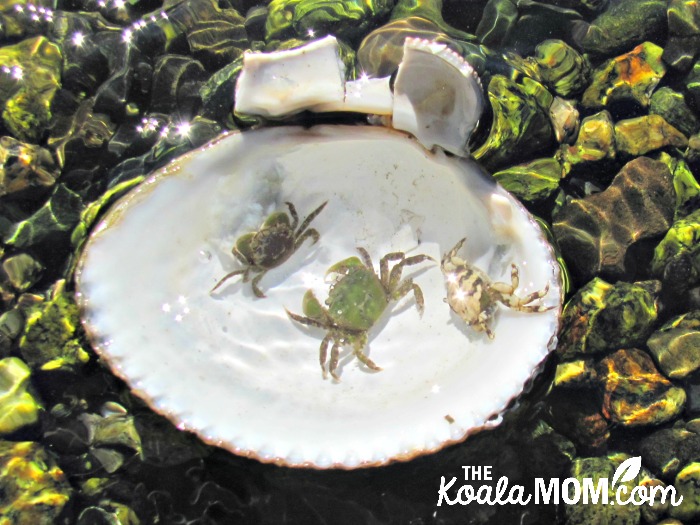 What are your favourite beaches near Victoria or anywhere else?