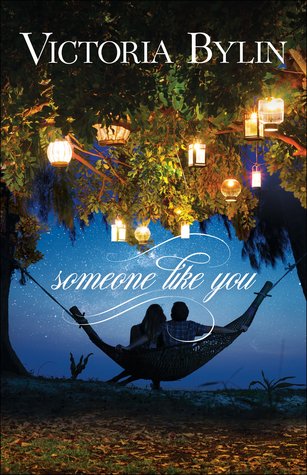 I really enjoyed Victoria Bylin's novel Together With You last summer so I was excited to pick up her newest novel this summer. Someone Like You is also about a single parent and a faith struggle, but I was drawn immediately into the story by the realistic characters Victoria creates.
Julia Dare has recently started an event planning business and now has the chance to land a big contract. She lives with her mom as she struggles to navigate co-parenting with her ex-partner, who doesn't seem willing to accept that she's moved on. Running into her ex-boyfriend brings up memories she'd rather not deal with, but the job he offers could be just the boost her business needs.
Zeke Monroe is a pastor's kid who's not on speaking terms with God. He's the general manager of Caliente Springs Resort, which hovers on the edge of bankruptcy. When the resort owner's niece decides to get married there, Zeke sees his chance to prove the resort's worth. He just needs Julia's help to pull off the wedding in under a month.
Julia called to Mrs. Carter. "I think we should go."

"Oh, I'm fine," she called with her back to Ladybug. "I grew up on a farm. I love baby goats. They're just precious."

Julia turned to Zeke, her eyes wide with dread. Zeke stared at Ladybug, and Ladybug looked at Mrs. Carter. Or more precisely, the goat was eyeballing Mrs. Carter's backside with an evil gleam in her dead brown eyes.
From inconvenient billy goats to meddling ex-partners, Zeke and Julia have a lot to handle at the resort. Professional matters aside, there's also the growing attraction between them—and the reason why Zeke lost his faith. Zeke's struggle with his faith is real and concrete. I thought Julia's faith was a bit less realistic; she was an atheist in university and is a new Christian now, but I didn't see that on the page enough.
One thing I liked about Someone Like You was Julia's relationship with her four-year-old son, Max. He's clearly the joy of her life and she's trying hard to be a good mom to him, despite his dad's bad influence. Hunter is narcissistic and controlling, and his actions endanger Max on one occasion and disrupt a party on another occasion. Bylin does an excellent job of portraying Julia's struggles with her ex, yet Julia also handles his emotional abuse admirably well.
Victoria Bylin is the award-winning author of more than 10 novels. She and her husband live in Kentucky and have two grown sons. She says, "My books generally fit into one of three themes: redemption, resurrection and restoration. They're about people overcoming life's trials with the help and grace of God. I hope readers come away with a sense of hope, an interest in faith and an understanding of forgiveness." To find out more about Victoria and her books, or to find her on social media, drop by her website.
Want to read Someone Like You?
Subscribe to my email newsletter for your chance to win Dawn at Emberwilde and Someone Like You!
I'll draw one lucky winner from my subscribers on June 30th and notify her via email. (Giveaway open to residents of Canada and the US over the age of 18 except where prohibited by law.)
I received this book for review courtesy of Graf-Martin Communications; all opinions expressed are my own. This post contains affiliate links; as an Amazon Associate, I earn from qualifying purchases.