This year, Sunshine has started reading novels. Her voracious reading habits remind her of both myself and my husband at her age (he read the Narnia series in Grade 2). She's also keeping me on my toes, finding appropriate reading materials for her (just like I did to my mom). So for today's 5Faves, I thought I'd share 5 favourite novel series for grade 2 girls. These are books that Sunshine has read and enjoyed and even read again.
#1: Fancy Nancy Novels
These novels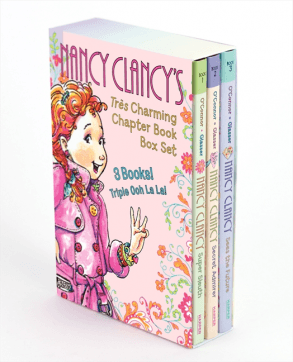 were a great transition from picture books to chapter books. The girls have long been fans of Fancy Nancy, so Sunshine was excited to read a longer book about one of her favourite fictional characters. There are six books in the series and each has short chapters and illustrations to keep young readers going. Nancy Clancy, Super Sleuth, the first book in the series, had Sunshine wanting to be a detective for several weeks after reading it. She bought the first four with some Christmas money and has read them all more than once; we found the last two at the library.
#2: Dear Canada
This is a series I discovered when I was a teen. Sunshine picked up A Prairie as Wide as the Sea one day and liked it so much that we've found more books in the series at the library. Each book is written as either a series of letters or diary entries (so they have short chapters or sections). They are written by different authors and feature different historical events across Canada. All the books are about girls.
#3: Our Canadian Girl
Similar to the Dear Canada series, Our Canadian Girl feature stories of historical Canadian girls. There are two or three books about most of the girls in the series (encouraging kids to keep reading once they get to know a character in the story). As a history buff, I love the way that these books are bringing Canadian history alive for Sunshine. As a homeschool mom, I love the fact that she's getting her social studies done happily and willingly.
#4: Usborne Young Reading
We found these abridged classics at the library. These were an easy choice to recommend to Sunshine because I've read the classics and know the stories. I also remember reading abridged versions of many classic novels when I was a child. It's a great way to introduce children to some of the great novels of English literature. Sunshine has read Little Dorrit (Charles Dickens), Anne of Green Gables (L. M. Montgomery), The Secret Garden (Frances Hodgson Burnett) and Little Women (Louisa May Alcott) in this series.
#5: Horses and Friends
When I read Blue Ribbon Trail Ride, I thought it would be a couple years before Sunshine read these books because the main character is 13. However, she saw the books and wanted to read them, so I said sure. She quickly devoured all four novels, giving me running commentary about what Kate, Colt and Tori were doing. Now she wants more books about horses…
Do you have a voracious reader in your house? What novel series for grade 2 girls would you recommend?
Looking for more books for your avid young reader? Check out my list of 100 Books for Canadian Tween Girls and download my FREE printable checklist along with a book report outline!