It seems nearly every girl goes through a horse crazy phase. When I was a teen, I remember dreaming about having my own horse with several of my friends. My dad called horses "hay burners," though, so I knew it would never happen. I satisfied my horse desires by devouring books like The Black Stallion and The Saddle Club. So I thought it was cool to see that a Christian author I like is now writing horse books for tween girls.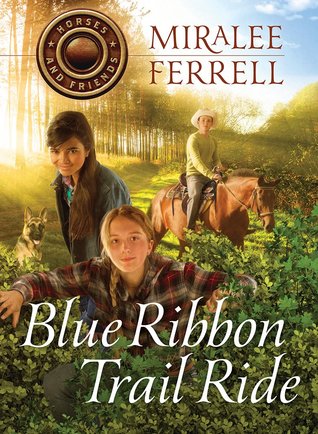 Blue Ribbon Trail Ride is the fourth book in the Horses and Friends series by Miralee Ferrell. In this book, 13-year-old Katie Ferris decides to host a horse scavenger hunt to raise money to send her autistic younger brother to camp. She and her three friends get local businesses to sponsor the ride and start writing clues for the riders to follow. Then someone steals the box that holds all the money they've raised. Now they are the ones on a scavenger hunt, trying to find the thief and get the money back.
I liked the way Kate and her friends work together in Blue Ribbon Trail Ride. Each has unique strengths and it was fun to see how they used those talents to put together the scavenger hunt. They also make a new friend in the novel and learn that its worth overcoming first impressions to get to know someone. While Kate's brother doesn't show up very often in the novel, it was neat to see Kate's relationship with him and her love and concern for him. Plus, the friends learn about helping a neighbour too, when one of their attempts to find the thief reveals a neighbour's problem.
The end of Blue Ribbon Trail Ride includes "A Little More" for readers. There's "Secrets for Your Diary," or discussion questions, which tweens can read and answer. There's tips for planning a horse-themed scavenger hunt, if tweens want to do what Kate does in the book (whether or not they have horses). Miralee also shares an Author's Note, in which she talks about her own dream of having a horse and how that played out.
I haven't had a chance to read the first three books in the series yet, but I'm looking forward to sharing them with Sunshine in a year or two. She's already reading novels (in Grade 2) and so I'm facing the same struggle my mom faced about what are appropriate books to give my voracious young reader. It's awesome to find new novels from an author I know and trust. And yes, Sunshine likes horses too—she's already mentioned she'd like to have one, though she's only had a couple pony rides.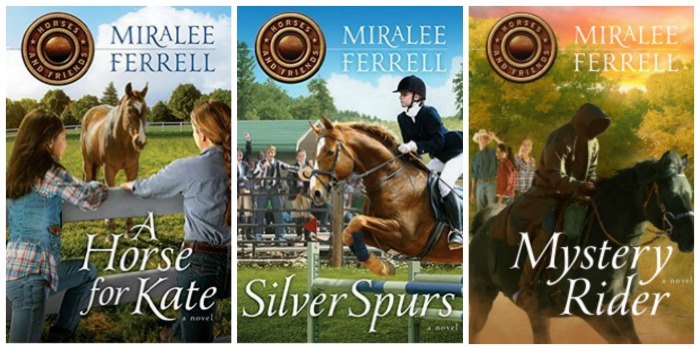 Miralee Ferrell is the author of twelve novels, including The Other Daughter and Finding Jeena and several books in the Love Finds You series. I first started following Miralee's blog just before she published The Other Daughter, so it's been fun to watch her writing career over the past several years. She and her husband live in Washington State, where she enjoys riding horses with her daughter (who lives next door) and playing with her dogs. To find out more about Miralee and her books, drop by her website.
I was provided with the Horses and Friends series for review by the publisher; all opinions remain my own. This post contains affiliate links; as an Amazon Associate, I earn from qualifying purchases.