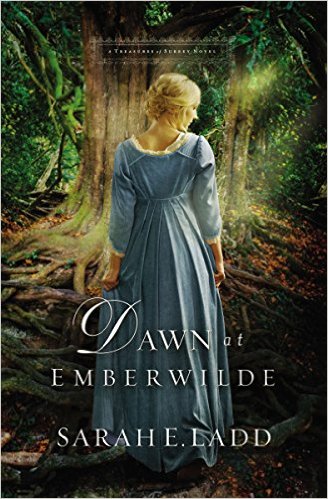 Call me a Jane Austen fan, because I love novels set in her England. She romanticized that period in history for millions of readers. And while I'll maintain that hers are the best books about 18th century England, I do still enjoy reading novels about that period by modern authors. Especially authors like Sarah E. Ladd, whose themes remind me of Austen's.
Dawn at Emberwilde (A Treasures of Surrey Novel)
is about Isabel, a penniless young woman who has much in common with many of Austen's heroines. Both her parents are dead and she lives at a school with her younger half-sister Lizzie. Having graduated from the school, Isabel's best hope now is that she can find a position as a governess in a good family, which will allow her to support herself and Lizzie. Until rich relatives show up, inviting Isabel into their home.
As Isabel struggles to navigate her new life of wealth and leisure, she also meets new people. Her cousin Constance is a beautiful, compassionate young woman who is marrying for security rather than love. Her aunt Margaret spends money without a care, driven to keep up appearances despite her husband's concerns about their finances. Mr. Bradford runs the local foundling home, but seems to be hiding something. Mr. Galloway is a quiet, landless magistrate whose strength and honesty attract Isabel.
Pulled in different directions by her own education and her new friends, Isabel struggles to know who to trust and what to do. There are no easy answers, and every decision she makes impacts not only herself but also Lizzie.
Dawn at Emberwilde
is a page-turning novel about a likeable, interesting heroine with a real problem. Ladd captures the social norms of 18th century England—a world in which a woman is criticized for talking to a man alone yet also encouraged to marry merely for position or money. Lizzie might have modern views about marrying for love, yet she's also an honest, hardworking young woman who respects herself and lacks the social pretensions of her wealthy relatives.
I picked up Dawn at Emberwilde because I really enjoyed Ladd's novel A Lady at Willowgrove Hall. While I read this novel quickly, and found the characters equally interesting, I thought there was one big plot hole at the end of the novel. Despite that, it was a book that made me keep reading, even as I began putting together the clues about the ending.
Sarah E. Ladd is a wife and mom who has been writing and reading fiction for a lifetime. She also has more than a decade of marketing experience and offers some marketing resources for authors on her website. A member of the American Christian Fiction Writers, she's also received numerous writing awards. You can find her on Facebook, Twitter and Goodreads.
Want to read Dawn at Emberwilde?
Subscribe to my email newsletter for your chance to win Dawn at Emberwilde and Someone Like You!
I'll draw one lucky winner from my subscribers on June 30th and notify her via email. (Giveaway open to residents of Canada and the US over the age of 18 except where prohibited by law.)
I received this book for review courtesy of the publicist; all opinions expressed are my own. This post contains affiliate links; as an Amazon Associate, I earn from qualifying purchases.