Kids are hard on floors. Between the accidents that happen with potty training Jade, the spit-up that lands on the floor from Pearl, and the food that falls under the table from all three of the older girls, it seems my poor floors are constantly dirty. I could vacuum and mop twice a day (and not keep up), but of course that doesn't happen. That's where Bona's PowerPlus Hardwood Floor Deep Cleaner and Deep Clean Pad comes in.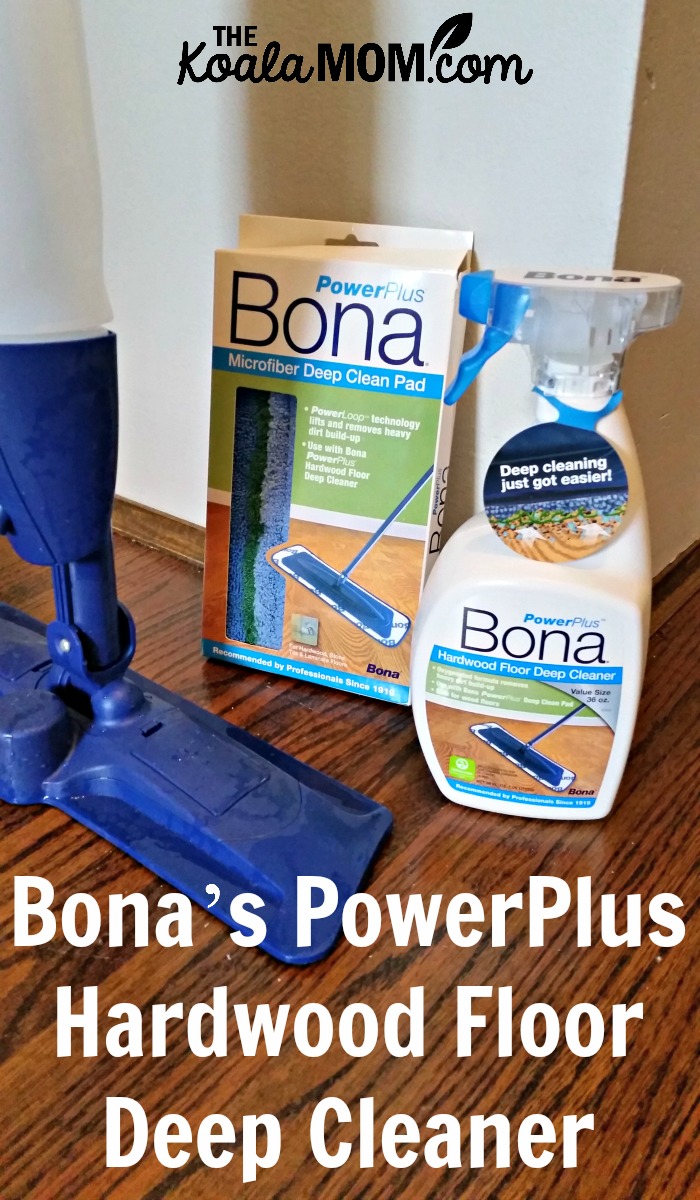 I love trying new cleaning products. Something about "new" makes cleaning just a bit more exciting. And I love my Bona hardwood floor mop. It makes cleaning my floors so easy. Even Sunshine (age 8 now) likes asking me if she can mop the floor, and will now do her own room herself. If Jade has an accident, Sunshine will often grab the mop to help clean up the floor.
Bona hardwood floor products are specifically designed to care for hardwood floors. Bona's PowerPlus Hardwood Floor Deep Cleaner uses a surfactant that loosens tough, heavy dirt build-up. Then peroxide penetrates for a deep clean and an oxygenated bubbling action lifts away surface debris. The formula is GreenGuard certified and residue free (so I don't have to worry about the girls running around barefoot right after I've washed the floors).
Lately, my home hasn't been as clean as I'd like. Having a baby around who doesn't like to get put down means that I get either the vacuuming or the mopping done, but not both. So there's been a lot of dirty spots on my floor that have taunted me every time I walk past with a baby in my arms. I was worried how hard it would be to clean them when I finally did get around to mopping. With my new Bona PowerPlus Deep Clean System, it was a breeze. The dirty spots disappeared with a few quick scrubs of the mop.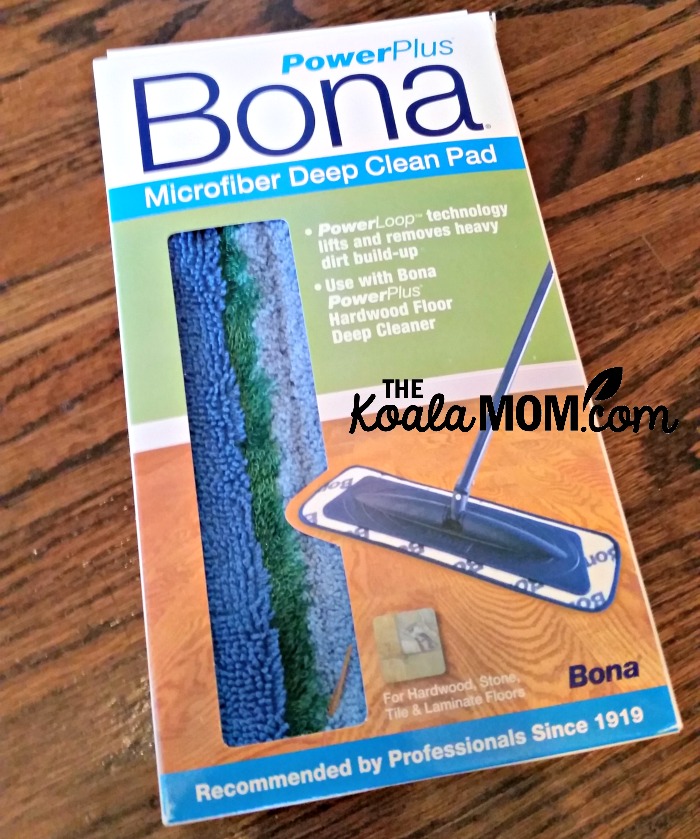 The Deep Clean Pad is the same size as the regular Bona mop pads, but it has extra scrubbing power. The microfiber pad gently breaks apart and loosens tough dirt with the twisted nylon scrubbers while the dual zone pad absorbs and traps dirt. It's great for mopping sticky juice up underneath Jade's chair or getting at the dried-on spit-up that Pearl somehow dropped in the corner by my chair without me noticing. (She seriously spits up way more than any of my other three!)
"Bona PowerPlus is our answer to the various ways consumers are deep cleaning their floors. For many, it's a time consuming, exhausting process so we're putting the power of clean back in consumer's hands," said Cate Vanegas, Director of Marketing for Bona US. "Gone are the days of deep cleaning with a mop-and-buck and scrubbing on hands and knees. Bona has created our most advanced cleaner yet while maintaining an easy, all-in-one approach."
Bona's PowerPlus Hardwood Floor Deep Cleaner and Deep Clean Pad are available at Lowe's, along with other Bona products. Here in Canada, I've seen them at my local Home Depot. You can also check out Bona products and learn more about cleaning your hardwood floors by visiting the Bona website.
I received a Bona mop, PowerPlus Hardwood Floor Deep Cleaner and Deep Clean Pad for the purposes of this review. All opinions expressed are my own.