Over the past few months, Sunshine has begun reading voraciously. She reads novels at home. Signs as we're driving. Labels at the grocery store. And when I'm working at the computer, she reads over my shoulder. It's made me more aware of what I'm doing online—and more aware that soon, she'll be wanting to access the computer herself. So far, we've limited her use of the computer and Internet because frankly, there's a lot about the Internet today that scares me.
That's why I'm excited for initiatives like Safer Internet Day and #PinkShirtPromise. Safer Internet Day is supported by the Canadian Centre for Child Protection and focuses on reducing cyberbullying and promoting responsible Internet use. #PinkShirtPromise is a national campaign headed by Shaw Communications to end bullying across Canada.
I'm happy to be partnering with Shaw Communications to help spread the word about Safer Internet Day and their Pink Shirt Promise campaign. While this is a sponsored post, all opinions are always my own.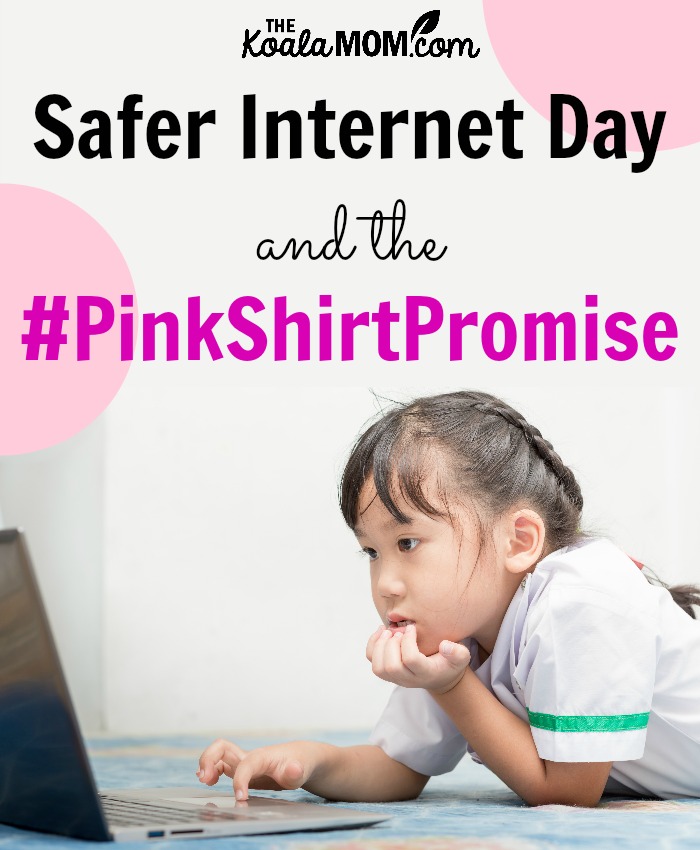 As a blogger, I spend a lot of time on the computer. I'm online to write posts and promote them, email brands I'm working with, network and support fellow bloggers, connect with my readers, and more. It's sometimes a struggle to balance work and family, because they happen in the same area. Safer Internet Day is a good reminder that I need to model responsible computer and internet use for my daughters.
Having Sunshine reading over my shoulder also makes me more aware of what gets posted online. There's a lot of negativity that goes around on social media. I try to stay positive there, and to post and share only encouraging, uplifting things. For some people, something about the relative anonymity of the Internet—or the distance between them and the people they are sharing things with—seems to make it okay to post things they'd never say in person.
Tales of cyberbullying make me want to cry. When I was in high school, I had a pen pal who was bullied at school. We penned several letters a week to each other (and kept the postman busy!) because both of us were lonely and had very few friends. Back then, she could get away from the bullies by going home. While the Internet would have made it easier for us to connect and support each other, it might have also made it easier for the bullies to follow her home.
Brad Shaw, Chief Executive Officer at Shaw Communications Inc., says, "Bullying is destructive, emotionally damaging, and, in some cases, deadly, and no child should have to suffer from its harmful and negative effects. Shaw's #PinkShirtPromise campaign is a powerful initiative that gives us the ability to work closely with our partners to create safer environments for children and youth—whether at school, at home, or online."
Right now, I'm very careful about what websites the girls use (such as specific educational websites) and how long they spend on the computer. Our computer is in our living room in the middle of our house, so even if I'm doing housework while they're online, I can hear what they're doing and make sure they are in a safe space.
As they start using the Internet more, we'll probably install some sort of parental control system or mobile app to help make sure that they don't spend too much time online and can't get to dangerous or inappropriate websites. If they get their own social media accounts, then my husband and I will follow those and require access to their passwords to monitor their accounts.
Today, think about your internet use and how you can make the Internet a safer place—for yourself, your friends, and your children. Make a #PinkyPromise or a #PinkShirtPromise on social media to specific friends to help end bullying this month. Take and share a photo of yourself and a friend (or your husband and children!) making a pinky promise to stop bullying. You can also help raise awareness about the importance of online safety by tweeting and posting using the hashtags #SID2016 and #Up2Us.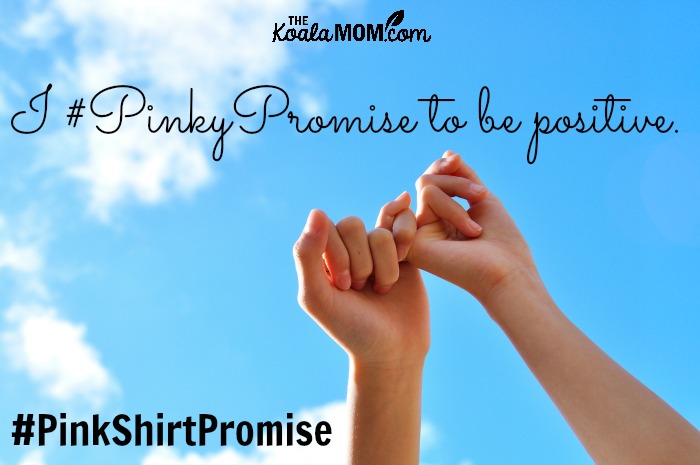 For more information about Safer Internet Day and what you can do, drop by their website.
What will you do to help create a safer internet for your children and end cyberbullying?