This weekend, we drove out to Abbotsford to visit the Taves Family Farm. They had reached out to me on Twitter with a complimentary media pass, and I was eager to visit. Harvest season is an exciting time for farms and Taves Family Farm sure had a lot happening.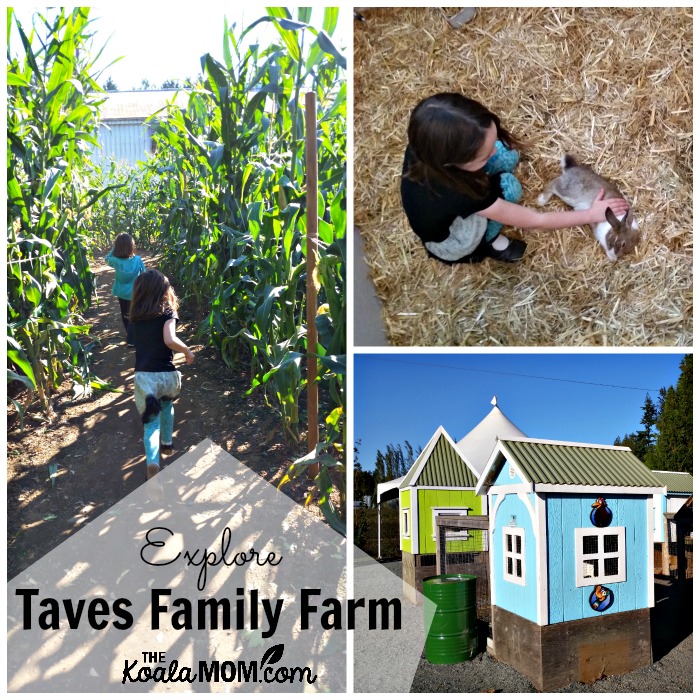 Taves Family Farm is located just a few kilometers off the TransCanada Highway in Abbotsford. It was easy to follow their directions and signs… and we knew we'd found it when we saw all the cars. The parking lots were full and cars lined both sides of the road. We managed to squeeze into a spot and headed up the driveway to the farm. We'd barely gotten the girls' wristbands on when they each started clamoring about something they wanted to do.
There were tons of activities there for kids of every age. We started off with the big slide by the gate. Then the girls wanted to bounce on the big jumpy thing, but there were a lot of kids there so Jade got a bit overwhelmed. It was super cool and super bouncy, though. (We came back to it later in the day when there were less kids.)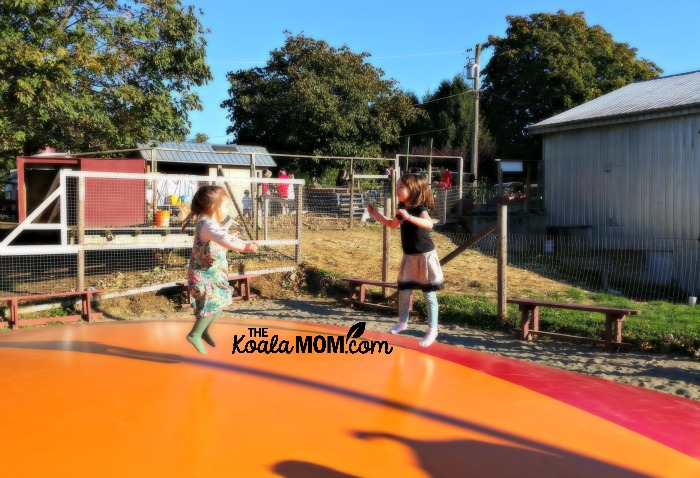 From there we headed into the corn maze. Confession time: I've never done a corn maze before so I had no idea what to expect or do. We had so much fun just running through the corn!
Sunshine went with my husband, and Jade (in the Ergo) and I followed Lily down the paths through the corn. With the crowds of people visiting the farm, I was surprised we didn't run into more people in the maze, but we had most of it to ourselves. It was fun to turn a corner and run into my husband and Sunshine, and then to split up and go down separate paths again, wondering when we'd meet again.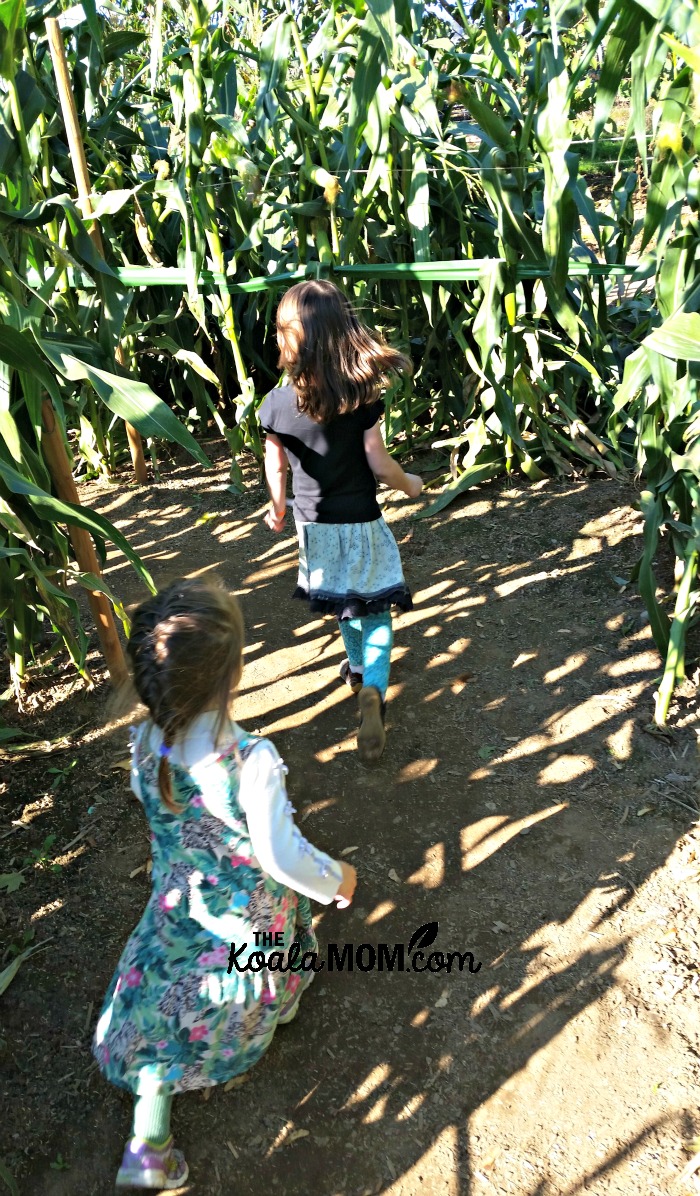 Jade decided to get down and run with Lily. Who knew that running down paths in corn could be so much fun! I could barely keep up with them, much less take pictures while they ran. Then we found a gate… only to realize that the other half of the corn maze was through another gate on the other side of the road!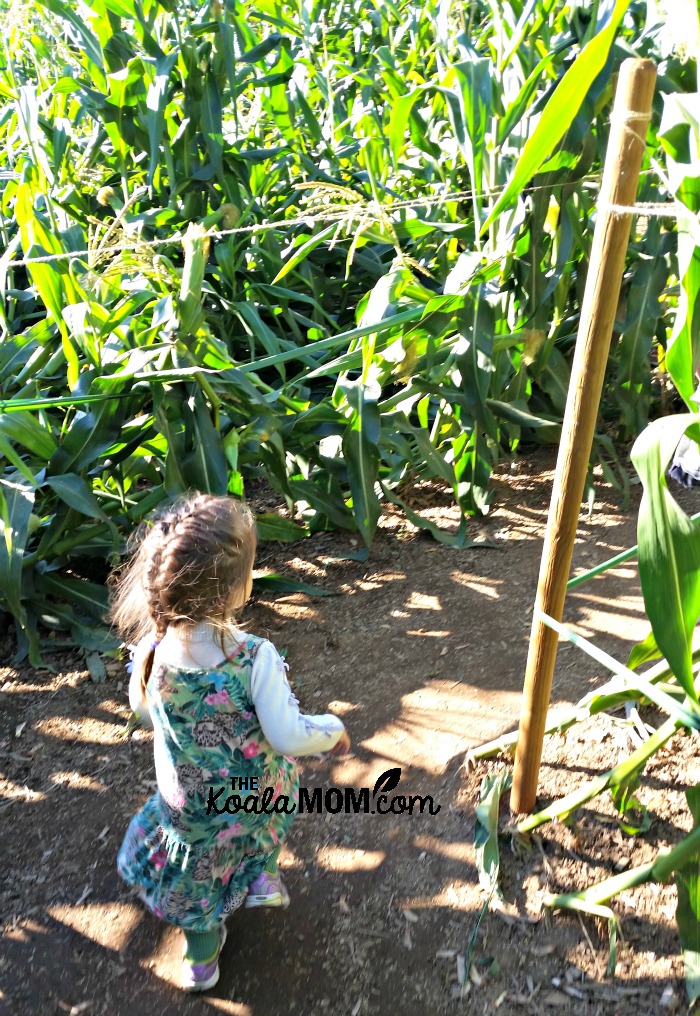 We kept running and looking for the exit. Jade was leading the way now, going as fast as she could. I was starting to wonder how long we could wander in the corn when one of them saw the exit. And as soon as we'd gotten out, Sunshine wanted to go do it again.
We convinced her that there were other things to see first… like the petting zoo. We looked at turkeys and ducks and petted the bunnies, goats and sheep.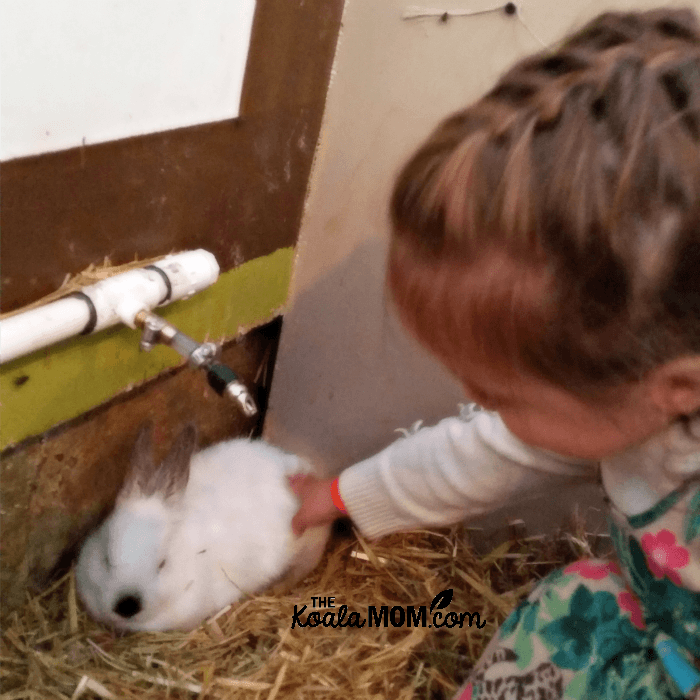 Upstairs in the barn, the girls rode the zipline and slid down the big slides. We watched the apples being juiced for cider and Jade possibly tasted more than her fair share of the really yummy apple juice. The girls played in the playground while I got us an apple cider slushy (yummy!).
Then we decided to let the girls have a pony ride. Sunshine had asked for this as soon as we got there. Even Jade, who was starting to get tired and grumpy after our busy day, got very excited as soon as we mentioned the ponies. My husband bought their tickets and they put on their helmets. Then they lined up on the bench, waiting patiently for their turn… Sunshine agreeing that she could be a good big sister and go last, and Jade beaming up at us and dancing in anticipation of her ride.
This was Jade's first pony ride, and I wasn't sure how she'd react. When I lifted her onto the horse, she seemed uncertain at first… but she held onto the saddle and quietly rode the length of the path and back. She gave tiny nods to my questions about enjoying the ride, but she didn't ask to get down.
Lily and Sunshine also enjoyed their rides. They've ridden ponies before, once or twice at a fair, though I'm not sure Lily remembers that. At the end of the day, they all mentioned the pony ride as a highlight of their visit to the farm.
They rode on the swings and bounced on the jumpy thing again. We checked out the poultry in their bright, adorable coops. If we ever manage to buy a house in a place that allows backyard chickens, I want a coop like this: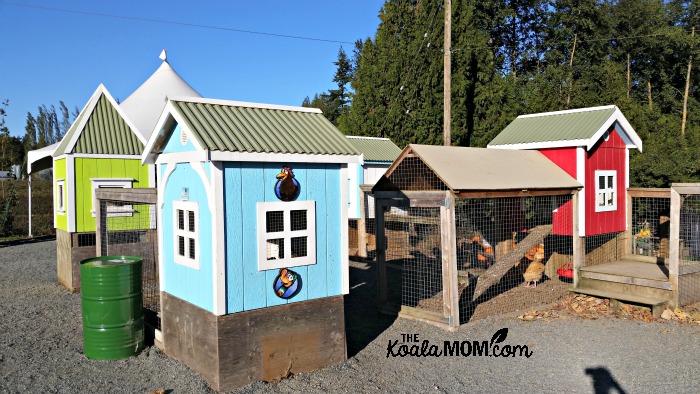 Our day wasn't done yet, though. Lily had been eagerly looking forward to picking apples. The apple trees on the farm itself were picked out, so we drove down the road to the next orchard. There we got a 5 lb bag and headed into the apple trees. Within two minutes, the girls had filled our bag and were eager to keep picking. After much deliberation, my husband and I decided we had as many apples as we could use and we headed home (eating apples as we drove).
That was our afternoon at the Taves Family Farm. We could have easily spent another hour or two there, for the girls had so much fun with all the activities. We didn't catch a tractor ride or tour the pumpkin patch and the girls would have certainly done the corn maze again or spent more time picking apples. I'm sure Taves Family Farms could become a family fall tradition.
For more information about the farm, including hours, special activities, and how to get there, check out their website. You can also find them on social media.
I received a complimentary media pass to visit the farm and pick 5 lbs of apples. All opinions expressed are my own.