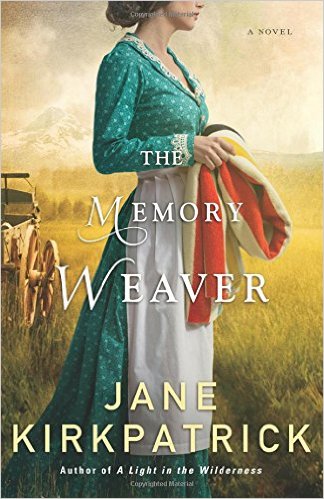 Since first meeting Jane Kirkpatrick at a writer's conference in 2008, I've read quite a few of her books. Her newest book, The Memory Weaver, just might be her best book yet. It tells the story of Eliza Spalding Warren, the daughter of Eliza and Henry Spalding, who were missionaries to the Nez Perce and Cayuse peoples in Oregon in the 1800s.
The novel opens with thirteen-year-old Eliza watching several men dig her mother's grave. One of the young men, Andrew Warren, catches her eye and begins to hang around the schoolhouse so he can run into Eliza. Yet Eliza's father relies heavily upon her to take care of her younger siblings and help him in his missionary work. And Eliza struggles with memories of her parents' work in Lapwai and the massacre she witnessed there. With her mother gone and her father focused on his work, she has no one to help her deal with the pain of those memories.
Mr. Spalding's remarriage to a woman from the East does little to make Eliza's life easier. Her stepmom Rachel can barely keep a fire going, much less cook, clean and do the laundry. At sixteen, though, Eliza has had enough of life at home and elopes with Andrew Warren. She soon discovers that he isn't completely the man she thought he was, but now their lives are bound together and she must make this marriage work.
Then, as Eliza settles into a comfortable life with her two daughters and her sisters to help, Andrew announces he's moving. His restless feet have convinced him that he can do better, make more money, by taking his cattle ranch east… to a place near her parents' former mission. Eliza is faced with the choice of staying in her comfortable home and ending her marriage, or following her husband back to the place of her nightmares.
Eliza's story is interspersed with sections from her mother's diary, written as she lays dying. The diary entries give us deeper insight into Eliza's personality and what really happened at Lapwai, during and after the massacre. This is a psychologically rich novel in the play between the two Elizas' memories of the fateful events of 1847. I also really enjoyed mother Eliza's deep insights into her daughter's life and memories, and daughter Eliza's struggle to live with her mother's memory and raise her own daughters in a difficult time.
The Memory Weaver is a haunting, emotional, beautifully-written story about family, tragedy, and memory. While Eliza lived a century ago, her story will ring with anyone who has faced a childhood trauma. With impeccable historical details and deep psychological insight, this is a stellar novel.
Jane Kirkpatrick is the author of numerous historical fiction novels, many of them about women from the Oregon area. I enjoyed a brief reference to Marie and Jean Touchet from her Tender Ties trilogy. Many of Jane's novels have hit the New York Times and CBA bestseller lists and been nominated for various awards. Jane and her husband live in central Oregon. To find out more about Jane or her books, drop by her website.
I received this book for review courtesy of Graf-Martin Communications; all opinions expressed are my own. This post contains affiliate links; as an Amazon Associate, I earn from qualifying purchases.