A couple weeks ago, our computer refused to turn on. We'd had a bit of warning that something was breaking, as it did this a few times to me, but eventually turned on after I pushed the button enough or ignored it for a few hours. Then came the evening when my husband needed to do some work and the computer wouldn't start.
He checked everything that he could and nothing worked. The computer refused to boot up. Then, while I tried to say that it was just a button or power problem, he began to worry about all the files on our computer. We dealt with a computer crash seven years ago, when Sunshine was one—that's when we bought this computer. It wasn't fun, though a local tech guy managed to save our data.
"What's on the computer?" he asked me, trying to prepare for the worst.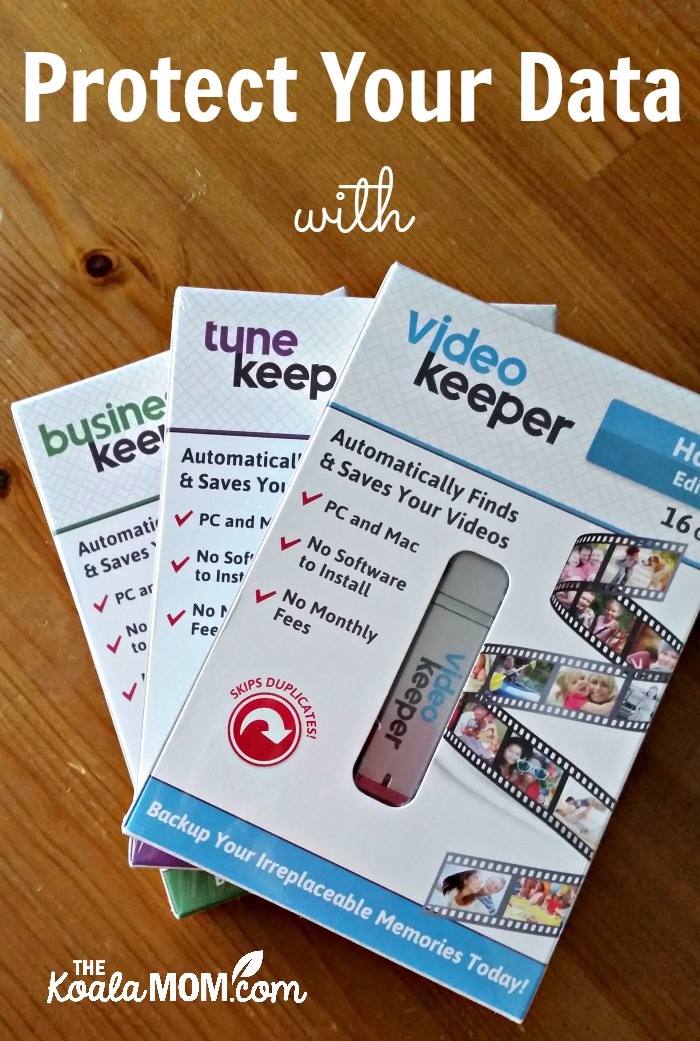 Family pictures from the last year that haven't made it into a photo book yet—and all the pictures from the years before that which didn't get included in a photo book.
All the ebooks I've downloaded over the years.
His business and school files. (I do most of my writing online these days, so I wasn't worried about my novels or my writing from university—I'm pretty sure it's backed up on a CD somewhere.)
The videos I've made of the girls and one or two I've downloaded.
In short, lots of memories and hard work, that could all be lost if the computer problem was bigger than just a button or power supply issue. It made me think about my Picture Keeper. I have some of our photos backed up on a Picture Keeper, but I've put off buying another (bigger) one to backup the rest of our photos. Recently, the folks at Picture Keeper let me know that they've created some new devices to backup all the files on your computer, from songs to movies to PDFs and spreadsheets.
They sent me the new devices to try out once we got our computer working again. (It turned out that the power source had failed, so my husband was able to simply install a new power source and our computer is running as good as new again.) Each device is 16 GB and searches for specific files on your computer.
It took me less than twenty minutes to backup all the files on our computer. I simply plugged in each device, clicked a couple of buttons, and watched it find the files and save them to the device. We don't download music very often, but I'm happy to know that the few albums I do enjoy on the computer are now safely stored on my Tune Keeper. The Business Keeper found not only all our Word and Excel files, but also saved all my ebooks (just a small library's worth…). And the Video Keeper saved all those videos I've made of the girls as well as our Ruby's Studio movie (which I only have on the computer).
I love the fact that the Video, Tune and Business Keepers are small, making them easy to store. Each one is the size of a USB drive, so you can put them in your purse or pocket or stash them in a desk drawer. They are super easy to use. And they keep your files organized, as each device searches your computer for a specific type of file.
Some tips for using the Keepers:
Turn off other programs on your computer before plugging in the Keeper and backing up files.
Organize your files and delete duplicate or unwanted files to save space on the Keepers for important stuff. (No reason to back up all the blurry pictures of the kids being silly!)
Label your Keepers with the date of the backup and create a reminder for yourself to backup files regularly. (The Keepers will detect duplicate files on your computer and only backup new files.)
Estimate the size of the files on your computer before buying your Keeper, so you know what size to buy (they come in several different sizes, from 8 GB to 32 GB).
Any of these devices would also make great Christmas presents! Get the Tune Keeper for the music lover on your wish list, the Picture Keeper for the avid photographer, the Video Keeper for the movie lover, and the Business Keeper for the businessman or woman. Plus, Picture Keeper has an adorable 4 GB Stocking Stuffer that holds around 2000 pictures—perfect for nearly everyone on your list!
For more information about the Keepers, or to get one for yourself, drop by the website. You can also find the Keepers in your local computer store or order them via Amazon.
I received the products mentioned courtesy of Picture Keeper for the purposes of this review; all opinions expressed are my own. This post contains affiliate links; as an Amazon Associate, I earn from qualifying purchases.