When Sunshine was about a year old, our computer crashed.  We took the harddrive to our local computer guru, who was able to recover it. He also recommended buying a new computer ASAP.  We took his advice and found a good sale and bought the computer we now have.  We got off lucky with that crash; we didn't lose anything.  Now, however, we have much more sitting on the computer. Sometimes I think about what we could lose if it crashed again.
Pictures.  Six years worth of memories.
First smile.  First hairdo.  First step.
All gone, because it's all on the computer.  Film cameras had their cons, but at least if you lost your prints, you had a backup in the negative.  With digital cameras, if the file is deleted or lost, it's gone.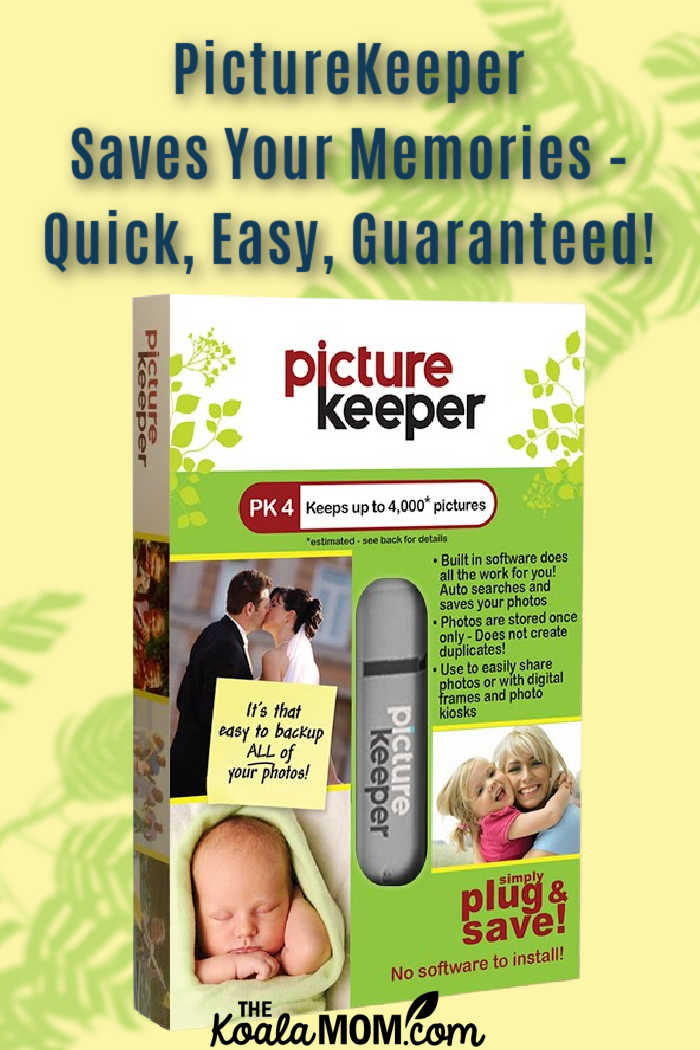 I was sent a PictureKeeper in exchange for this review; all opinions expressed are my own. This post contains affiliate links; as an Amazon associate, I earn from qualifying purchases.
While I worried about this, I didn't know what to do about it.  I tried putting some pictures on a large USB drive, but it filled up pretty quickly.  I thought about using an external hard drive, but that seemed like a lot of work—I'd have to remember which pictures I'd already saved on it and which ones I hadn't yet.  Then I came across PictureKeeper.  Someone else had thought of my problem and come up with a solution!
What is PictureKeeper?
PictureKeeper is a simple device that you plug into your computer to save your photos.  It is about the size of a USB drive, but it can hold up to 62,000 photos (depending on which PictureKeeper you buy and what size your photos are).  PictureKeeper automatically searches your computer for pictures and doesn't create duplicates.  Just plug it in monthly and it'll backup any new photos you've taken without also saving all the old photos that are already stored on the device.
How to Use the PictureKeeper
I received the PK8 for review.  The instructions recommend organizing your photos and deleting any unwanted pictures to save space on the drive.  Great idea.  I keep my pictures fairly organized on my computer (by month and year), but I knew I had some blurry ones that I hadn't deleted and probably a few duplicates (like large files and then web files for ones I'd shared on Facebook or my blog).  So I took a quick tour through my photos and did some purging.
Then I plugged in the PictureKeeper: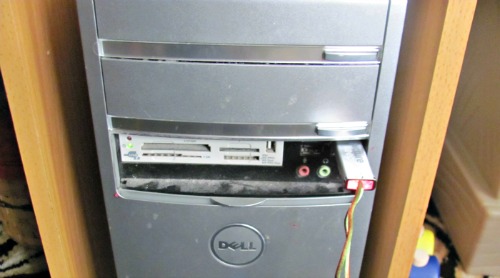 I'll admit I'm not very technical.  Installing anything on the computer gives me a moment's anxiety (and I often ask my hubby for help) so I hoped this would be as easy as promised.  And it was!  I plugged the PictureKeeper in.  A window popped open.  I clicked on the fancy logo and another window opened and I clicked Start Backup.  And it did this: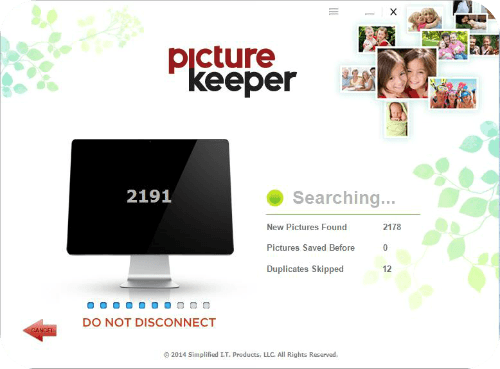 And it kept going… and going.  I didn't realize I had quite THAT many pictures on the computer!  I think it was over 10,000 pictures by the time it had found them all (including about 200 duplicates).  That's a lot of memories!
Once the PictureKeeper had found all the pictures on the drive, it started saving them all: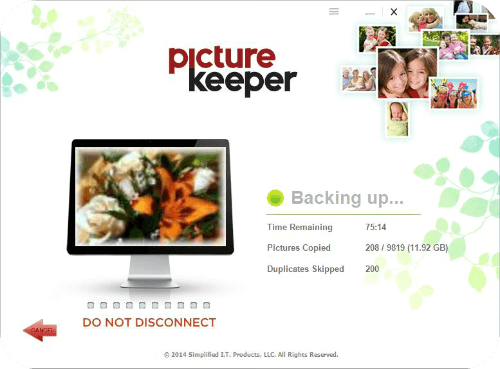 This took quite a while.  I wrote this blog post while it did that.  And kept Jade away from the PictureKeeper, which had a pretty string on the end and a flashing red light while it worked and was just at the right height for her to grab it and pull it out of the computer.  You'll noticed that it gives an estimated time remaining for the copying.  And it showed the pictures it was copying on the cute little computer screen, to give you an idea about where in your files it is working.
It took the PK about an hour to save all the photos (over 10,000).  Then, when we looked at the files stored on the PK, we realized it had backed up way more photos than we needed.  The PictureKeeper searched our Documents and Pictures folder and came up with not only all our memories of the past six years, but also old pictures from when I edited FellowScript and other random photos.  I tried to simply delete the folder containing the unwanted pictures, but I had to open each folder to delete the photos… which got rather time-consuming.
I ended up finding out how to reset the PK8 (drop by the website and check the FAQs). Then I set the options in the PictureKeeper to only backup photos in the Pictures folder.  It still found way more than would fit on this device (about 8500), so I guess I'm off to get another one!
Find the Right PictureKeeper for Your Needs
The PictureKeeper has four different models to choose from:
PK 4 holds up to 4,000* photos and is $29.99
PK 8 holds up to 8,000* photos and is $59.99
PK 16 holds up to 16,000* photos and is $99.99
PK Pro holds up to 250,000* and is $189.99
*ESTIMATE – based on an average size of 1 MB per picture
You can also use the PictureKeeper in a digital photo frame or at a photo kiosk or simply store it away in a safe place.  It is compatible with both Macs and PCs (I used it on my PC).  If you buy one PictureKeeper and it fills up, you can simply buy another one and it will keep saving pictures where the first one stopped—so even if you use multiple PictureKeeper devices, it won't save duplicate photos.  It doesn't require special software or cords or passwords (hurrah!).
If you want to save videos, business files, or songs, PictureKeeper also has solutions for that! Shop TuneKeeper, VidepKeeper and BusinessKeeper.
How do you ensure that the photos and memories stored on your computer aren't lost in the case of a crash or computer mishap?