One of the great things about living in Vancouver is all the fantastic events happening here. This is where I attended my first blogging conference and I'm excited for another blogging conference coming up in September. On that same weekend, there's also a fantastic event for moms happening.
On September 25, 2015, VancouverMom.ca, Entrepreneur Mom Now and JellyBeen will be hosting the fourth annual Leading Moms, an inspiring event for nearly 200 moms.

Leading Moms 2015 has an all-star speaker line-up of moms who are doing amazing things, like CTV's award-winning broadcaster, anchor and breast cancer survivor Mi-Jung Lee. Other speakers include poet and storyteller Samantha Reynolds, whose poetry blog chronicles her attempt to "be present" in her son's life, and businesswomen like Bonnie Foley-Wong and Amy Robinson.
You'll hear about personal journeys in motherhood through a mix of performance, video and intimate talks delivered straight from the heart. I think I'm most excited to hear from these women because they are moms like me. They've had remarkable careers while raising kids. And the best part? Leading Moms gets that we're moms and we have kids, so complimentary childcare is available thanks to Kids & Company!!! (for a limited time only so book it fast!)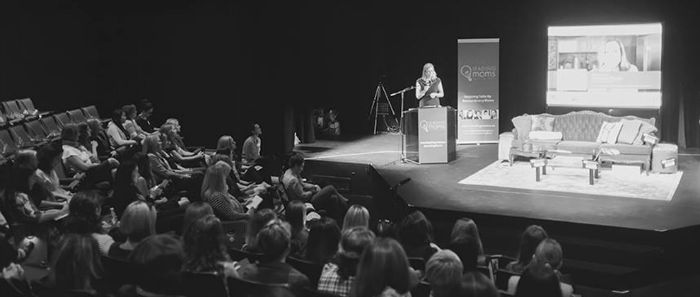 Plus, join the speakers and other moms after the event for lunch at CRAFT. If you can't miss work during the morning, this is the perfect chance to connect with like-minded moms! If you did make it to the whole event, then lunch is a great place to continue conversations and ideas started in the morning.
Be sure to join the conversation at the Leading Moms 2015 Twitter party on Tuesday, September 15th at 8 pm. There are prizes to be won! Follow @leadingmoms on Twitter and use hashtag #LMinspire to join the conversation.
For more about the event and speakers, check out the website or follow Leading Moms on Facebook or Twitter. You can also get 15% off your tickets by using promo code "lmfriends" (that's LM, as in Leading Mom Friends). I'm excited to help spread the word as a blog ambassador for this event, thanks to Springfree Trampoline.

You can also view this video of highlights from last year's Leading Moms event:
Enter to WIN two tickets to this event by leaving a comment below!!! You must be able to attend this event in Vancouver, BC, in order to enter. One lucky winner will be chosen via random number generator on Tuesday, September 22, at 8 am and notified via email (so make sure I can contact you or you won't be able to win!). Good luck!