I've been a fan of Gary Chapman's teachings about the 5 love languages ever since I first read his book. His ideas about the way we receive and show love have helped me better understand myself and how I relate to others. I've often wondered what my daughter's love languages are as well, so I jumped at the chance to test out a new program, Discovering the 5 Love Languages At School (Grades 1-6).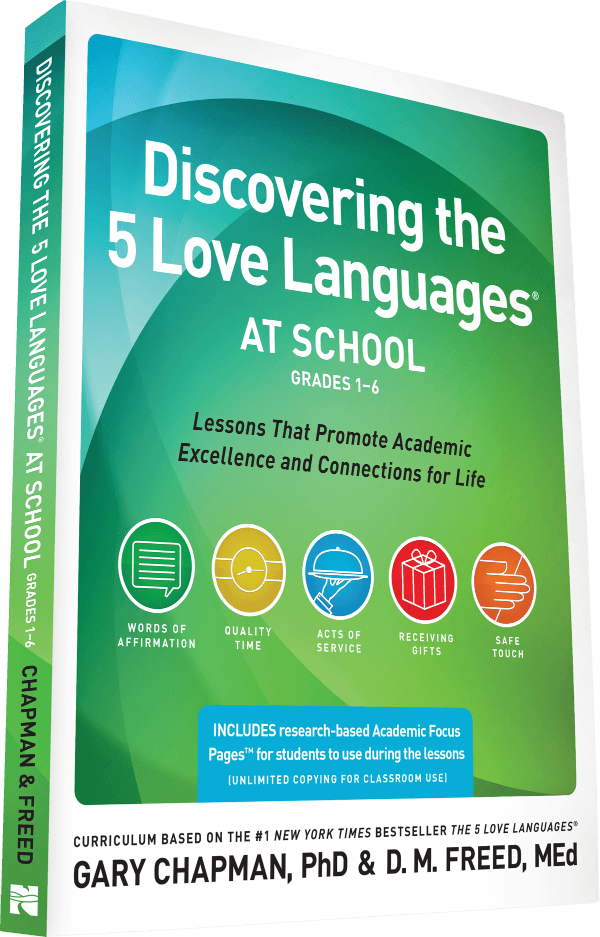 I received this curriculum courtesy of the publisher for the purposes of this review; all opinions expressed remain my own. This post contains affiliate links; as an Amazon associate, I earn from qualifying purchases.
Discovering the 5 Love Languages at School
Developed by Gary Chapman and D. M. Freed, this program is designed to be help teachers and students establish both human and academic connections. Freed talks about how connection between students and teachers is important to their academic success. This program can also help students, teachers and families understand what motivates them, because what motivates us is what makes us feel loved.
The entire program or curriculum is packaged in a single, easy-to-follow book. Freed introduces the topic and why it is important for schools, along with research to support his claims. He then explains how to use the curriculum (as teachers in schools—there are no tips for homeschooling parents or churches to use it). Finally, we get into the seven core lessons to begin Discovering the 5 Love Languages at School.
What My Girls Thought about This Curriculum
I wasn't sure how the girls would react to me adding more "school" to our day, but they were actually quite enthusiastic about something to do. In fact, every time I went over a lesson with them, Sunshine asked to do more. They even insisted upon completing everything on their worksheets; if Lily fell a bit behind Sunshine and I suggested she just tell me the answers instead of writing them out, she really wanted to write it all out. And they both wanted to keep their worksheets.
Because the curriculum is geared towards grades 1-6, each lesson is broken into several parts. There's an overview for all students, then boxes to indicate where to continue for each age level (grades 1-2, grades 3-4, or grades 5-6). I found it a bit confusing at first to figure out where to skip around to get the right level for the girls, and even in the second lesson had to backtrack once or twice when I realized I'd missed a section, but I soon figured it out. Worksheets for each grade level are included at the back of the book (with unlimited copying permission for classroom use).
How to Use This Program
While I appreciated the topic, the book is definitely written for school teachers in a school setting. I found I had to adapt it quite a bit to use it at home, by changing language (talking about "our family" instead of "our school") or adjusting the discussion to happen between a 7-year-old and a 5-year-old instead of a class full of grade 2 students.
Each lesson on the love language includes a discussion of the love language as well as its opposite. For example, with the first love language, words of affirmation, we also talked about harassment and flattery. While I expect the girls will deal with much less harassment at home, it did give us the chance to talk about what to do if they are feeling harassed or bullied in other situations (e.g., dance class or playground) and even to talk about how we treat our family members.
More about the Authors
Dr. Gary Chapman is the bestselling author of numerous books, including The 5 Love Languages, Happily Ever After, and The Marriage You've Always Wanted. He now travels widely speaking on marriage, family and relationships. He and his wife Karolyn live in North Carolina. To find out more about Gary or his books, visit his website.
D. M. Freed is a former elementary school teacher and a school counselor. He has two master's degrees in education and is the recipient of numerous "Outstanding Educational Excellence" awards. To find out more about him or Discovering the 5 Love Languages at School, visit his website.