The Shrek movies* are among my all-time favourite movies. I laughed and cried through the first movie in theatres and went home dreaming of the day I'd find my own big green ogre to fall in love with. Last time I watched these movies, I thought of some of the marriage lessons in Shrek.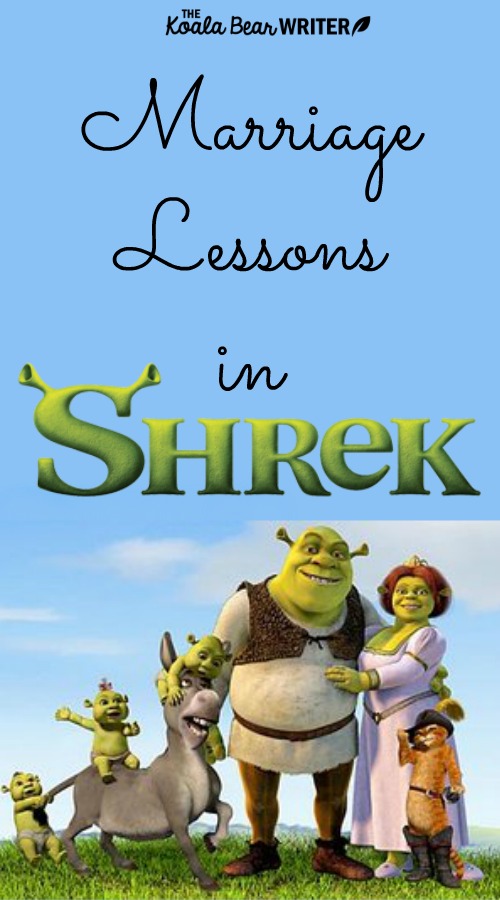 *I adamantly maintain that the Shrek movies are currently a trilogy, but my kids won't let me get rid of Shrek the Third. In my opinion, Shrek the Third was a complete screenwriting glitch and not worthy of the Shrek name. This story doesn't focus on Shrek and Fiona's relationship, but instead goes off on a tangent about Shrek grappling with impending fatherhood, with a cast of too many characters and a poor plot. So for this post (and until Dreamworks brings out another Shrek movie), I will only discuss Shrek, Shrek Two, and Shrek Forever After.
This post contains affiliate links. As an Amazon associate, I earn from qualifying purchases.
1. Be friends.
I love the scenes in the first movies when Shrek and Fiona stop fighting each other and start becoming friends—when they are making balloon animals, having burping competitions, and teasing each other. Spending time together this way helps each of them see that they have more in common than different, despite being an ogre and a princess. Many of the best marriages I've seen started as friendships—two people having fun together and discovering they enjoy similar activities.
It can be easy as married couples to get busy with work or kids and forget to have fun together. Some of my friends have commented that it's been years since they've been on a date together since having kids. That's when it's time to remember those things that drew them together in the first place, and maybe stop to make some balloon animals together again.
2. Have friends.
Who would Shrek be without Donkey? The two are a classic example of friends who've always got each other's backs. Donkey is always there to root for Shrek and Fiona and to watch their swamp while they're away on vacation.
While it's important to be friends with our spouses, I also think its important for both husband and wife to have other friends. (I could go off on a tangent about the fact that Fiona needs some friends in the movies, but the movies are mostly from the ogre's point of view so I won't.)
3. Fight for each other.
This is the biggest lesson in these movies, and the key theme in all three. In the first movie, when Shrek and Fiona do realize their love for each other, they have to fight their own fear and other people's opinions about whether a princess should marry an ogre.
In Shrek II, their "happily ever after" is interrupted by an invitation to meet Fiona's parents… and they once again have to fight for their love as they face a meddling godmother, a disapproving father-in-law and that old question about "Should I change for my spouse?" One of my favourite scenes is when Shrek decides to fight for Fiona and goes charging through the kingdom on Donkey (with awesome hero music playing in the background).
In Shrek Forever After, Shrek starts to feel beaten down by the responsibilities of fatherhood… and then makes a decision that leaves him fighting for Fiona's love all over again, against a very real enemy who would do anything to keep them apart and against Fiona's despair at ever finding love.
I love the fact that while the first movie ends with the typical "happily ever after" ending, the next movies continue Fiona and Shrek's story with situations most of us can identify with. Over and over again, they have to make the decision that their love is worth fighting for—and then fight for it, no matter who or what stands between them.
Both are given opportunities in each movie to give up on each other, to walk away and settle for less, yet each makes the decision to keep fighting for the one they love. That's a real marriage. All of us face people and situations that would try to tear us apart from our spouse, and if we don't actively fight to keep loving our spouse, we may not have a happily-ever-after.
4. Kisses matter.
There is one kiss in each of the movies, and that kiss is the climax of the movie, with great emphasis placed upon it. In Shrek, their kiss is what changes Fiona into "true love's form." In Shrek Two, the kiss restores both Fiona and Shrek to their real selves. And in Shrek Forever After, the kiss saves Shrek's life and restores everything he'd thrown away.
The very first kiss I gave or received on the lips was on my wedding day. Kisses and physical affection are very important between a man and wife, but often little things like kisses and holding hands can grow old as we know each other longer. An important part of marriage is keeping that spark of physical affection alive between us.
5. Love requires sacrifices.
Both Shrek and Fiona are faced with huge sacrifices for their love. In Shrek, Fiona gives up her dreams of marrying a handsome prince and living in a fancy castle to marry the ogre who makes her happy. Shrek gives up his love for solitude to share his life with Fiona (and the others whom their love brings into his life, like Donkey and Dragon, Puss in Boots, Fiona's parents, etc.).
In Shrek Two, Shrek is willing to sacrifice even being an ogre (and everything he loves about that) to make Fiona happy. In Shrek Forever After, we see the sacrifices they both make as parents of triplets. Yet all three movies also make it clear that the sacrifices are worth it, especially when Shrek chooses his life with Fiona all over again (with all its sacrifices) at the end of Shrek Forever After.
What movies inspire you in your marriage? What do you think of these marriage lessons?