Nick Vujicic was born without arms or legs. Growing up, he assumed no girl would ever want to marry a guy like him. Then he met Kanae. In Love Without Limits: A Remarkable Story of True Love Conquering All, Nick and Kanae share their love story—and what they've learned about courtship, marriage, and parenting along the way.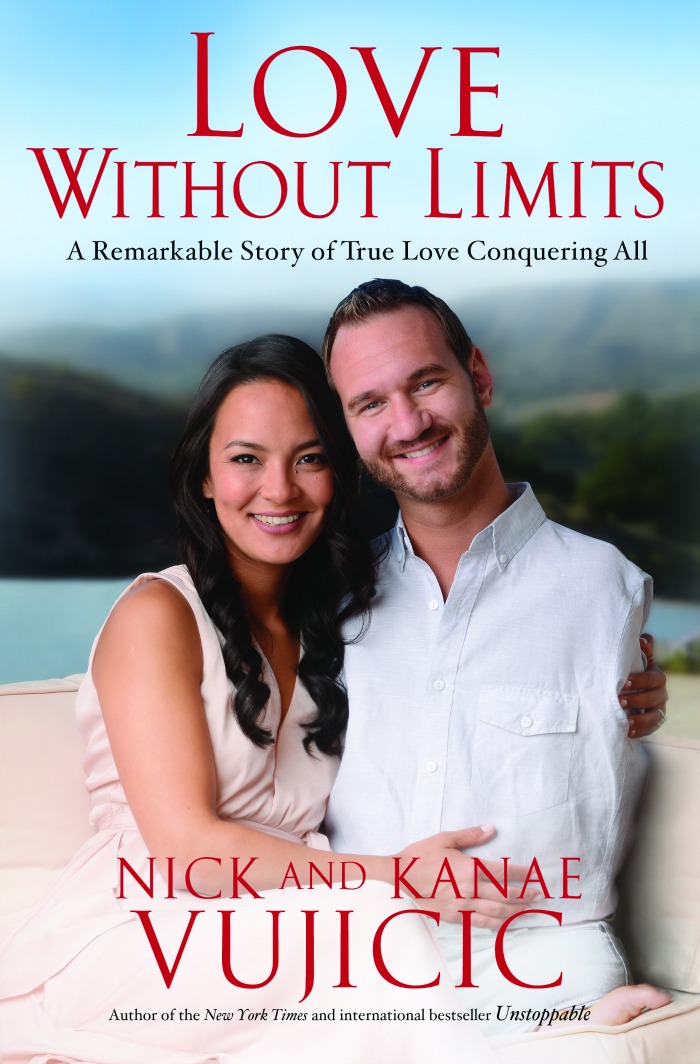 I received this ebook for review courtesy of the publisher; all opinions expressed are my own. This post contains affiliate links; as an Amazon Associate, I earn from qualifying purchases.
Love Without Limits overview
Reading Love Without Limits was like sitting down to chat with Nick. He's honest and candid throughout the book, writing in a conversational style that at times meandered or repeated itself but overall drew me into his story. He begins by sharing a bit about what it was like to grow up with no arms or legs, how he began his international speaking ministry, and a few other failed relationships he had before he met Kanae.
"I heard someone once say that God blesses you sometimes more abundantly by not giving you what you ask for. These types of desires and prayers are very close to anyone's heart and emotions. The key is you have to trust that God only has the best in store for you. If God says no to something, He says yes to something even greater. It is when you fully surrender all of your desires to His will that His perfect will is done." ~ Nick Vujicic
The ups and downs of Nick and Kanae's courtship, wedding plans and marriage provide them with lots of opportunities to share advice with other young lovers. They clearly had a great support group around them, mentoring them in their relationship, and they freely share the advice they were given—and what they learned the hard way—with their readers. It makes this book part biography, part how-to manual, but always readable and interesting.
"You can have a romantic relationship and a supportive relationship and a working relationship and an affectionate relationship, all at the same time," Pastor Schiler said [to Nick and Kanae]. "The best is if you just want to make the other person happy. If you both do that, you will both be happy."
Quite a few sections of Love without LImits were written by Kanae, providing her perspective on the events Nick talks about. It was neat to see how even in their writing, they demonstrate things they are talking about in their book. I also appreciated Kanae's sections on giving birth to their son Kiyoshi and the first few months of motherhood (while Nick was traveling and working).
Whether you are hoping to get married someday, have already met your perfect partner, or are already married, Love Without Limits offers practical tips and advice. Nick and Kanae are both down-to-earth and humble about their experiences, but I think many couples can learn from and use what the Vujicics share.
More about Nick Vujicic
Nick Vujicic is an international speaker and the best-selling author of six books, including Life Without Limits, Unstoppable: The Incredible Power of Faith in Action, and Stand Strong: You Can Overcome Bullying (and Other Stuff That Keeps You Down). He grew up in Australia and now lives with his wife and son in California, where he is the president of an international non-profit ministry. His hobbies include fishing, painting and swimming. To find out more about Nick or his books and ministry, drop by his website.
If you enjoyed Nick's story, you may also like The Gospel in Hard Times, a Bible study by Joni & Friends which includes an appearance by Nick, as well as other Christians who've faced huge struggles and grown in their faith.