What if God had a blog?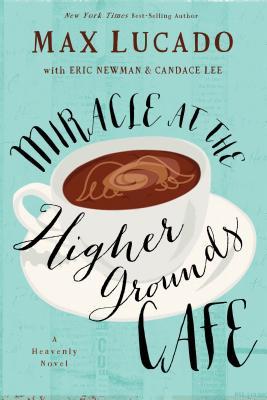 That's the premise behind Max Lucado's new novel, Miracle at the Higher Grounds Cafe. When Chelsea reopens the Higher Grounds Cafe, she doesn't realize she's at the centre of a spiritual battle for her neighbourhood. She's just trying to make a life for herself and her two kids after separating from her husband, an NFL star who squandered their money and cheated on her.
Business at the cafe is going okay… until Chealsea gets slapped with an unexpected IRS payment. It would take a miracle to make that payment. And that's exactly what she gets when two strangers show up to install a "router" and the only website accessible at the cafe is called the God Blog. People can leave any question on the blog and get instant answers. Suddenly, the cafe is packed with people looking for answers.
Chelsea is enjoying her success when things start to go wrong again. Her ex shows up in town, asking for a second chance. The router for the God Blog is stolen. And a little boy who came into her cafe every week loses his mom—a woman who helped the entire community—to cancer.
I've enjoyed several of Max Lucado's nonfiction book, as well as his Christmas tale Cosmic Christmas. Like Cosmic Christmas and Frank Peretti's novels, Miracle at the Higher Grounds Cafe goes into angelic realms, imaging what it might be like to have guardian angels watching over us and spiritual battles going on for places on earth. I loved the glimpse Chelsea gets at the end of the novel of the ways in which her guardian angel has been taking care of her, even when she didn't realize it.
Miracle at the Higher Grounds Cafe was a quick, easy read. Chelsea is a likeable woman with understandable problems. I wanted to see how she overcame her own doubts and the problems she encounters both at the cafe and in her family. Despite its small size, there was a lot packed into this novel, including discussion questions at the end (handy for a book club!). You can read the first three chapters on the Heavenly Novel website and enter to win some great swag!
Max Lucado is the best-selling author of more than thirty books. His mission is "to overflow to others the grace and encouragement which has been lavished on him by God." He serves at the Oak Hills Church in San Antonio, Texas, where he lives with his wife, Denalyn, and their sweet but misbehaving mutt, Andy. Max and Denalyn have three grown daughters. You can find him online at his website or on Pinterest, Facebook or Twitter.

Psst… I'm giving away one copy of The Miracle at Higher Grounds Cafe in my next newsletter!
I received this book for review courtesy of Litfuse Publicity; all opinions expressed are my own. This post contains affiliate links; as an Amazon Associate, I earn from qualifying purchases.