To celebrate World Breastfeeding Week (August 1-7), I thought it would be fun to ask some of my fellow mom bloggers for their tips and advice. I know nursing is an experience that, while universal to moms, is also unique; some find it easy, others have struggles. With almost five years of breastfeeding experience under my belt, I consider myself somewhat of a veteran but nursing each of my daughters has also been different as they bring their own abilities to the experience.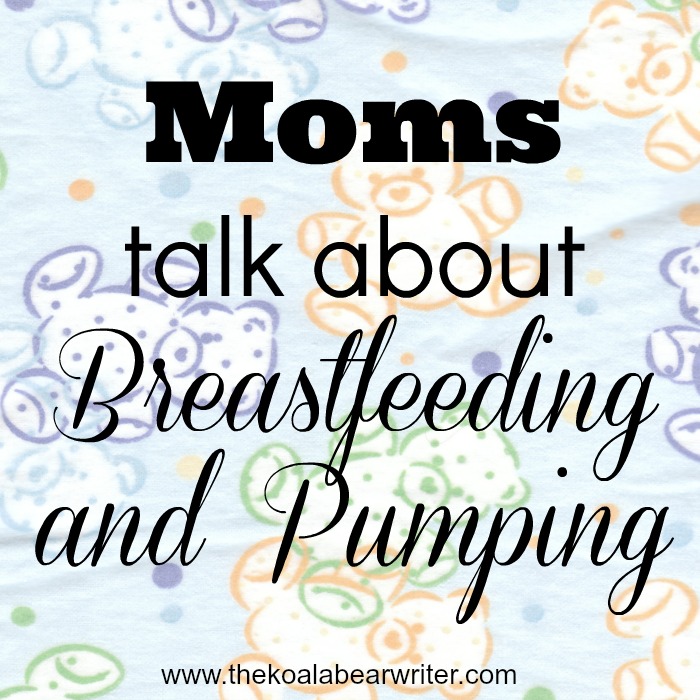 What advice would you share about breastfeeding and/or pumping?
"Lots of water, make sure you eat well, listen to your heart and take people's opinions with a grain of salt." ~ Tiffany Steadman-Collins from Naturally Cracked
"The best advice I got in regards to pumping was if your baby isn't present have a picture handy." ~Shayna Jaymie Murray from Mommy Outside the Box
"To be successful at breastfeeding you need three things:

1) A good latch is essential; if you achieve a good latch right from the start you will be nearly pain free. If you are having trouble, just ask for help!

2) Relax; both you and your baby are just learning.

3) Don't forget to take care of yourself too. Your body will produce milk more efficiently if you are well rested and well fed so don't feel guilty about the dishes piling up or the 3rd day of ordering food in and get rest whenever you can!" ~ Elizabeth Lampman of Frugal Mom Eh!
"I had to pump for the first month because we couldn't get my son to latch and I wasn't producing much milk. I used to pump every few hours (including through the night) to keep up with the supply so my husband was on dishes duty to properly clean and sanitize everything while I tried to sleep. Best thing I ever did was contact a private lactation consultant that came to my house and got my son latched on with her first try—I had to use the nipple shields and we never had a problem again (I breastfed until he was 15 months old). So…my suggestion is to look for the right support even if you've tried a few without success." ~ Cheryl Kirkness of Moms & Munchkins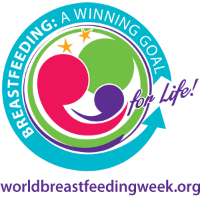 "Always have a washcloth handy in case you need to unlatch baby due to a forceful letdown!" ~ Amanda from Multi-Testing Mommy
I know my midwife made a big difference when I was a new mom trying to coax Sunshine to eat. I thought breastfeeding would be so easy and natural and it wasn't, but my midwife spent about an hour with me, encouraging me and giving me tips while I tried again and again to get Sunshine latched. When I had Lily, I didn't have as much support from the doctor or nurses, but I knew what to expect and was persistent in getting her nursing. And Jade was the baby I'd expected, who knew exactly how to eat from Minute 1 and did so with gusto!
"Think about baby while pumping to help it flow, and just keep at it, your body will make what baby needs even if you feel like its not." ~Melissa Nielsen of Mommy Knowz
Katie Allen of Little Miss Kate and Co has a complete Breastfeeding Tool Kit which includes a nursing pillow, reliable advice from healthcare professionals, mom-to-mom support, breast pump, and a whole lot of determination.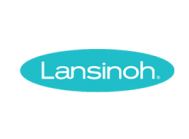 My sister-in-law recommended buying a breastpump when we were pregnant with Sunshine. I got the one she recommended, but I hated pumping so I only did it when I had to (although maybe if I'd done it more, I would have gotten better at it!). For BlogHer14, I was traveling without Jade but still nursing her, so I took my pump just to keep myself comfortable. It broke on the second day. By mid-afternoon, I was aching. I was at a conference in the middle of a big city, but I knew where to go: the Lansinoh booth. Lansinoh sponsored a nursing mothers' room at the conference and I'd already talked to the rep about their products (some of which I've used and others are new). When I explained my predicament to me, she immediately handed me one of their manual pumps. I speed-walked back to my room, assembled it as fast as I could, and started pumping. And I was really impressed. Their pump has a few little features that made it so much easier to pump.
Callista's Ramblings has some great tips for exclusive pumpers, including some fun stickers for bedazzling bottles, writing a letter to your baby, and connecting with other pumpers.
Lansinoh offered me a free breast pump at conference, but all opinions expressed are my own. I was under no obligation to write this post, and I do really like my Lansinoh pump better than my previous pump.