I grew up listening to Adventures in Odyssey, a fun series of audio dramas for kids produced by Focus on the Family.
My family's collection of tapes moved around with me even after I got married. Somehow it got lost in one of our last moves. I've been kicking myself for that and wishing I could find those tapes again. Sunshine and Lily are getting into audio stories and I think they'd really enjoy the same stories I did when I was their age.
So I was thrilled to have the chance to join the Odyssey Adventure Club.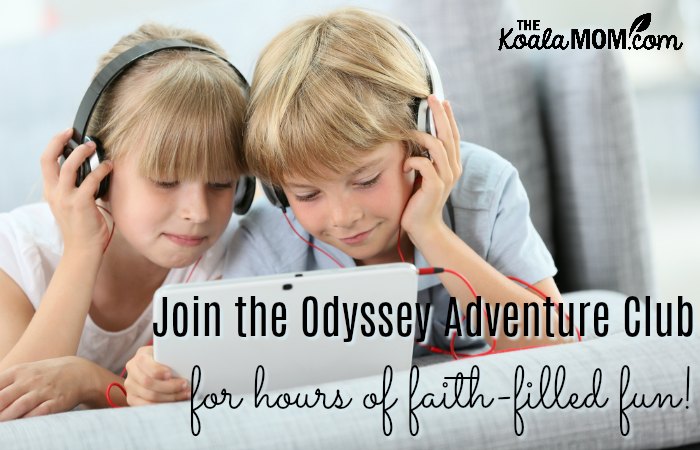 What's the Odyssey Adventure Club?
Are your kids in need of a safe and fun environment where they can explore, create and imagine, while developing their faith and learning Biblical truth? Enter the Odyssey Adventure Club (AOC)! Families can stream the Adventures in Odyssey library, plus listen to exclusive new monthly episodes. Get 24/7 access to the content through the Odyssey Adventure Club mobile app.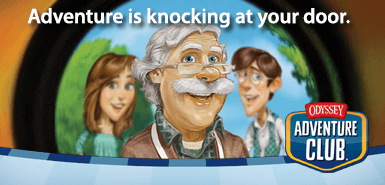 Children can also read daily devotions, interact with hands-on activities and view video documentaries featuring a behind-the-scenes look into the production of the Adventures in Odyssey stories. Parents can feel confident their children are safe on the Odyssey Adventure Club website — Focus on the Family staff will be monitoring all comments before they're publicly posted.
A portion of each Odyssey Adventure Club membership will benefit Focus on the Family partner relief organizations, including Christian Veterinary Mission, Operation Christmas Child and Compassion International. This provides parents with an opportunity to teach children about the value of giving and serving others.
Recently, we listened to "The Drop Box", a story about Whit and Eugene going to South Korea to meet Pastor Lee Jong-Rak and find out about his work with abandoned babies there. My husband and I just watched The Drop Box, so I had fun listening to Lily tell me all about Pastor Lee and the babies he rescued. And because it's a difficult topic to discuss with kids, I was glad Adventures in Odyssey told it in a story that was easy for the girls to understand.
Subscribe to Clubhouse Magazine
If your kids love the Odyssey Adventure Club, they'll also love the Clubhouse and Clubhouse Jr. magazines! Created with kids in mind, Focus on the Family offers a world of fun and imagination through short stories, jokes, puzzles, and games as well as recipes and activities to do as a family. Plus, what child doesn't like mail? Your child will enjoy getting this entertaining magazine each month in the mail, just like my girls do!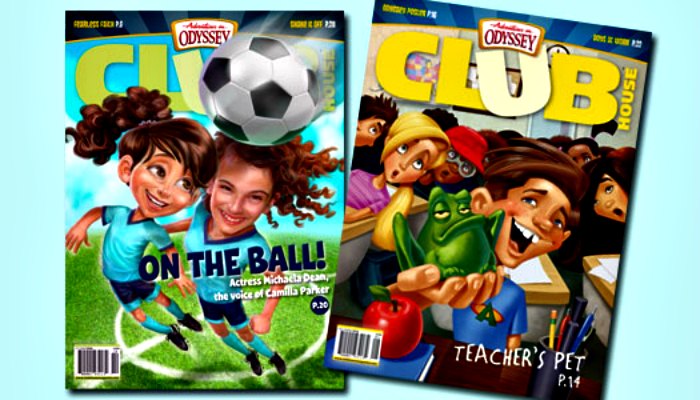 Sunshine and Lily have been getting Clubhouse® Jr. every month from Grandma for a couple years now. I tried to explain the idea of a subscription to them, but they're still surprised when another magazine shows up every month. Their excitement is so cute! They pour over the magazine together. I think their favourite section is the jokes… so it's a good thing we get new jokes every month.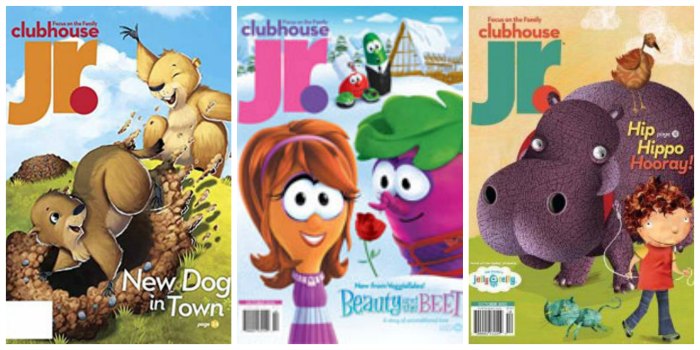 Each Clubhouse magazine also features the "Odyssey Insider," a newspaper-like preview from Adventures in Odyssey. For example, the October 2018 magazine features a blurb about the current Odyssey Adventure Club episode and a Verse of the Month. Plus, Odyssey Adventure Club members are able to listen to Radio Theatre adventures such as At the Back of the North Wind, available only for a limited time in the app.
The Family Project
Many Odyssey Adventure Club episodes are about current events or activities. For example, Album 58 was inspired by Focus on the Family's The Family Project, a 12-session small group experience that explores the theological, philosophical, and cultural underpinnings of the traditional family, and combines that information with inspiring stories and practical tools to help 21st-century families thrive.
One way families can carry out God's design for families is by serving their community—right where God has planted them, being His hands and feet together. Want to serve your community with your family, maybe make a day of out it? Here are some fantastic ideas from some Adventures in Odyssey bloggers and club members:
Make scarves through the year and deliver them to your local homeless shelter at the start of winter, or regularly donate food to your local food bank. —Shirley
Our family likes to help with Meals on Wheels. We also do reenactments of the Civil War and WWII to help educate people on history. I like to show my kids that we should be servers and givers by taking meals to people who need them (i.e. baby just born, someone died, someone had surgery, etc.). —Erin
We have been visiting a nursing home with friends once a month. The kids just sing and then we fellowship, but the ladies love it! —Lisa
We make lap blankets for nursing home residents and take the time to visit with them. We also collect food for the local food pantry. —Donna
We make blessing bags to give to the homeless when we encounter them. We also donate clothes and food to a local shelter. —Amy
Our MOPs (Mothers of Prechoolers) group supports our local Pregnancy Support Services with donations, gifts, and notes. We also supports the Durham Rescue Mission, which helps people break free from addictions and restore families. —Melissa
We live in a very rural area. Our church serves two of the poorest zip codes in the state, and about a decade ago, they started operating a food pantry out of a closet. It has expanded since then, so we now use the closet for storage, but the pantry is basically a classroom. The kids and I serve over there a lot. My 17-year-old and I go to Care & Share (50 miles away) to get food to bring back to the pantry. All of us help unload and stock shelves. On pantry days, everyone can get involved with helping people go through the line, playing with the kids, carrying boxes out to cars, etc. There are so many hungry folks, especially in the summer when school breakfasts and lunches aren't available, and helping a bit to put food on some tables is such a blessing for us all. —Debra
We pack food bags each month for the homeless and needy through a thrift store that offers an outreach to the community. We also help clean our church and our Sunday school. —Michele
We work through our AHG troop to do several service activities a year. My girls just recently made bracelets they are selling, which 100% of the profits goes to Hope House in Africa to help young girls. —Sarah
Our church works with a homeless shelter in downtown Atlanta. We cook food ahead of time, and when our schedules allow we ride down with the group to serve the food. My son always reminds me when we haven't been for awhile, so it's something he looks forward to. —Maria
We do lots of random acts of kindnesses within our community: pay for others' meals, leave change at a vending machine, hand out Gatorade/granola bars to people on the side of the road asking for food. We also love to support Mobile Loaves and Fishes. —Kathryn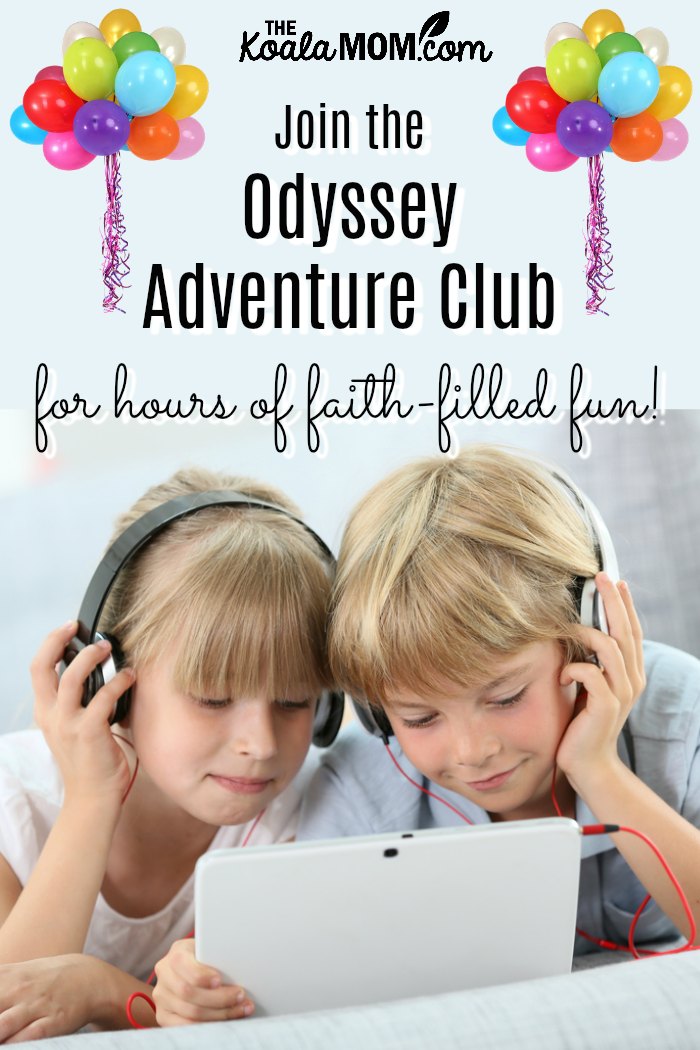 Bring Your Bible to School Day
Focus on the Family and the Odyssey Adventure Club are also proud to support Bring Your Bible to School Day. Every October, students from kindergarten to college bring their Bibles to school to celebrate religious freedom and share God with their friends.
How much do you know about the Bible and its influence on our culture, history and the whole world? Focus on the Family and Bring Your Bible have teamed up to create a Bible Challenge to test how much you and your kids know about the Bible. Take the quiz to find out!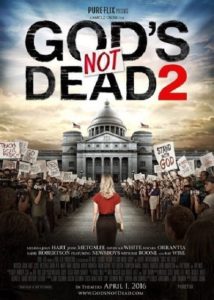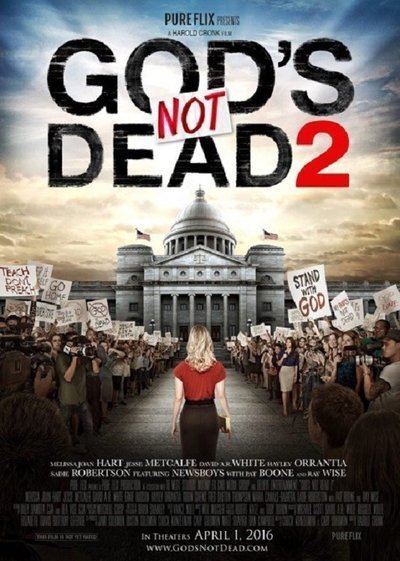 While you're waiting for October to roll around, check out the Newsboys in God's Not Dead 2. This movie features a high school girl and her teacher in a legal fight for religious freedom. The reporter in the movie just happens to be good friends with one of the Newsboys, who sing a few songs in the movie. God's Not Dead 2 is a clean, family-friendly movie that would be a great way to talk about religious freedom with your teens.
Plus, the Odyssey Adventure Club has a fun story about Bring Your Bible to School Day. Getting used to a new school isn't easy, especially for someone as paranoid as Buddy Norman. In "A Predicament of Biblical Proportions" he envisions wacky worst-case encounters with townsfolk who seem like mobsters, snoops and fairy-tale tyrants—until he gets to know them. He's also a little confused about Bring Your Bible to School Day. What's it about? Should he participate? See Odyssey through Buddy's eyes in this witty celebration of religious freedom.
Plus, More Resources for Your Family!
Focus on the Family provides more seasonal, free, faith-filled resources to kids via Clubhouse Magazine and the Odyssey Adventure Club, including:
Have you ever listened to Adventures in Odyssey or other radio dramas and audio books? Do your kids enjoy listening to stories on tape or CD?