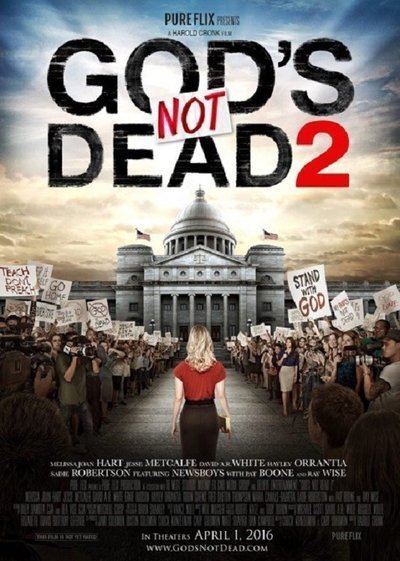 In today's world of tolerance and inclusion, it seems that the only identity not tolerated is Christian. We are repeatedly reminded faith has no space in the public sphere, particularly in schools. And that is just what Grace Wesley experiences in the movie God's Not Dead 2.
Grace is a history teacher at a local high school. During a lesson about nonviolence and Martin Luther King Jr., Grace answers a question from a student comparing Jesus' teachings to King's. One student reports her to the school. Grace is suspended from teaching and threatened with job loss. Then the parents of the student who asked the question take Grace to court.
Brooke is an 11th grader struggling to deal with her brother's death. When Grace notices Brooke's pain, Brooke confides in her favourite teacher. Grace's answer, and the discovery of her brother's Bible, send Brooke on a search for faith—and prompts the question that gets Grace into trouble. Silenced by her parents, Brooke watches the law suit unfold with troubles eyes. Then she decides to do something about it.
God's Not Dead 2 made me laugh and cry and cheer with Grace and her supporters. Throughout the first half of the movie, I wanted to say, "But Grace gave a historical answer to a historical question." I nearly whooped when Grace's lawyer realized that—and puts former-atheists-turned-Christian-apologists Lee Strobel and J. Warner Wallace on the witness stand.
Filled with likeable characters (well, except for the student's parents and their hateful lawyer), God's Not Dead 2 is based on dozens of actual court cases. There are plenty of twists and surprises in the movie, as Grace's lawyer (who isn't a Christian) struggles to find a "plan" to win the case. I was hooked all the way through, wanting to see how the court case would turn out and what would happen to Grace, her lawyer, and the supporting characters.
I haven't seen God's Not Dead, but now I think I'll grab it at the library. If you haven't seen the movies yet, I recommend picking them up
. We live in a post-Christian era now, and as this movie reminds us, we must always be prepared to defend our faith.
"Cases where the religious freedoms of everyday men and women are being restricted by courts and government agencies are sadly quite common today. Our hope is that we can start a conversation in the country with this movie about how critical the right to believe—and to talk about that belief in public—is to our nation." ~ Michael Scott, producer and founding partner of the Christian film distribution company Pure Flix
I received a screener link to review this movie; all opinions expressed are my own. This post contains affiliate links; as an Amazon Associate, I earn from qualifying purchases.